By now, you may have the perfect functional Halloween wheelchair costume ready to go. The trick now is finding the right trick-or-treating route for your child that is both accessible and safe. Take the trick out of the night's experience and join your community in a Trunk or Treat for inclusive trick-or-treating!
What is a Trunk or Treat?
It is a wonderful event typically hosted by a community or church group. Cars are lined up in a parking lot tailgate-style and the trunks are decorated to the nines. Children go trunk to trunk, just like one would go door to door, asking for candy and joining in on games. For parents with children in wheelchairs, the accessibility and safety behind trunk or treat makes for an inclusive trick-or-treating experience.
In the photo above, Make Lemon Aide For Cerebral Palsy participated in a Trunk or Treat hosted by Ansley Page Dare to Hope Foundation on October 18.
Find or Host a Trunk or Treat
A simple internet search can lead you to a trunk or treat near you. The Mansfield Magazine based out of Mansfield, Texas reports 6 trunk-or-treat events in nearby areas all on Halloween night! You can also get your family or community together and host a memorable trunk or treat of your own. Our call center can also help you locate the nearest event or support you in creating your own inclusive trick-or-treating experience.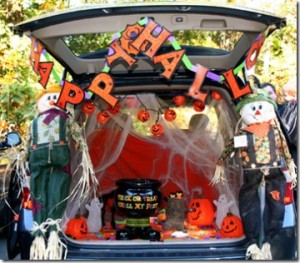 Trunk Design Ideas
Pumpkin patch
Ghost, goblins, witches and spider webs
Skeletons and gravestones
Movie themed (Despicable Me, Frozen, Alice in Wonderland, Star Wars, endless possibilities!)
Time era theme (50's, 60's, 70's, etc.)
Culture themed
Game Zone

Decorate with a sports theme and include a game for participants
Decorate with a video game theme and create a related game
Share your ideas and photos from your trunk-or-treats and other Halloween festivities with our vibrant Facebook community! We would love to see what you come up with for other inclusive trick-or-treating ideas!