You do not have to be a master chef to create a five-star meal in your child's eyes.  Some quick switch ups in food rotation, simple add-ons and creative fun twists will leave your child looking forward to opening up their lunch pail.  All of the ideas listed below are easily do-able and will not leave you stranded in the kitchen for hours. It will only take you a few extra minutes to make a huge difference in your child's meal. Those extra minutes can eliminate lots of stress and worry if your child has been returning home with a full pail.  Breathe easier knowing your child is eating properly to stay energized during the day with these fast hacks.
Compromise and Planning
If you have a picky eater, food time can be overwhelming. Eliminate worry and stress about your child not eating properly by sitting down and creating a meal plan or a list of food items to be included in their lunch with them. Let their voice be heard in what things they would like to munch on. Compromise so everyone wins!
Switch It Up
Routine can become boring and dull. Serving your child the same lunch everyday will lead to them resenting lunchtime and they may avoid taking a bite altogether. Drastic changes do not have to be made to add some pizzazz to their lunchbox, some quick simple quick switches can make all the difference.
Simple Changes
Yogurt – add sprinkles, chocolate chips or granola or switch out a dollop of yogurt to a tube option.
Rotate fruit – alternate dried and raw fruit.  Add in fruit dip to make berries or melon more appealing.
Drink flavors – put a different kind of juice in their lunch every day or switch out the juice for milk and water on certain days.
Include dippers for the veggies- hummus, ranch, peanut butter and salsa.
Make It Fun
Is your child eating their lunch out of Tupperware or a brown paper bag? Food can be more appealing when it is served in an attractive way. Does your little one have a favorite superhero or character they love? Find a lunchbox that fits their interests. Add a few fun surprises to their lunch! You don't have to do this every day but a few touches here and there will make lunchtime more exciting! Listed below are several ideas you can try to win over your picky eater.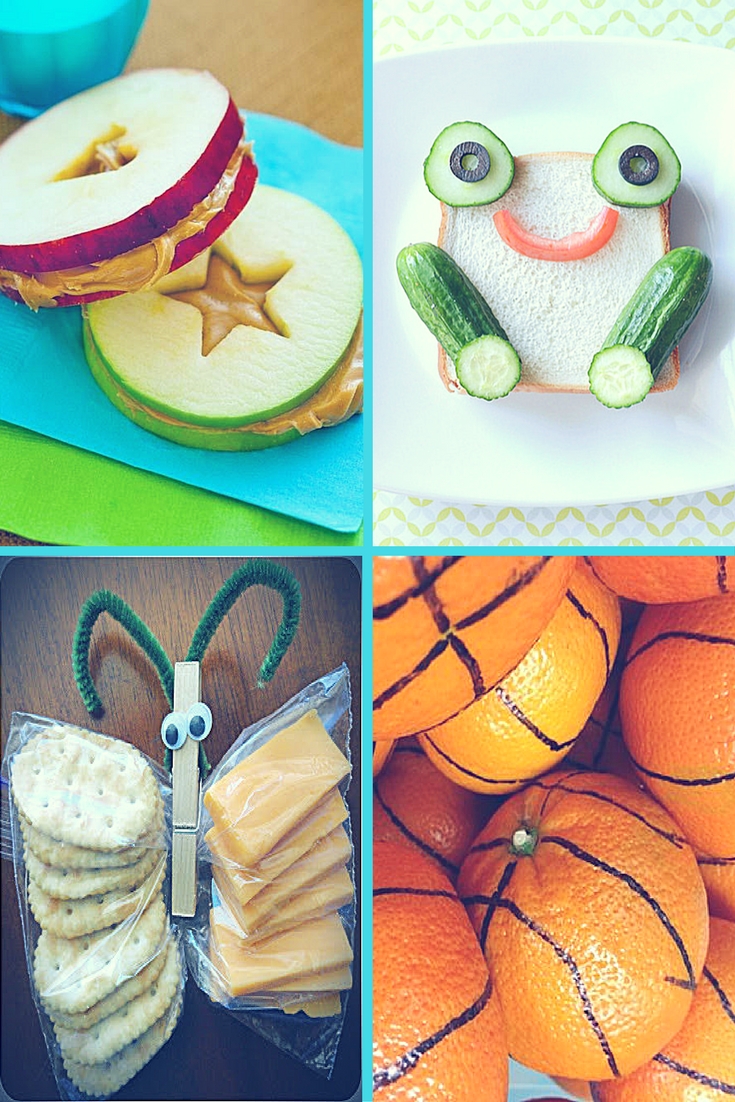 They say you shouldn't play with your food but you have fun creating these ideas that your child will love to eat. Use cookie cutters to create cute shapes out of fruit and sandwiches.
Kabobs can make lunch more fun by placing fruit pieces, cheese and veggies on skewer sticks. You can also make sandwich kabobs if your child is getting tired of their favorite staple.
Give their food a cute animal face. This can be done in many unique ways by turning vegetables or cheese into facial features!
Create diverse themes for different days of the week. Concepts for themes can range from color, movies, travel destinations and animals. You can also create holiday themed lunches when they fall on a school day. 
Engage your child's imagination by drawing on their fruit. Draw a funny face or turn their orange into a basketball with a permanent marker. Leave them a love note or funny joke on a pear or banana.
Transform cereal into edible jewelry they will enjoy chewing on. Place "O" shaped cereal on string to be tied into a bracelet or necklace.
Turn a plain clothespin into a butterfly to hold their favorite treats. Glue two googly eyes and a pipe cleaner onto a clothespin for a butterfly body. Clip onto a Ziploc bag for a cute twist on lunchtime!
The best thing to do to make sure that your child is receiving the nutrition they need, is by meeting with a nutritionist to discuss your child's diet. A specialist can inform you about what should be in their daily intake and items to avoid. Nutrition can affect a body's interaction with medications by enhancing, delaying or decreasing drug absorption. Speaking with a nutritionist is the best way to make sure your child's health is not being put at risk because of their diet. The ideas listed above are not to be intended as medical advice!
If you would like more information on nutrition contact our care team. Call (800) 692-4453 to speak with someone who can assist you and provide you with free resources.