A harness called Firefly Upsee is helping children with Cerebral Palsy walk. The Upsee was invented by a mother whose son has Cerebral Palsy.
The Upsee from Firefly is a harness that attaches to an adult and allows a child with motor impairment to stand upright and walk with the help of an adult. The harness is made up of three parts: an adult hip-belt, a child harness and shared sandals. The child fits into the harness, straps into the adult's hip-belt and is helped into the shared sandals that connect to an adult's feet.
The Upsee is made of durable, machine-washable and breathable fabrics, so both child and adult can be comfortable in a reliable and easy-to-clean product.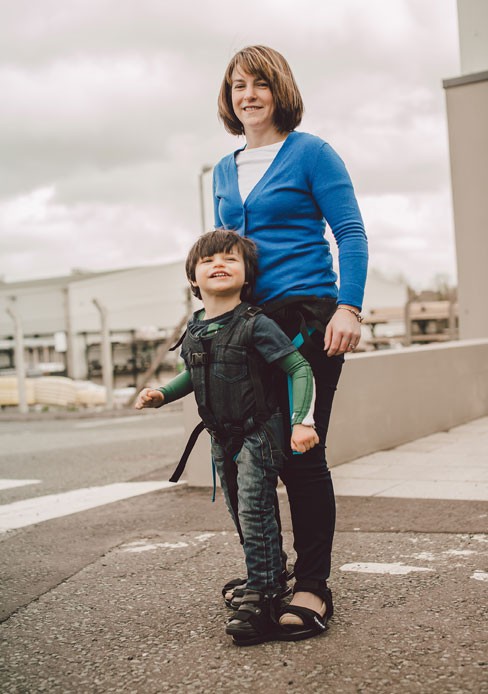 Meet The Inventor
"When my son was 2 years old, I was told by medical professionals that he didn't know what his legs are and has no consciousness of them," said Debby Elnatan. Her son, Rotem, was born at 32 weeks, and the family says they were devastated by his Cerebral Palsy diagnosis.
Determined to give her son Rotem as much of a "normal" life as possible, Debby invented the Upsee harness. It allowed her son to stand up, walk, and give his siblings hugs for the very first time. Watch Debby share her journey in developing a device for Rotem:
Parents should be cautioned, however, that walking with the Upsee doesn't necessarily mean a child will grow up able to stand or walk independently.
"This is not therapy," explains Debby. "We can't guarantee they will grow up to walk but what it will do is stimulate curiosity, just like any other child."
Debby told Express UK, "Now Rotem is 19 and although he doesn't walk, he is full of the love for life that comes from an ordinary, fulfilled childhood."
Impact On Children With Cerebral Palsy
In the UK and US, the Firefly Upsee is helping parents give their child opportunities of inclusion and mobility – allowing them to experience moments they might not have had without the harness. Just take a look at these inspiring stories:
Isabella Luckett Walks Down The Aisle as Flower Girl
Taylor Florence Dances For The First Time Without Walker
Where To Buy The Firefly Upsee
Manufactured by UK company Leckey, which has a long track record of making devices for children with special needs, US residents can purchase the Firefly Upsee at FireflyFriends.com. The cost is $489.00 USD with free delivery, and it is available in various colors and sizes. Firefly's return policy is 42 days.
Do you have experience with the Firefly Upsee? Share your experience with us by commenting our Facebook post below or contacting the MyChild™ Call Center at