Everyone can have a rough day now and then. If your child is having a hard day, it can feel like the end of the world to them. The best way to get them out of a funk is to practice healthy coping strategies. They can help your child escape from the problem for a little while and get a better hold on their emotions. So they can take on their problems and their day clearly. Spending time with your loved one while having them practice these coping techniques is a great way for the both of you to get a better handle of the situation.
Breathe
When we can control our breath, we can control our mind. If your child is having a panic attack or is upset, a way to center their emotions is to control their breathing. Have your child breathe in through their nose for four seconds, pause, then release the breath through their mouth for four seconds. Have them pause again for two seconds, then repeat the process. Another way to have them practice deep breathing is by using their hands. Your child starts off by holding their non-dominant hand palms up - towards the sky. Then they use their dominant hand's pointer finger to trace around the outside of their fingers. Have them start with tracing their thumb breathing in while sliding up the finger tracing it with their pointer finger. Have them pause when the reach the top then they can breathe out when they slide down the other side. Have them repeat the process with all the rest of their fingers on that hand.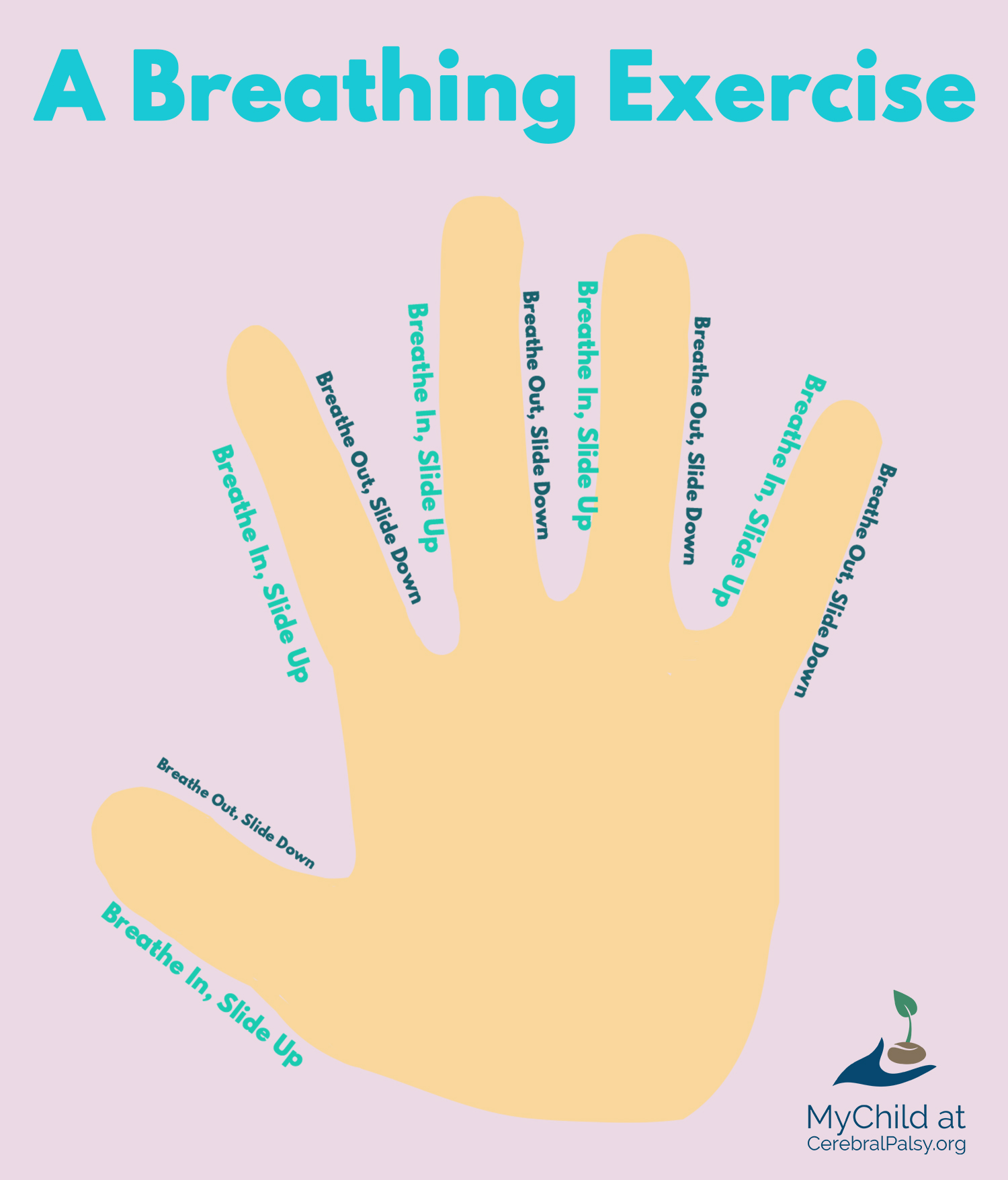 Download our breathing exercise worksheet!
Talk It Out
Often times the best thing you and your child can do together is to talk it out. If your child is bothered by something at school, with their friends or at home the best plan is to have them discuss it. Your child needs someone they can trust. They might not have anyone else to discuss their issues with. Talking it out is a great way for your child to express their thoughts and feelings to a listening ear. You can give advice to your child that they might need to solve their problem. Having your child have a heart-to-heart with you can be a great stress relief to get everything off their chest. If your child is having difficulties with someone else let them know the best way to solve a conflict is to talk about it with the person. It is best to solve an issue when it comes up then to let it linger and create more conflict.
Take A Break
Does your child have a favorite hobby? Sometimes getting a break from the problem or issue is a great way to solve it or at least make them feel better for a while. Take your child to their favorite ice cream shop, go window shopping or have them play at local arcade for a little while. Getting some fun time in is a sure way to bring back the smile to your child's face. The break doesn't have to take the whole day if you don't want it to, set a timer to make sure it doesn't run into homework time or effect other activities to keep on schedule with your day.
Play With A Pet
A great coping mechanism is to play with a pet! Have your child play with their favorite Fido at the local park or in your backyard. If you don't have a pet for your child to play with, head to the local animal shelter. It is a great way to give back but also help you and your child relieve some much-needed stress. Most animal shelters will allow you to play with the animals and take them for a walk outside then all of you can you can receive some refreshing fresh air.
Being a kid can be difficult in today's world. Being there for them is the best way you can help them cope. Practice these simple coping techniques with your child to help them tackle their day and have them get a better grip on stressful events. The coping mechanisms you use does not have to be complex to help your child they can be as easy as a walk in the park or slowing down their breathing.
If your loved one has Cerebral Palsy or has been recently diagnosed, contact our care team today. We are here to help you with a variety of information and resources to help you and your child. Contact us today by calling 800-692-4453 to speak with a representative.