The inspiring father-and-son team, Rick and Dick Hoyt, will forever represent a symbol of strength and parental devotion, as Boston City Councilor Matt O'Malley declared October 22, 2014 as Team Hoyt Day.
On Wednesday, Oct. 22nd, 80 people gathered at Boston City Hall to honor Team Hoyt. Boston City Councilor Matt O'Malley, who hosted the event, told the Boston Globe, "Dick and Rick Hoyt are personal heroes of mine, I have so many fond memories of cheering them on during the Marathon. They are an incredible team of athletes, and remarkably inspiring individuals who really exemplify 'Boston Strong.' "
Team Hoyt has completed astonishing 1,000+ races. Their last one together was the Boston Marathon in April 2014.
The Phenomenon Known as Team Hoyt
Rick and Dick first began racing in 1977, when Rick, who has spastic quadriplegic Cerebral Palsy, asked his father if they could participate in a 5-mile charity run for a local track and lacrosse player Jimmy Banacos, who had become paralyzed in an automobile accident. Rick wanted to show Jimmy that life goes on with a disability. "Rick really wanted to help the lacrosse player because he understood what he was going through," said Dick. "And this was something he wanted to do with me, so I thought, why not push him in a wheelchair?"
After completing the 5-mile run, the phenomenon known as Team Hoyt was born. The Hoyts would go on to participate in more than 1,000 endurance races, marathons (including 32 Boston Marathons), triathlons (including six Iron Man Triathlons), duathlons and tours in the United States and abroad.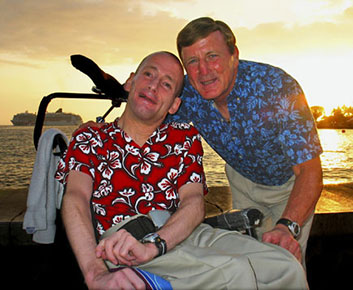 Race By Race
In 1985, Rick and Dick Hoyt would took on their first triathlon, something that was unprecedented at the time. The triathlon consisted of a one-mile swim, a 40-mile bicycle ride, and a 20-mile run. To achieve this incredible feat, Dick pulled Rick in a specialized boat with a bungee cord wrapped around Dick's waist for the swimming portion. To bike, the pair used a two-seater bicycle with a custom-made seat, and for the final road race, he pushed Rick in his athletic chair. From there, Team Hoyt moved onto the most challenge of all sporting events: the 1988 Ironman Triathlon in Kona, Hawaii, which comprised of a 2.5-mile swim, a 112-mile bike ride, and a 26.2-mile marathon.
"Everyone says a child changes your life. We knew that our son Rick was about to change our lives in ways we never could have predicted," wrote Dick Hoyt in his book, "Devoted: The Story of a Father's Love for His Son."
Read more about their races on CerebralPalsy.org: Dick Hoyt – A Father's Story, Part III.
Making Strides in the Disability Community
Dick and his late wife Judy were groundbreakers on many initiatives that helped shape how disability is perceived. We are eternally grateful for the great strides they made in the education system, as well as inclusion in community events, legislation, and in the way officials include individuals with a disability.
In 2005, the Hoyts used their notoriety to create a foundation, The Hoyt Foundation, Inc., to help others with disability take part in athletic pursuits; promote and foster inclusion in everyday life; and raise disability awareness. Benefactors include the Boston Children's Hospital, Easter Seals of Massachusetts, Rehab Resources, various summer camps, and therapeutic organizations.
Their motto is "Yes You Can" to promote the message that you can do anything you set your mind to for individuals with or without disability. For the Hoyts, after decades of being told "No you can't" they want to send a different message for others to hear.
Team Hoyt Day
At their celebration at Boston City Hall on October 22, 2014, Dick and Rick Hoyt received two standing ovations.
"[Rick] can't walk, use his arms, or legs, and for him to be recognized like this is really good because other people are seeing it and spreading the word," Hoyt said. "It sends the message that people who are physically challenged are able to get out there and just be like everyone else."
While 74-year-old Dick is retiring, Rick, now 52, has yet to see an end in sight. He will participate in the 2015 Boston Marathon with their close friend Bryan Lyons.
A Look Back At Team Hoyt
Further Reading
Dick Hoyt  — Race by Race, a Father's Love Lifts Son, Part I
Dick Hoyt – A Father's Story, Part II
Dick Hoyt – A Father's Story, Part III
Team Hoyt — Official Website
Read more inspiring relationships
Join The Conversation
Please Login to Post a Comment