Intensive suit therapy helps boy improve stability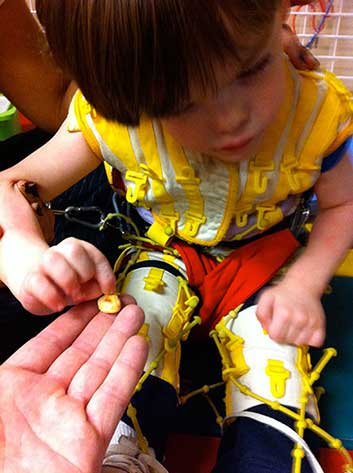 When Jennifer Scheuer and her husband David learned that their son Nate has Cerebral Palsy, the young couple vowed that they would pursue any treatment or therapy that would help give their second-born son a shot at improved mobility.
So when the Scheuers, who live in Bellmore, NY were told by one of Nate's medical practitioners about intensive suit therapy, they were hopeful that the therapy could help their son. Intensive suit therapy is a complex intervention that utilizes an orthotic suit with rings and elastic bands that are adjusted to provide pressure and support to the muscle groups and joints affected by Cerebral Palsy.
"We were very interested because it sounds like something that could help Nate," said Jennifer. "We thought it would help him develop his skills."
However, because intensive suit therapy is considered to be experimental, it is in most cases not covered by insurance. That means the Scheuers would be responsible for therapy fees – until an unexpected act of kindness paved the way for Nate to suit up.
"We didn't have $8,000 to pay for the therapy," Jennifer said. "So we put something out there on social media about the therapy, and said we would be having a fundraiser. We said it would help Nate gain mobility.
"Then we received an email from a family member, that wishes to remain anonymous, who gave us the $8,000," Jennifer said. "We were overjoyed."
TheraSuit™, which is patented by Michigan husband and wife physical therapy team Richard and Izabela Koscielny, works much the same way as other therapeutic suits. In addition to adjustable rings and bands, the suit is endowed with strategically-placed bungee cords that can be adjusted to typical flexor and extensor muscle groups. The entire suit acts as a soft exoskeleton that brings a child's body into proper alignment and helps retrain a child's brain to recognize correct muscle movements.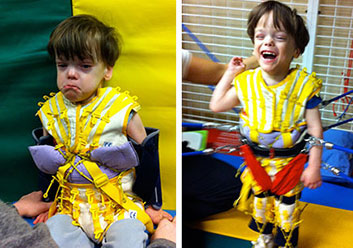 The therapy's status as experimental means there is little independent information to attest to its success. Jennifer believes the TheraSuit™ has benefited her son.
"He's able to do some things physically that he was not able to do before," she said. "My husband I talked about this. We also believe that Nate has more self-confidence in his movements."
A devastating diagnosis
Nate was born premature. He arrived at 24 weeks gestation and weighed 1 pound and 13 ounces. Their struggling baby coded when he was three-weeks-old; Jennifer and David would spend the next five months in the neonatal unit. He was healthy enough to go home and unite with his older brother, Dawson, who is now 8-years-old.
As soon as Nate came home, he began receiving early interventions. "We had five people coming in and out of the house," Jennifer said.
Early on, Jennifer was aware of the possibility that her son had Cerebral Palsy because he was not meeting established developmental benchmarks. But at the time, it was something she tried to set aside emotionally.
"In the back of my head I didn't want to hear it," she said.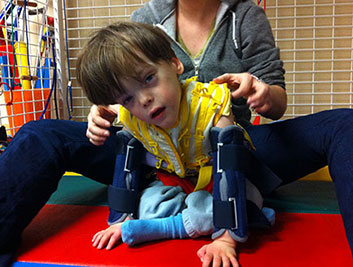 "Nate was on a feeding tube because he couldn't eat anything orally; he would microaspirate," Jennifer said, referring to the food and liquids that would enter his lungs during the feeding process. "But he has been able to strengthen his suck and swallow since then."
It wasn't until attending a birthday party that Jennifer was forced to confront her fears. At the party, it became apparent that some of the other children had met developmental milestones, while Nate had not.
"We were so excited about the party because we had spent so much time with the parents at the neonatal unit," she said. "But it was a rude awakening. I saw the other babies crawling, and sitting up and holding things in their hands, and my baby wasn't doing those things. Nate was not sitting upright, and his hands were really tight."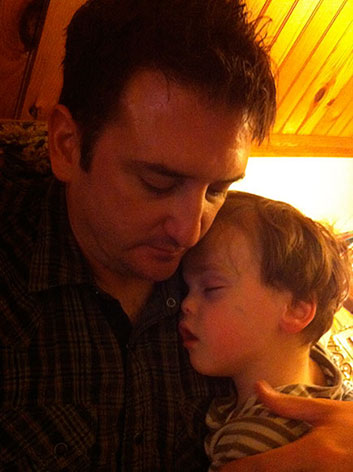 The Scheuer's physiatrist had told the parents it was possible Nate had Cerebral Palsy, and recommended orthotics for his legs to help him move.
In April 2011, when Nate was 2-years-old, he received a diagnosis of spastic Cerebral Palsy and quadriplegia. When the diagnosis came, it was difficult for the Scheuers, but deciding to move forward was easy even as the situation began to sink in.
"I was distraught. I was a mess," she said. "But I had a conversation with my husband, and with my mother, and we decided that we have to let our faith be bigger than our fear.
"By pushing through this and embracing this, we have an opportunity to help Nate be the best that he can be," Jennifer said. "I want him to be able to do things to express himself."
New resolve, new solutions
Nate was enrolled in a local TheraSuit™ program, and soon after, he began an exercise regimen made up of controlled movements and strengthening exercises designed to help him increase his mobility. This therapy took place three hours per day, five days a week, for three weeks, said Jennifer.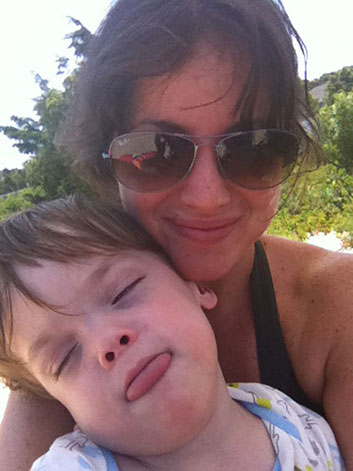 At the end of the therapy, Jennifer and David felt their son had received significant benefits from the therapy. He is almost able to sit.
"He's almost crawling, and at this point, he's gained a lot of stretch and head control," said Jennifer, indicating Nate is almost able to sit. "We definitely see a difference in him and his trunk control."
Parents are taught exercises to perform with their child at home in order to maintain and build on physical improvements earned in therapy. The Scheuers continue to practice these exercises at home.
A "playful soul"
Today, Nate is a kindergartener that receives physical and occupational therapy in a school setting. He is non-verbal, but finds many ways to interact with his brother and father, both of whom adore him.
"Nate is such a sweet, loving boy. He is a playful soul; he's funny and he loves to laugh," Jennifer said. "He's madly in love with his father; they're good buddies. Dad gets him on the bus every morning. Nate likes it when someone reads cartoons to him, and he likes puzzles and music."
Nate receives night care through a state-sponsored program and still has a feeding tube that serves as backup in case he cannot eat on his own. The tube also helps keep Nate hydrated, his mother said.
For Dawson, Nate's 8-year-old brother, having a sibling with special needs has brought out boatloads of brotherly love and protective impulses.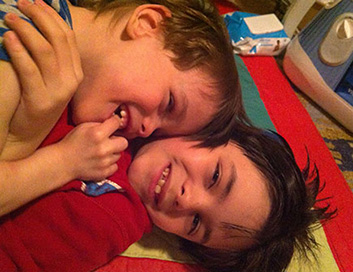 "Dawson came up to me one day and asked me how he will take care of Nate when I'm old, and it stopped me dead in my tracks," Jennifer said. "He has a huge heart, and he was only five or six when he said this."
In terms of Nate's family, Jennifer said she is lucky to have a supportive family that wants to see Nate succeed as much as his parents.
"I have the support of an amazing husband and a dedicated mother, Susan," she said. "My mother comes here twice a week to help us. I have a sister, Julie, who lives three blocks away from us. Dawson practically lived with my sister while we were in the hospital with Nate."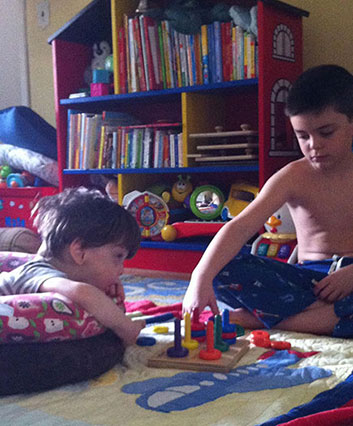 Little things have helped the Scheuers, both of whom are employed, as well.
"My aunt Carol lives two towns away and helps out tremendously," she said. "She brings me a cooked meal on Sundays."
As Nate continues to grow, his parents are hopeful that he will be able to take advantage of assistive technologies and new therapies that will give him some measure of independence going forward.
And if those things are slow in providing results, Nate's parents will continue to pursue all avenues to help their son.
"We're prepared to do everything we can to help him," Jennifer said. "We're going to push him to do everything he's capable of. We're very committ
Obtain more information on intensive suit therapy
For more information on intensive suit therapy, or to obtain a list of contacts and articles on the subject, call 1-800-692-4452.
Children with Cerebral Palsy

A child's smile is enough to brighten anyone's day. For parents of a child with Cerebral Palsy – even when non-verbal – all of those firsts – whether reading, writing, or hearing a child say "I love you" are not only possible, they're probable. More so than ever children are re-conceiving how they can participate and interact with others.