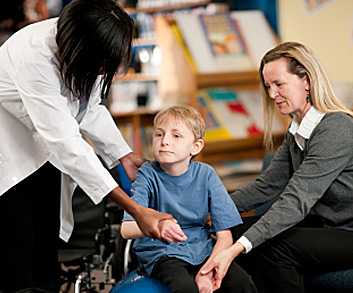 The importance of advocacy
Dateline: Michigan, 1955.
A third-grader named Duncan Wyeth, like many other boys his age, has just received his first bike, and he's beyond excited. The bike allowed Duncan to travel from place to place on wheels with the other children. It was also a reward for helping his dad with some landscaping duties earlier in the year.
Duncan, now a 66-year-old retired disability advocate for the State of Michigan, was diagnosed with Cerebral Palsy as an infant during a time of preconceived notions about disability.
The difference, Duncan said, was that his parents, Irving and Barbara Wyeth, refused to treat him differently than their other children. This simple act made Duncan believe that, despite his disability, he could do anything.
"The first lesson I learned was to choose your parents carefully," Duncan said. "My father especially did not believe that [treating Duncan differently] was the right thing to do, and I was held to the same standards as my siblings."
The fact that Duncan received the bicycle may seem small in the grand scheme of life, but for Duncan, the take-away was amazing. He would not only enjoy a successful career, he would compete as a cyclist in the 1988 Paralympic Games – one of the most storied athletic events in the world.
"I remember that for me to be able to keep up with other children in the neighborhood, I needed the bike even if it did have training wheels," he said. "I was proud of my ability to ride the bike. A lifelong cyclist was born."
There are times when conflicts about a child's medical treatment or education will have to be fought. But there's also a series of smaller tasks that occur each day that must be mastered to ensure that a child feels confident and empowered. As most parents discover, this is not as easy as it sounds.
Children with Cerebral Palsy are coping with so many issues – medical appointments, mobility, communication and learning – while attempting to develop friendships and excel in school. At parent can be a positive influence during these times.
When a parent helps a child discover and pursue his or her interests, the benefits of socialization and empowerment will occur more naturally. When a parent provides support, a child is reassured. When a parent is a positive role model, a child learns from them. When a parent seeks to unblock barriers, a child's path is opened.
So much about disability is about compensating for physical losses, accommodating for inclusion, modifying to participate, and being creative whenever possible. Being positive, resourceful, open, and forthcoming can impact a child's outlook. Advocating for a child's self-esteem is a determining factor in how that child sees his or her world and their capability to succeed.
Just like everyone else
All children, especially those in a school setting, worry about standing out from the crowd.
Early childhood is about making friends and fitting in, which is no easy task if a child has a disability. Unfortunately, children with disabilities can be the targets of bullies, pranks and harmful behavior. What a child learns at home about themselves, however, can be a powerful armor against forces that could negatively influence how they see their abilities.
John Quinn, a native of Michigan who now lives in Arizona, grew up in a situation where other children lobbed taunts his way. Because he was empowered in the same way as his able-bodied brothers, John was able to set those remarks aside and focus on his abilities, not his disabilities.
His parents, Edgar and Shirley Quinn, instilled in John a positive attitude. That led John to a 20-year career in the United States Navy, one of the most physically demanding occupations a person can undertake.
"I was physically weak, and I was different," John said. "There were times I was definitely bullied by other kids, but I tried not to let that get me down. I also had four brothers that could intervene on my behalf."
Now 50, John said the empowerment he received from his parents gave him resolve to continue to pursue a military career even after a first attempt to enlist did not work out.
"We were asked to this exercise called a duck walk, where you squatted and walked at the same time," he said. "I tried to do it, and fell over."
When he went home and told his parents what happened, Dad asked: "What are you going to do about it?" The next day, John was in the basement of his home, mastering the duck walk.
"That's one of the reasons I was able to join the military," he said. "My parents were never too quick to pick me up if I fell – they let me know that I would have to do [things] for myself. My parents let me try anything I wanted to try."
As a practical matter, a child's physical limits are always a matter for concern. Depending on a child's diagnosis and the specific affects Cerebral Palsy has on a child, there may be some activities that are off limits. However, that doesn't mean a goal should be off limits.
Everyday empowerment is about finding alternative ways to meet goals, or revising goals in a way that makes it possible for a child to succeed. If a child is unable to ride a traditional bicycle, maybe he or she can ride a unicycle or trike. If a child can't join the U.S. Navy, maybe he or she can go to college and get an education that involves service activities related to the military.
Exploring options early and often is a vital part of fostering an interest, and it's the single most significant factor in making sure a child feels competent, secure, and confident.
Share your interests
Parents with families that include a child with a disability are often busy bringing balance to their families while meeting the practical obligations of the day. This leaves little time for hobbies and interests that perhaps a parent engaged in prior to starting a family.
Children learn by example, however, and watching a parent explore their own interests is an indirect form of advocacy that can yield tremendous returns for a child.
Hank Holland, a 40-year-old artist from Lockport, La., grew up watching his mother, Jane, enrich her life through her love of painting. Years later and despite the fact that he has some spasticity because he has Cerebral Palsy, Hank purchased some brushes and started a career as a self-taught artist.
"I liked the vibrant colors," he said. "I painted subjects that are happy.
"I like Louisiana themes; the kinds of places where I spent time with my family, and where I spend time today."
Including Hank in her passion for painting left an indelible impression on her son that lasted through the years. Hank now makes his living solely by painting because of his mother's influence.
Putting the capital "Y" in yes
Advocating for a child's opportunities at home and school typically means saying yes often – or getting others to say yes.
When Ohio mother Utawana Leap had issues finding assistive technology for her daughter, Lianna Bryant, she took it upon herself to conduct research to find a communication device that the 11-year-old girl could use.
She found the answer in the Tobii, a device that uses eye-tracking technology to generate speech. Lianna's medical team had never considered using the device before, but after some advocacy by Utawana, a Tobii was in the mail.
"We've tried other assistive devices, but for a lot of reasons, they just didn't work out," Utawana said. "Devices that can be operated using the head are too tiring for her. With the Tobii, [Lianna] can use it with just her eyes. It's really changed how she communicates."
For Marty Turcios, a 51-year old golfer who runs the Therapeutic Golf Association in Martinez, Calif., a life on the green began after his parents realized his love for and proficiency in the game of golf.
"The first time I saw my father playing golf, I knew that I wanted to play," said Marty, who lives in Martinez, a small town five minutes outside of San Francisco. "And I knew that it was something I could do on my own."
It wasn't long before Marty and his brothers were sneaking onto the fairway of a local golf course, of which his parents – Robert and Barbara – were not members. "But as soon as my parents found out, they joined the club," Marty said.
For a child with a disability, knowing that the doors are open can make a difference in how he or she sees his or her future. No one is suggesting that a child be allowed to engage in activities that are unreasonable. However, a message to the effect of, "it never hurts to try" can work wonders to empower a child.
Ahkeel Whitehead, is a 17-year-old track and field athlete and aspiring Paralympian who lives near San Diego. His parents, Chris and Glady (CQ), have made all of the difference in how Ahkeel sees himself and his abilities.
"I owe my parents everything because without them always encouraging, I could never compete," he said. "They just never created the idea that I can't do it. I am just a mirror that shows all of their efforts, and everything they've done."
Relationships and Cerebral Palsy

There's an old saying that the measure of a person's life is measured by how much they are loved. There's no doubt about it: our relationships with others are the cornerstone of our ability to thrive and enjoy life. Relationships allow us to explore all of the facets of giving and receiving love, from the patient and protective concern shown between a parent and child to the fire and chemistry that happens between friends, mates and spouses. And the level of ability has nothing to with the level of love one is willing to give to or receive from another.