11-year-old Lianna uses eye-tracking technology to communicate and move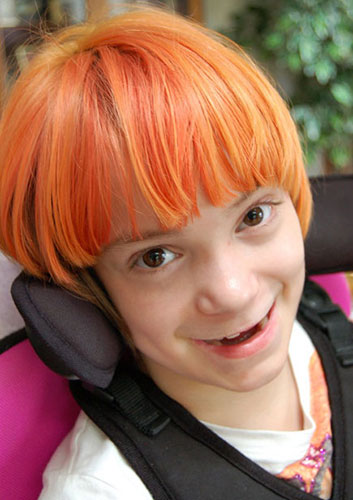 There's an old saying that the eyes are the windows to the soul. For 11-year-old Lianna Bryant, her eyes have not only unlocked her soul, they've opened up the entire world – a world to speak and respond, email and Facebook, search the web and watch YouTube videos. Lianna now has a voice, more independence, and a platform in which to learn at an age-appropriate level.
Lianna, a fifth-grader who lives with her mother, Utawana Leap, on a small farm in Madison Township, Ohio, has a severe case of mixed Cerebral Palsy and quadriplegia. Although she can make sounds, Lianna is nonverbal. And, although she can control her wheelchair with head movements, she is immobile. But that doesn't mean she isn't communicative, especially when it comes to her big, sparkling eyes, her mother said.
Utawana tells others that her daughter is a bright little child that is stuck in a body that just doesn't want to work.
"She is actually teaching us," said Utawana about Lianna creating her own language. "She doesn't have the motor control to do American sign language."
Originally, Lianna would communicate in low-tech fashion with her eyes and through head movements. She would look at the door if she anticipated company. She would look up to say "yes" and turn her head from one side to the other to answer "no." She would even focus on symbols, pictures and words hung by magnets on a cookie sheet that, with the help of a translator, could be combined into phrases and vocalized to others.
"We've tried other assistive devices, but for a lot of reasons, they just didn't work out," she said.
They tested a head pointer with a reflective dot that would navigate a computer screen, but that was too tiresome. They tried a two-step scanning device that through side-to-side head movements controlled buttons, clickers and switches, but that was too slow. Not only was Lianna frustrated with these attempts, she was beginning to lack motivation.
"With the other devices I would have to wipe sweat off her head," Utawana said.
But in 2009, Lianna received the Tobii C12 assistive and augmentative communication (AAC) device with the Tobii CEye Eye Control Module, which allows her to converse with a part of her body that she can completely control – her eyes.
At first, Utawana said Lianna wasn't interested in the device. "But in the last year and a half, it's really taken off," she said. "Lianna really likes using it."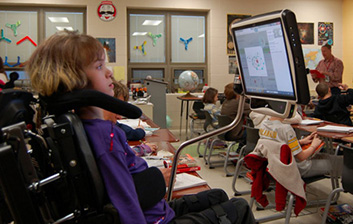 "Her Tobii has given her a way to learn how to read and put sentences together," Utawana said. "She can access all of her textbooks online, surf the web, watch YouTube videos, go on Facebook, read aloud in class, and write emails. And the best part is that Lianna can control all of this without any assistance, helping her learn to become independent."
The Tobii device works by using two infrared cameras that are mounted on a screen. The cameras interpret the cornea's focus, which allows Lianna to stare at a phrase or a symbol and "activate" it much like a mouse click selects objects on a computer screen. This allows Lianna to string together whole phrases and express herself in a way that was off limits before she started using the device, Utawana said.
Lianna now selects from programmed words and phrases. She urges patience as she can understand everything a person tells her, but she requires time to reply. Although she uses her Tobii as her voice and a platform for learning, she also makes statements like "Holy crap, Mom, would you please hurry up?" She has also been known to send her uncle an email asking for him to rescue her from her home.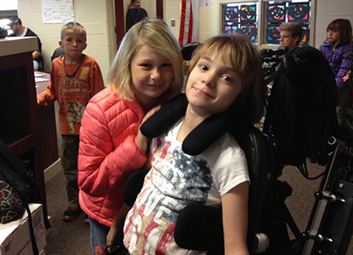 Finally, the right fit
Lianna is an engaging and bright child with absolutely no cognitive delays. However, because of the obstacles she faced on the communications front, she is not reading at her grade level. Her mother said that it's been a challenge to find the right assistive device to help Lianna capitalize on her intelligence.
Upon coming across a brochure for a device with eye control, Utawana teamed with the Aaron W. Perlman Center at Cincinnati Children's Hospital Medical Center in Cincinnati, Ohio. The hospital has a department that specializes in mobility and communication devices.
"The Perlman Center helped write all of the paperwork, and we got it." The device cost $17,000 in 2009, covered through Medicaid.
"Mentally she has no delays, but her body does its own thing. I knew that she was in there," Utawana said, noting that Lianna currently reads at a second grade level, nearly three years behind her age level. "Lianna is improving daily because of the Tobii. She's clearing huge hurdles, and I believe that once she has other skills under her belt, her life will be changed."
Utwanna expects Lianna will be working at her grade level soon.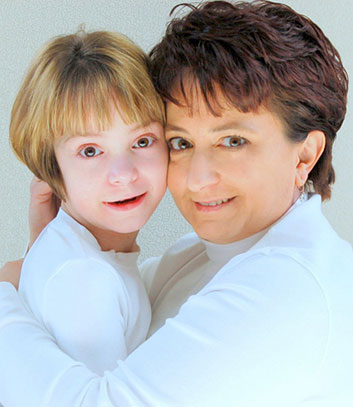 Lianna is not unusual in terms of her level of learning. Children with Cerebral Palsy, or any other disability that renders them nonverbal, have a unique challenge – they must take extraordinary measures to communicate ideas, ask questions, and get feedback from others. The educational system accommodates and modifies the best that it can, but often times nonverbal children who are otherwise intelligent are working a year or two behind their peers.
The Tobii has advanced Lianna's ability to learn on an even playing field with her able-bodied peers. For example, Lianna is now able to answer multiple-choice exams, as opposed to identifying words on oversized cards when quizzed. With the assistance of the Tobii, she spells words on spelling tests and places numbers into the calculator to solve math problems. Lianna is also able to learn independently as opposed to having to rely on an intervention specialist or translator.
The Tobii has taken a lot of worry off Utawana's shoulders.
"When I think about how much basic work she would be able to do that doesn't need someone to help her, I think Lianna will have a career path she didn't have before," Utawana said. "I had a lot of fears that if she were not with me, and she was hurt, how would she tell someone? This solves that problem."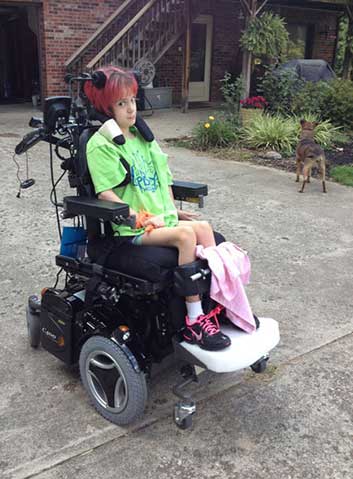 A country girl
Lianna and her mother live in Madison Township, which is about 30 miles north of Cincinnati. Lianna has a dog and two cats. Lianna's grandparents and extended family live nearby.
She was diagnosed with Cerebral Palsy shortly after her birth; her condition is due to a lack of oxygen during birth. An MRI confirmed Lianna's brain injury was limited to the basal ganglia, it kept her from meeting her physical milestones, but left her vision, hearing and cognitive skills intact.
Lianna attends her local school, where she participates in mainstream classes for most of the day, but is separated to work with an aide for part of the day to focus on items that can't be addressed in a typical classroom. Her favorite subject is science.
Lianna is bright and curious, with a quirky personality that has had a chance to emerge since she obtained the Tobii, her mother said.
When not communicating with her Tobii, she likes anything that has to do with the outdoors and nature; her mother believes this is because of her rural upbringing.
Lianna enjoys swimming and fishing with her family. Right now, her family is procuring a fishing pole that she can use by herself. Lianna also likes riding around in the family's golf cart, which is used to navigate the family's property.
When indoors, she enjoys watching anything on television, or the computer, that has to do with birds. "I like "Duck Dynasty" on A & E," she said of the show shot in Louisiana about a family that makes duck calls.
Overall, Utawana is more optimistic about her child's future than ever before.
"I think the Tobii has given Lianna an opportunity to have something she can rely on," she said. "It's changed our lives for the better."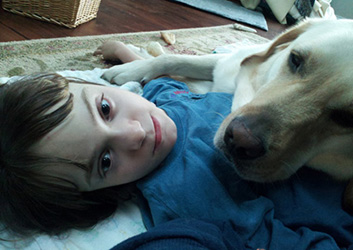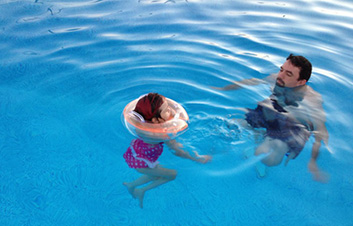 Learn more about Tobii products and how Tobii assists those with special needs, such as aphasia, autism, Cerebral Palsy, developmental delay, Lou Gehrig's Disease, Rett's Syndrome, spinal cord injury or stroke.
To watch Lianna's videos, visit:
Lianna using Tobii to construct a poem
Children with Cerebral Palsy

A child's smile is enough to brighten anyone's day. For parents of a child with Cerebral Palsy – even when non-verbal – all of those firsts – whether reading, writing, or hearing a child say "I love you" are not only possible, they're probable. More so than ever children are re-conceiving how they can participate and interact with others.