Jacob Brock, 13, had surgery last year to prolong his ability to walk and run. That didn't stop him from scoring the winning touchdown at Lakeview Middle School with a little assistance from those granting wishes.
Boy, 13, scores wish and touchdown
All means all.
It was a mantra that stuck in Tiffany Alberts' head after a school district meeting promoting its mission to include students with disabilities in mainstream activities.
"All does mean all,'' Alberts said. The special education teacher at Lakeview Middle School in Warsaw, Ind., was determined to prove it.
Turns out Lakeview's football team had challenged Edgewood to a charity game, giving her the perfect opportunity to involve one of her students – in a big way.
Game Day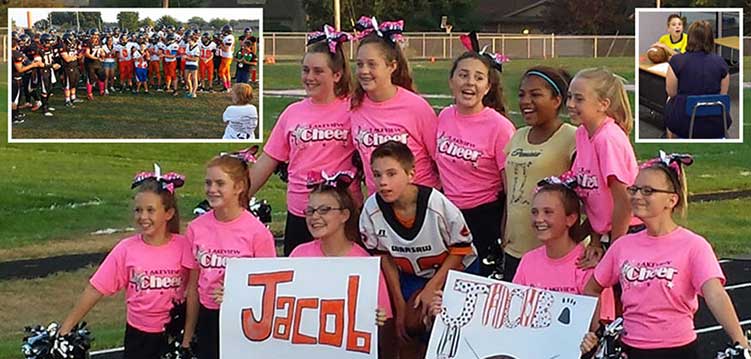 The stands are jam-packed.
It's the last play of the last quarter. Lakeview is at the 30-yard line.
Wait. There's been a change on the field. Lakeview is sending in a new quarterback.
The student announcer's play-by-play was met with cheers upon hearing the name – Jacob Brock. They knew they were about to witness a dream come true.
"Jacob loves football,'' said his mother, Charity Brock. "Every day he goes out in the backyard and kicks and throws the ball for hours." Sometimes, his four younger siblings join in, mostly to retrieve the ball again and again.
Unfortunately, disabilities that include Cerebral Palsy, autism, mild mental retardation and facial dysplasia keep him from playing competitively – except for this day when the popular student would take the field, score, and teach a stand full of moms, dads, teachers, administrators and students a life-lesson.
"Why shouldn't he get a shot,'' Alberts' said. "This might be his only one.''
Surrounded by fellow teammates, Brock held on tight to the football. After everybody was in position, he made his way across the field, so focused on the goal line to notice players falling down to left and right at the slightest bump from a rival player.
"Oh, I'm pretty sure I didn't see a person who didn't have tears in their eyes when he crossed that line,'' Jacob's mom said, explaining that her son had surgery last year to prolong his ability to walk and run for about 10 years. "It helped to improve his childhood a little so he could play better, run better."
Then he did what quarterbacks do – he grinned from ear to ear, raised his arms in the air and shouted, "I score touchdown! I score touchdown! You see me score touchdown?''
The moment was special not only for Jacob, his parents, his siblings, aunts and uncles who witnessed the moment, but for the students involved, said Jon Lippe, Principal of Lakeview Middle School.
"It brought us all together,'' he said. "Everyone was inspired.''
In the weeks leading up to the game, football players and cheerleaders made sparkly, colorful signs in support Jacob during his big play, Lippe said.
"It was exciting for Jacob, but I think there was a bigger impact on our other students who really believe they made a difference,'' he said, adding that it's one of those life lessons that can't necessarily be taught in a classroom.
"Our mission says, in part that we help all students pursue dreams and enrich lives,'' he said. This was a great testament to that. Lippe said that students have already expressed interest in participating in more activities that involve students with physical and cognitive impairments.
Needless to say, Jacob is now a hometown celebrity with newspaper reporters and television crews wanting to share his story.
Children with Cerebral Palsy

A child's smile is enough to brighten anyone's day. For parents of a child with Cerebral Palsy – even when non-verbal – all of those firsts – whether reading, writing, or hearing a child say "I love you" are not only possible, they're probable. More so than ever children are re-conceiving how they can participate and interact with others.