Australian instructor uses martial arts physicality, teachings to thrive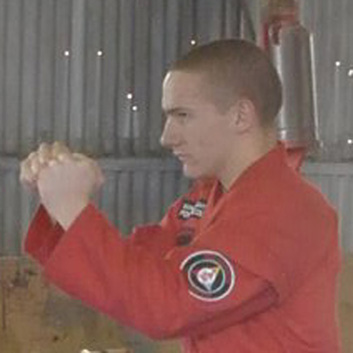 For someone still in his 20s, Sam Broughton plays many roles. He's a business owner, a practitioner of martial arts on a competitive level, a teacher and mentor, and son, and twin brother and proud Aussie. Sam also has spastic diplegia, one of the most common forms of Cerebral Palsy.
But among the corner stones of Zen Do Kai, one of the first martial art forms Sam learned as a teen, is finding personal piece and inner strength and stability; both goals that could be a metaphor for Sam's life.
"I love the physical challenge as well as the mental challenge of always striving to perform each movement better than I did the last time," said Sam, 26. "I love to teach and pass on what I have learned and get a real buzz out of watching my students learn and grow as they achieve their goals."
But the chance to compete at a national level involved hard work, and learning to work physically in a way that worked for him. This, for Sam, who competed against able-bodied opponents in Brazilian Jiu Jitsu, meant learning not only about how the human body worked, but about how his body worked, and coping with ups and downs after having surgery.
But Sam wanted to follow a positive example. And giving up isn't in his nature.
"I am constantly astounded as to the skill level of some of the masters I have been lucky enough to spend time with," he said "They let me know there are still heights I can reach, and so much that I do not know."
Early years
Sam was born in the Mid North of Country South Australia, a large rural area north of the Adelaide Plains. He spent his entire childhood there with his family until he moved to Port Lincoln, also in South Australia, where he has called home for six years. His family consisted of his parents, Alan and Jill, an older sister, Robyn, and his twin brother, Chris. Sam also has a half-sister and two half-brothers on his father's side.
When he was 18 months old, his parent realized that he was not developing in the same way as his brother. He was diagnosed with spastic diplegia, which effects both of his legs in terms of strength, balance and flexibility.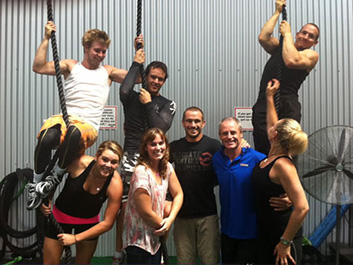 Because of Sam's condition, his childhood was not as active as that of his twin. But he harbored a secret desire – to learn martial arts – and when he was 14 years old, that wish became a reality.
To this day, Sam remembers how it felt when he began studying Zen Do Kai, a form of freestyle martial arts originated in Australia.
"I had always wanted to learn martial arts for as long as I could remember," he said. "But because I really didn't know much about martial arts or anyone with a disability who practiced it. I was never 100 percent sure I would ever actually be able to do it."
But when Sam's first instructor, Andrew Adrieans, heard his new student had some trouble with stability and balance in his legs, he asked the teen's mother, 'but has he got legs?' He then continued to say that my disability would not be a problem and he was confident that together, we could find a way around any problems."
From there, Sam conquered each lesson as it came with the goal of doing the best he possibly could. He also learned alternate methods to complete movements. Sometimes, depending on his condition, he was frustrated by this process.
To advance to the next level in martial arts, students must demonstrate their skills to their teachers and mentors. Sam remembers having to practice the moves he planned for this presentation from a wheelchair, which was challenging because of the level of footwork that was involved.
"I wasn't worried about the state my legs were in, I was more frustrated that I couldn't do some of the techniques properly because there was a drip in my arm," Sam said "I did my grading in my wheelchair with plasters on my legs two days after I got out of the hospital."
After graduating from high school and with four years of martial arts training under his belt, Sam enrolled in Australian Institute of Fitness. There, he earned level III and IV certificates in fitness and a master trainer certificate. Today, he is a third-degree black belt for Zen Do Kai martial arts, second degree black singlet in Muay Thai kick boxing and blue belt in Brazilian Jiu Jitsu.
Pieces of a puzzle
Sam has a process he uses to practice martial arts that involves breaking down specific movements and studying the role his limbs will play in that movement.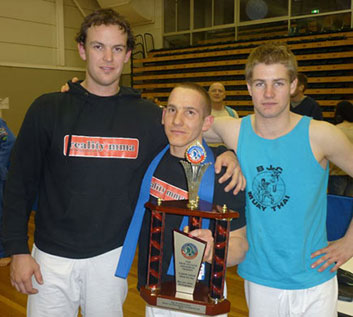 "Once I understand how each limb makes the movement work I go about working out how to use the motor skills I do have to bring about the same end result," he said.
"Martial arts caused me to constantly re-evaluate where I am both mentally and physically…Once I understand how each limb makes the movement work I go about working out how to use the motor skills I do have to bring about the same end result."
– Sam Broughton
"After my first time training with the founder of Zen Do Kai Bob Jones he told me something I will never forget. [Bob] said, 'You are like everyone else, never give up and use what you got."
– Sam Broughton
His process has served him well at work and in state competitions, where he has placed third in four separate events. But his first outing didn't go as planned, Sam said.
"I lost in my first ever competitive match," he said. "I was so focused on just doing my absolute best that I didn't realize until the fight was over that my opponent had torn all three of the ligaments in my right elbow."
Still, there are frustrations, both as a student and a teacher.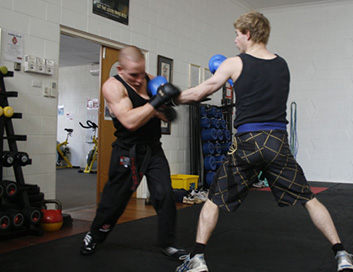 "It can be very frustrating to have to spend such a large amount of time focusing on a single movement that often other people don't even have to think about," Sam said. "My instructor had me teach techniques which I couldn't physically perform to brand new students who had no idea what I was talking about."
To get through that, he had to verbally explain, in great detail, the techniques to the students.
Owning a gym and martial arts school and being a mentor also encourages Sam to be confident in his own abilities.
"I cannot possibly inspire and guide people to achieve the best in their lives unless they know and see me willing to work hard and do the same," he said.
The best part of being a martial artist with Cerebral Palsy is that chance to constantly assess and reflect on his abilities, Sam said.
"Martial arts caused me to constantly re-evaluate where I am both mentally and physically," he said. "I enjoy the challenge of having a puzzle to work on which never ends; the picture slowly becomes clearer, but when you stand back to take a look, you always see areas for improvement."
Gaining perspective
Today, Sam lives independently, and is primarily involved in operating his business, Reality Mixed Martial Arts & Personal Training, which is also in Port Lincoln. There, he trains people of all ages in several forms of martial arts.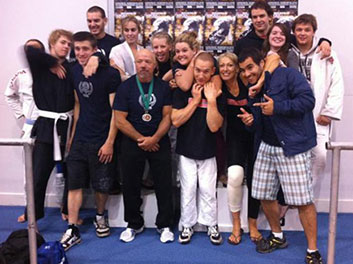 He has completed one hundred consecutive three-minute rounds of martial arts fighting and grappling, and has helped raise money for a local youth café. Sam's efforts in his community have been recognized with the City of Port Lincoln Pride of Workmanship Award, the Lions Club Young Courage of the Year Award, and the Troy Flugge Memorial Trophy for Brazilian Jiu Jitsu. He was also voted the Number One Active After Schools Coach in Australia.
He said several people, from his family to his coaches, have inspired him over the years.
"I am blessed to have almost always been around people who have encouraged me to achieve my best," he said. I owe my success to my mother and my family and the environment she chose to raise me in. She always made me believe disability or not I could do or be anything that I wanted to be."
Sam tells all of his students that possibilities in life have no limits.
"After my first time training with the founder of Zen Do Kai Bob Jones he told me something I will never forget," Sam said. "[Bob] said, "You are like everyone else, never give up and use what you got."
He passes the message on because he believes no one can reach their goals alone.
"There is nothing they cannot achieve if they set their mind to it," he said. "We are all carried through life on the shoulders of others.
"I think life is primarily enriched by experience," Sam said. "We all have a reason to be here on this planet. Our job is to find out what that reason is and to then share our experiences for the betterment of all of those around us."
Athletes with Cerebral Palsy

Athletes are mythic figures that have used their bodies to achieve an enviable level of fitness. Although most people don't associate individuals with Cerebral Palsy with sports and other acts of endurance, these athletes use their bodies to achieve feats of physicality that are only surpassed by personal satisfaction and confidence.