Man, 30, embraces adapted yoga for fitness and therapy
As a teen growing up in the suburbs of Detroit, Michigan, Ryan McGraw once balked at his mother's suggestion that he try yoga as a means of fitness. Over one decade later, the Eastern form of exercise is a regular part of Ryan's life.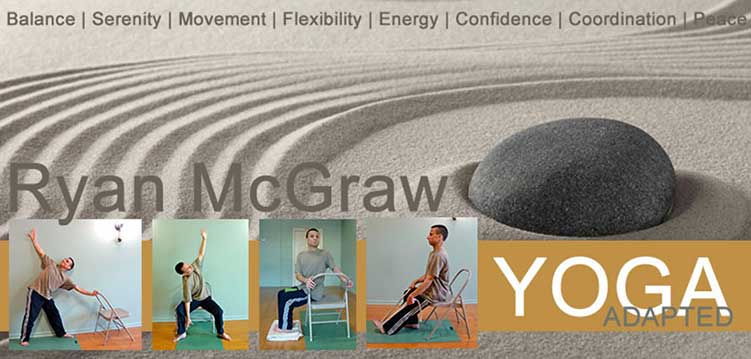 Now a resident of Chicago, Ryan – who was born with a moderate case of spastic Cerebral Palsy – believes that adapted yoga has made a huge difference in his physical and emotional well-being. And more than ever before, he would like to bring a message to people with disabilities – yoga can take many forms, and it's flexible enough to be adapted to a person's specific needs.
"I did yoga throughout college, but when I came to Chicago, I gained a whole new understanding of adaptive yoga," he said. "The adaptations take yoga to whole new level – it's amazing how you can adapt a pose to fit your body with the use of props.
"Chair yoga is awesome," Ryan said. "It's beneficial, and it gives you a great workout."
The physical needs of people with disabilities are often varied, but there's one constant, and that's that everyone, regardless of their physical capabilities, needs to find some way of staying as fit as possible. Ryan believes that yoga may be the solution for people with Cerebral Palsy.
"It improves strength, coordination and flexibility," he said. "Those are the physical issues a person with Cerebral Palsy has to address.
"Of course, we're not going to look like the people on the cover of yoga magazines posing perfectly when we're doing yoga," said Ryan McGraw. "But we don't have to do the poses in the way that everyone else does as long as we find a way that works for us that gives us the same benefits."
Humble beginnings
Ryan McGraw was born in Dearborn Heights, Mich., to Michael and Karen McGraw. His family, which includes two older brothers, Justin and Kirk, moved to nearby Dearborn when Ryan was about 10-years-old. He was diagnosed with Cerebral Palsy at about 18-months-old.
"My mother noticed that I was not meeting benchmarks like my older brothers did, so she took me to the doctor and I was diagnosed," he said.
Ryan grew up doing a lot of the same things other little boys do; his childhood was filled with baseball games, horseback riding, bowling, and swimming. "I even swam for my high school at a national and state level," he remembered.
By the time Ryan was five-years-old, he began to walk; up until then, his mother would assist him. Ryan did not depend on a chair or walker to assist him, and today, he walks unaided by devices.
"Of course, we're not going to look like the people on the cover of yoga magazines posing perfectly when we're doing yoga. But we don't have to do the poses in the way that everyone else does as long as we find a way that works for us that gives us the same benefits."
– Ryan McGraw
Eventually, Ryan graduated from Detroit Catholic Central High School and moved onto Kalamazoo College in Kalamazoo, Mich. He earned a bachelor's degree in political science. Soon after his graduation, Ryan was hired as an intern at a Kalamazoo chapter of The Arc Community Advocates, an advocacy organization that empowers individuals with developmental disabilities.
"When I was in school I knew that I wanted to do something to help people with disabilities," he said. "The president there, George Martin, was a great person. He involved me in everything the organization did – and the next year, he made me an offer to work as an inclusion specialist."
Ryan worked at The Arc Community Advocates for two years before he applied for, and was accepted to, graduate study at the University of Illinois in Chicago in 2008. There, he would earn a master's degree in disabilities and human development.
Although Ryan continues to practice yoga, he began to seriously consider the importance of adapted yoga and the lack of understanding about it among the general public and the disabilities community.
"I knew a lot of yoga, but not about adaptive yoga," he said. "I really became interested in it, and its benefits – I even did my master's thesis on the benefits of yoga in the disabilities community."
The mind-body connection
Adapted yoga, also referred to as adaptive yoga, is a modified method of yoga that uses props – chairs, walls, therapy tables, pillows, blankets, yoga blocks, yoga straps, mats and sandbags – to assist people with varying degrees of ability to practice breathing and hold poses for several minutes. It's a safe and effective alternative to conventional yoga in that it provides additional stability that some individuals with disabilities require.
It's not necessarily easier – it just puts safeguards in place to the prevent injuries, said Ryan.
"One of the challenges I faced when I started doing this is that I didn't really know about the props," he said. "Once I learned how to adapt yoga to fit my needs, I learned that there is no right or wrong way to do a pose – you don't need to touch the floor – that really helped me on my yoga journey."
Adaptive yoga relies on the instructors and the participants to learn awareness of the body, breathing, movement, and sensations. Adapted yoga instructors are trained to work with individuals of a variety of disabilities in a manner that gives each person a way of accomplishing traditional poses – posture and movement – in creative ways often using props.
For example, sandbags can be used as resistance to help strengthen and deepen the breathing process for individuals that use a wheelchair the majority of the day and are likely shallow breathers. Breathing – a main component of yoga – leads to an increase in energy levels.
The focus of the yoga method of "being in the moment" allows for self-examination, a sense of peace, and well-being. Quiet minds are less worrisome and more apt to connect with their inner self and transcend physical limitations, according to yoga theory.
Ryan said the benefits of yoga extend beyond the physical. "It really helps with flexibility strength," he said. "When I'm doing it, I feel very relaxed and calm; there's no anxiety. My body feels freer. It's mental and spiritual."
Today, Ryan is concerned that people with disabilities don't have enough access to adaptive yoga if that's what they decide they'd like to try.
"People have come up to me at a yoga studio, and they have not known what to do or where they should go to do yoga," he said. "It's actually a very common question – people don't know about yoga for people of all abilities."
Recently, Ryan completed a yoga treatment training course at a local studio, and one day, he said he would like to have a yoga studio that includes adaptive classes, or classes that are instructed by people who understand the need some students may have for adaptive yoga. He's conducted two workshops in the Chicago area, and he's scheduled two more.
Right now, Ryan is basking in the glow of having completed graduate school and is forging his next path.
"I really haven't planned what I'm going to do next; I'm at the point where I just finished my graduate degree and my yoga teacher training. Now, I'm looking for the next phase in my life. I really see myself pursuing adaptive yoga because I feel there's a real need for it."
One thing Ryan will likely not do is tell others whether they should, or should not, choose adaptive yoga instead of conventional yoga.
"I also understand that a lot of people who probably don't really want to do special yoga; they're going to want to do what they see others doing. And there's no problem with that – the first year I did yoga without any props, and I didn't use proper form. I did risk injury, but if someone else feels like they can do it and not risk injury, then more power to them."
Finding the right instructor is a big piece of the puzzle for new yoga devotees, no matter what they're set of abilities is, said Ryan.
"People with special needs need an instructor that knows about therapeutic yoga, adaptation, and the balance difficulties people can have," said Ryan. "It's important to feel comfortable with an instructor."
Ryan said one of the things that allowed him to pursue yoga is that he was always encouraged to participate in athletic pursuits. He credits his mother, Karen, for being persistent about yoga.
"I was about 19-years-old, and my mom encouraged me to go to yoga," he said. "I was a senior in high school, and it wasn't really cool for a guy to do yoga. But she made me go, and I've been doing it ever since."
Athletes with Cerebral Palsy

Athletes are mythic figures that have used their bodies to achieve an enviable level of fitness. Although most people don't associate individuals with Cerebral Palsy with sports and other acts of endurance, these athletes use their bodies to achieve feats of physicality that are only surpassed by personal satisfaction and confidence.