Athlete proves that success is a worthwhile climb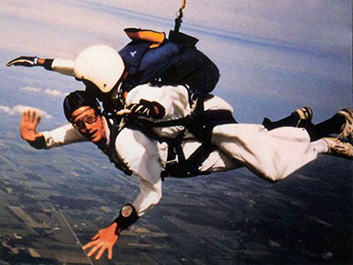 It's one of the most imposing challenges an athlete can ever contemplate: climbing the 14,110-foot Pike's Peak.
But Jerry Traylor, who was diagnosed with ataxic Cerebral Palsy as an infant, has achieved that feat three times. And, if that weren't enough, Jerry has successfully embarked on a 3,528-mile run across the United States, from San Francisco to New York City.
"When people say that I've overcome obstacles, I tell them that it's not true," he said. "I tell them that I have learned to work within my limits, and use what God has given me. There's nothing special about me."
Now 58, it's been a long time since Jerry participated in athletic events. But what he's learned about himself and others during those years have been invaluable to him as he's embarked on a career in public speaking.
"My message is that people can do what they want to do," he said. "But they need to believe in themselves."
Growing up different
Jerry was born in a small town called McCook, Neb., which has about 8,000 residents and is close to the Kansas border. Here, he lived with his parents, Tom and Marilyn, and his three sisters, Janet, Judy and Deborah.
The cause of his Cerebral Palsy is actually one of the most common causes – the umbilical cord became entangled around his neck in the birthing process. He describes his condition as moderate; although he would endure 14 corrective surgeries as a teen, and wore waist-high braces to stabilize his lower body until he was 14 years old . Today, he uses crutches to walk.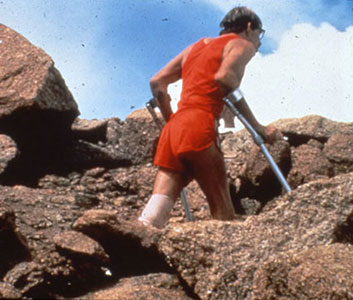 Early on, when other small children were participating in active pursuits, he felt as though he just didn't fit in.
"I had always wanted to take part in athletic activities, and when I was growing up, there weren't a lot of activities that I could take part in. But I just wanted to be involved, test my limits, and see who I was."
Jerry lived with his parents in McCook until he moved to Colorado to attend Western State College, where he would earn a bachelor's degree in business administration. While there, he said he began a long process of self-exploration, which included a three-mile race.
By the time he was 24 years old, he participated in what would be the first of 35 marathons in Denver, Colo. But when he crossed the finish line, he was not prepared for the response he received.
"All of the sudden, I was in the spotlight, and my story was in Associated Press and United Press International," he said. "It was getting picked up by newspapers and television all over the country. I was at that time doing a nine-minute mile, and it wasn't too shabby. But it was at this time that I thought I could help others."
For the next four years, Jerry continued building his career with the U.S. Treasury in West Virginia. He continued to participate in athletic events, including some dance marathons, but after he turned 28, the call of long-held dream was too loud to ignore. Jerry would scale Pike's Peak, a mountain known for its rugged terrain and steep drops. It's located at the front range of the Rocky Mountains.
"I tell people that it's difficult to depend on others for personal growth. I needed to discover what I wanted to do on my own, and that allowed me to be the person I am. I always tell people that I'm not handicapped because I use crutches. I would be handicapped if I did not have crutches."
– Jerry Traylor
For most athletes, the Peak can be wrought with dangers. But Jerry said that besides the altitude, which can cause breathing problems, the biggest problem was navigating, large rocks and boulders during his ascent.
"It's a 14,000-foot mountain and at that altitude, anyone is going to have trouble breathing," he said. But as I got higher and higher, I noticed a ton of boulders. I had to actually lift my legs over the boulders; sometimes I would spin my body to the next level."
Jerry would scale Pike's Peak two more times before he looked to other adventures. Additionally, he gave up his position at the treasury to become a full-time public speaker.
Across the USA
In 1985 (or 40 pounds ago, as Jerry said) he decided to take on a new challenge that would be a first in both athletics and disabilities circles: Jerry would jog, using his crutches, across the United States.
While on the road, Jerry received near-constant attention for his efforts, and many people told him how courageous they felt his endeavor was.
However, Jerry doesn't see it that way.
"For me, there was never any pressure," he said. "The accolades came just because I did it — society cheered for me, the results were not a factor. I never had any pressure to run a five-minute mile.
"But that's not why we should try these things," Jerry added. "All of us must use the gifts God gives us. There's nothing about me that is courageous; it's all about gratitude for being able to do the things that I can."
Jerry's message on the public speaking circuit is simple. Do what you can with what you have.
"I tell people that it's difficult to depend on others for personal growth," he said. "I needed to discover what I wanted to do on my own, and that allowed me to be the person I am. I always tell people that I'm not handicapped because I use crutches. I would be handicapped if I did not have crutches."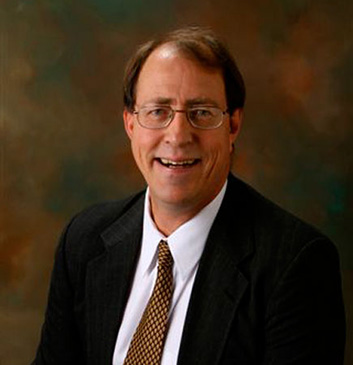 He also said the naysayers should be ignored as much as possible.
"It's one thing if people are expressing concern about your health and safety, but they should ask, 'How can I help?" he said. "But if they just say you shouldn't do it – or can't do it – you're not among friends."
As a speaker, Jerry has traveled all over the United States to take his message to non-profit groups, corporations, governments, schools and other entities that are in need of motivation.
He also put his message in his first book, "Live CAREfully" in 2006. The book details ways that people with disabilities and other challenges can marshal their own talents, as they exist, to live a more meaningful life. He is working on a second book, called "Live AIMfully," which will detail how to use goal-setting to make positive changes in one's life.
For divorced dad Jerry, who lives in Fountain Hills, Ariz., with his 17-year-old daughter, Sarah, there is a new challenge.
"I was diagnosed with non-Hodgkin's Lymphoma two years ago, and I'm undergoing treatment and chemotherapy," he said. "I wasn't angry when I found out, but I thought, how could I use this?"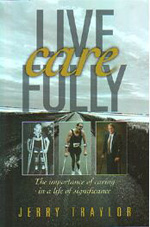 The cancer, Jerry said, is a different mountain to climb.
"This has been another opportunity for me to embrace my imperfections, and that's something we should all learn to do," he said. "People shouldn't try to be like others – they need to say, 'I am blessed because I am unique.'"
For more information on Jerry:
Athletes with Cerebral Palsy

Athletes are mythic figures that have used their bodies to achieve an enviable level of fitness. Although most people don't associate individuals with Cerebral Palsy with sports and other acts of endurance, these athletes use their bodies to achieve feats of physicality that are only surpassed by personal satisfaction and confidence.