Texan finds strength, confidence in the mastery of Parkour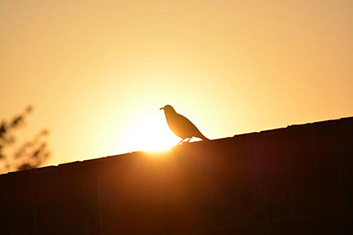 Young adulthood is a time of endless transitions; making the leap from child to adult or from student to worker are the significant changes most of us will face during this period in our lives.
People with Cerebral Palsy also make these transitions and several others. Entering a new phase in life can be difficult to navigate for anyone; as much optimism as a person has about moving forward, he or she may encounter some challenges.
James "Rooster" Gallion, a 25-year-old from Carrollton, Texas, is enjoying his transition. In a matter of just a few years, he's made the journey from seeking out his post-high school steps to finding his new passion in the athleticism of Parkour, a form of gymnastic movement that has its roots in exercises performed by the French Special Forces. Both nationally and internationally, the non-competitive sport is gaining attention.
But Rooster's path to Parkour – which still continues today – has been a series of meeting and overcoming obstacles that were not solely created by participating in Parkour. Transitioning from a reserved young man to a confident athlete was one that began much sooner, and had bigger implications, than any sport.
Pushing aside the walker
James Blake Gallion, who is called James and Blake by his family, is the youngest son of Niles and Vickie Gallion. The family also includes Rooster's older brother, Niles II. The family makes their home in Carrollton, which is located outside of Dallas.
According to Vickie, Rooster was diagnosed with Cerebral Palsy as an infant. Once a neurologist was able to determine that the Gallion's son had Cerebral Palsy, he told the parents their son's form of the condition affected all of his limbs, and that he was deaf in his left ear. Also, the Gallions learned their son would be nonverbal.
"He didn't cry, and I thought 'this baby sleeps well,' but it wasn't long before I knew something was wrong," said Vickie.
Rooster's pediatrician, in discussing his patient's physical condition, used heartbreaking words when explaining what he saw as Rooster's outlook – suggesting Rooster would become a "vegetable," Vickie said.
"At the time, we didn't know what the future would look like – we had been told that children with this condition sometimes have seizures," she said.
But soon, the active toddler proved the physician wrong. The local Easter Seals organization gave the family a walker designed to help Rooster ambulate, but he promptly decided he did not like the bulky device.
"He was in this big reception area, and he just pushed the walker away," Vickie remembered. "He grinned and went flying across the room. He hasn't stopped since that day."
It was then, at 3 years old at the Easter Seals headquarters, that a little boy found his footing.
As Rooster grew, he would attend a conventional day care center and a combination of mainstreamed classes and special education courses.
Additionally, Rooster would participate in sporting activities in his community with able-bodied children. T-ball and soccer were his sports of choice while younger; basketball and and karate as he entered high school.
Although he had friends, sometimes, the youngster was targeted by other children that picked on him or made fun of him. These children would often call him "Rooster."
Although at first it hurt to be targeted for bullying, Rooster decided instead to adopt the moniker.
"He did what he always does," said his mother. "He turned a negative into a positive."
Eventually, he would turn the name of Rooster into a full-blown person called "Rooster of Fury." He had T-shirts made with the name on it.
"When he was in middle school, sports became competitive, and he couldn't make the team. Then he decided he would try boxing," said Vicki, who wasn't thrilled with the choice at first.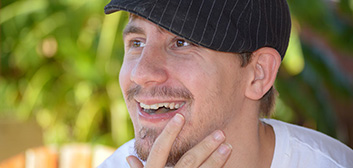 Vickie took her son to a local gym where he began the first of six boxing sessions.
"The boxing coach was a really neat guy, and he embraced [Rooster] right away," she said.
Rooster also worked a handful of jobs and served as an Eagle Scout Senior Patrol Leader. Being non-verbal and deaf in his left ear, he communicated by using a device called a Liberator, which converted words into speech.
But after high school, Rooster's life came to an impasse. Friends seemed busy with new endeavors, and Vickie noticed that her son was in need of activity.
It was at this time that he would make another transition. Because he was considered underweight with a 98-pound frame, his parents hired a personal trainer to help him build muscle and eat foods designed to add weight and build strength. As part of the overall plan, Rooster would consume 4,000 calories a day.
Instilled with newfound confidence and immersed in the world of fitness, Rooster enrolled in the American Ninja Warrior competition, considered by some as the ultimate obstacle course. His mother had never seen him so excited as when he tried out for the intense physical competition.
"He didn't make it past the first round, but he tried," Vickie said. "That's what counts."
It was at this time that the practice of Parkour entered Rooster's life.
Enter Parkour
"James told me that he wanted to try Parkour; I wasn't really familiar with what it was," Vickie said. "And when I downloaded some videos on YouTube, I was like 'Really? This is what you want to do?"
Rooster was adamant. So, he enrolled in Parkour classes, and discovered this activity was one that was a good fit for his skills and capabilities.
Parkour is a training discipline that uses gymnastic movement to quickly and efficiently overcome and bypass physical obstacles. It was created in France as a non-competitive discipline. The name "parkour" comes from the French word "parcours du combattant," which means "course of the fighter." The current form translates as "the way through" or "the path."
Although Parkour is considered non-competitive, a participant is challenging their own limitations and abilities by reinterpreting ways to navigate the environment in creative ways. In doing so, they complete complex moves – from vaulting and somersaults to flips, leaps, jumps and vaults within the outdoor urban or indoor gym setting.
With Parkour, practitioners navigate and adapt to mental and emotional obstacles while maintaining physical momentum. If the movements seem challenging, it's because they are, said Vickie.
"I was nervous about what he would be doing when I saw the videos," she said. "So we set up obstacle courses in the yard so he could practice, and eventually, he became very good at it."
It's wasn't long before Vickie observed her son completing complex physical feats as part of his Parkour regimen. "I saw him doing flips and jumps, and I thought about what I was told by the pediatrician so many years ago," she said. Instead of concentrating on what Rooster couldn't do, Vicki prefers to ask, 'What if I didn't give him the opportunity?' And, 'What if he didn't try?'
Through his trainer and friend, Jenin Gonzales, Rooster met David Thompson, who has been able to help the young athlete raise his profile in the sport.
Thompson, along with his business partner Victor Bevine, co-founded the World Freerunning and Parkour Federation, which is aiming to "faithfully bring this philosophy of movement to the growing numbers of optimistic young people around the globe who believe that through camaraderie, self-expression, and service to others, there is no obstacle that cannot be overcome."
Thompson said that Rooster's success in Parkour is a testament to his abilities.
"Rooster's got all of the qualities of a leader; he inspires kids to pursue athletics and gives them confidence," he said. "He's hard-working; he's an optimist. When it comes to Parkour, he drank the Kool-Aid. He's got a great spirit."
Also, Rooster has hit the online circuit. A video, A Reason to Move, featuring his story received about 30,000 views on YouTube when posted and continues to climb the charts.
Transitions and goals
The only thing that any of us can count on is change. For people with disabilities, however, these transitions can be immensely difficult, but gratifying once they take flight.
For Rooster, who is currently working with a gymnastics instructor and practicing Parkour anywhere from three to five days a week, discovering Parkour has been a life-altering experience. As a teen he favored basketball, Rooster said Parkour is more of a challenge.
"It's more fun, and you learn more stuff doing it than you would in other sports," he said.
In the near future, Rooster – who still uses the "Rooster of Fury" moniker as part of his Parkour persona – plans on seeking certification as a Parkour instructor. But he still has some obstacles to overcome before that can occur, he said.
"I need more experience, and I need to build my skills," he said. "I hope to teach, and I've signed up for certification 1 and 2 for Parkour. I hope that, by the end of November, I'm certified for level 1 and 2."
Being certified to teach would help Rooster meet a few personal goals. It would allow him to earn an income from teaching, and it would allow him to practice something that he's grown to love over the past few years.
To communicate, Rooster uses American Sign Language, but has also replaced the Liberator voice device with an iPhone application that converts text to voice. He finds the app is much easier to use than the Liberator; it should be an asset for him as he begins what he hopes will be a new career.
Although the primary focus of Rooster's life is Parkour, he has another compelling interest: Photography. Rooster takes many photographs – mostly in nature – as a hobby. He also enjoys old-school sketching – freehand, not using a computer. One of Rooster's favorite topics to photograph is the sunset that can be seen from the backyard of the family's home.
When Rooster isn't working on his Parkour skills or his artistic pursuits, he enjoys spending time with his family.
Vickie said that people with disabilities – and those without any special needs – have something to learn from her son's story. The lesson is: Do anything you have to do to discover an authentic and productive path for your life.
"This shows that someone with disabilities can do anything they want to do," she said. "I've seen my son accomplish things that someone that is completely able-bodied would have trouble achieving. His family is very proud of what he has been able to achieve."
For more information on James:
Watch watch the heartfelt documentary of James "Rooster" Gallion's journey into Parkour, visit:
To watch videos of other WFPF athletes, visit:
Special thanks to David Thompson, Victor Bevine, and Francis Lyons for the introduction to Rooster, his video, and visuals.
For more information on Parkour:
The World Freerunning Parkour Federation is the only world federation for the sport of Parkour. They represent 30 of the world's best Parkour athletes and have a grass roots network of teams and individuals from over 150 countries, including representation in all 50 U.S. states. For more information on WFPF, visit:
World Freerunning Parkour Federation
For more information on individuals that have achieved WFPF Athlete status, visit:
For more information on the history of the sport, visit:
History of Parkour
Are you transitioning into adulthood?
Call MyChild at (800) 692-4453
Ask for our college, workforce development or transitioning resources. They're free.
Athletes with Cerebral Palsy

Athletes are mythic figures that have used their bodies to achieve an enviable level of fitness. Although most people don't associate individuals with Cerebral Palsy with sports and other acts of endurance, these athletes use their bodies to achieve feats of physicality that are only surpassed by personal satisfaction and confidence.