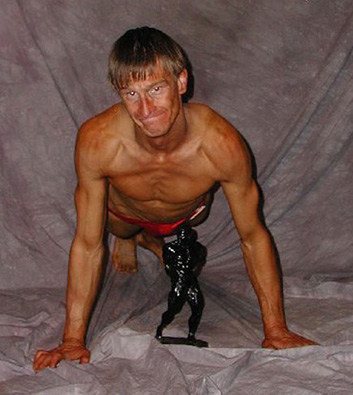 Bodybuilder powers his way through sport and life
Jack Runser admits he's a little stubborn, especially when it comes to meeting goals he's set for himself that others doubt he can achieve.
The 41-year-old native Alaskan, who was diagnosed with Cerebral Palsy at birth and has competed on the glitzy stages of the professional bodybuilding circuit on and off for a decade, decided in his teens that he would build a superior level of strength in a body that doesn't work in the way he feels most do, and that he, despite his diagnosis, would focus on an activity others in his life believed would ultimately be elusive.
"I like challenging my absolute limits," Jack said. "I can do all the weights on machines, plus more. I enjoy shocking people – and pushing back society's perceived concept of disability."
It's that determination that has made it possible for Jack to compete as a bodybuilder in both national and statewide competitions, mostly in the bantamweight class. And though he recently retired from competition and is now plotting the next phase of his life, he has a message for people coping with a physical challenge: No goal is too unrealistic, or off limits.
In the beginning
Jack describes his form of Cerebral Palsy as moderate; he does not use a wheelchair and has much function in his limbs, which he believes is because of his aggressive workouts. He said his Cerebral Palsy was most likely triggered by an Rh incompatibility factor, and has caused him significant pain. Additionally, he is deaf and communicates using computerized equipment.
"All my life I have had to prove people I set my own limits. People of whom don't know me say to me, you have limits. They sadly have limited themselves…"
– Limits by Jack Runser
Like most young boys – especially those that grow up among the ruggedness in Alaska – Jack was interested in sports and physical activities. As a junior high school student Jack discovered weightlifting; he saw potential in that activity and enjoyed the tough workouts.
Becoming an adept bodybuilder was no easy task, Jack said, because he works out in much the same way as other bodybuilders. "I do pretty much everything myself, which is time-consuming," he said. "The biggest challenge was mostly the coordination of lifting weights."
Soon, once Jack learned how to lift weights and use workout machines, he began training regularly.
"I've worked out four hours a day seven days a week, for years," he said. "When I competed at a national level, I walked with my head high, I put in 110 percent, and retired after that. I still [work out] just not as intensely."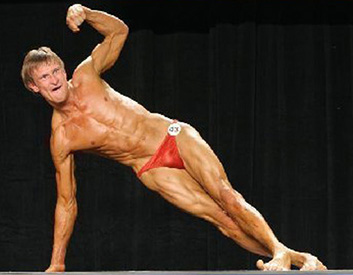 As a professional bodybuilder, Jack placed second in a statewide competition, and has been named the most inspirational bodybuilder twice by the National Physique Association. At a national competition in Chicago, he placed seventh in the featherweight division, and although he was not set to perform his routine for the next round, he was asked to by the contest judges during a break. He received a standing ovation from the audience, the judges and the other bodybuilders.
"I enjoy pushing back society's perceived concept of disability."
– Jack Runser
"The biggest challenge is people telling me, 'No, you can't do that."
– Jack Runser
Jack said the bodybuilding has been a unique way to cope with Cerebral Palsy, and one that has benefits and drawbacks.
"Weight training has been therapeutic for me," he said. "But it's also a Catch 22 because I've pushed myself beyond anyone's wildest dreams, and because of CP and aging, my joints have worn out faster."
"But do I have regrets about weight training?" he said. "No. It's probably what has kept me from being in wheelchair, as most folks with the same degree of CP, or even lesser, are in wheelchair in their 30s. I'm in my 40s, and I'm still pushing limits."
Expanding abilities and options
Despite his achievements in bodybuilding, Jack said people close to him often worry he's pushed himself too far.
"The biggest challenge is people telling me, 'No, you can't do that,'" he said. "I have had to prove myself so many times, even now.
"For example, I've had a couple people come up to me, saying, 'No, no, you'll hurt yourself' – some even going as far as getting in my way," Jack said. "I have to prove myself every single time I step in the gym. Even family members have told me that I'm pushing my limits too much."
Jack lives independently, and now that he's retired from bodybuilding, he's building a plan for his future. A student at the University of Alaska-Anchorage, he's pursuing a bachelor's degree in human services. When he's not at school – or working out – he enjoys active pursuits such as hiking and horseback riding.
In providing encouragement to others, he said that people with Cerebral Palsy that would like to engage in sports or athletics should seek information, but ultimately, the decision to follow through is an individual one.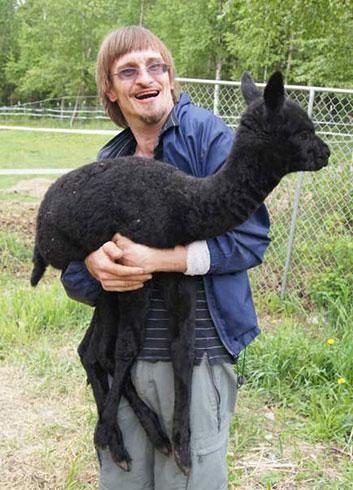 "My advice would be to look inside your heart to see if you think you can do it," Jack said. "Although you know you are pushing society's limits, if you say yes, then do it."
Limits
By Jack Runser
All my life I have had to prove people I set my own limits,
People of whom don't know me say to me, you have limits.
They sadly have limited themselves in their mind and soul.
Only one person can say you have limits and truly know it
The person who can say that, is no one else, but yourself…
In reality, there are no limits, but the limits that you set.
Sometimes there are obstacles that are seen as limits,
But yet if you choose to climb over it, you can and will.
That's if you have enough will power and you have to find it.
Deep, deep inside you if you search your soul you will find it.
Therefore only you know if you have the will to go on,
And be free to be the best you can be, and remember
Whenever you despair of being free of the limits
Limits are no more than an imprint in your mind which,
Where there is will inside you, the imprint is erasable.
Athletes with Cerebral Palsy

Athletes are mythic figures that have used their bodies to achieve an enviable level of fitness. Although most people don't associate individuals with Cerebral Palsy with sports and other acts of endurance, these athletes use their bodies to achieve feats of physicality that are only surpassed by personal satisfaction and confidence.