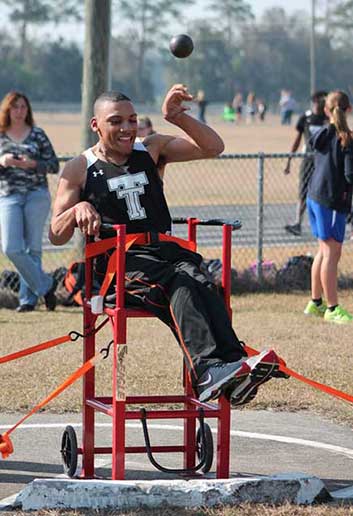 For teen, shot putting puts a new spin on track and field events
On many sunny afternoons, 18-year-old Drew Dees would warm up with several other track and field athletes at Trenton High School in Trenton, Fla. For Drew, that meant warming up his arms to participate in a segment of track competition that is little known in high school athletics, but has its origins in the Olympic Games.
Dees, a sophomore, competes in adaptive shot put events, a track and field event that centers on the art of throwing a heavy object as far as possible while in a stationary position.
Drew's involvement in the sport initially began three years ago as a joke, but has grown into a point of pride for the Florida teen, who holds three championships in adaptive shot put.
"I showed up on the field when they were organizing track and field events at school," Drew said. "But then I decided it was something that I could do, and that I wanted to do to be involved."
And with that, Drew discovered that despite the fact that he uses an electric wheelchair, he could become an outstanding athlete.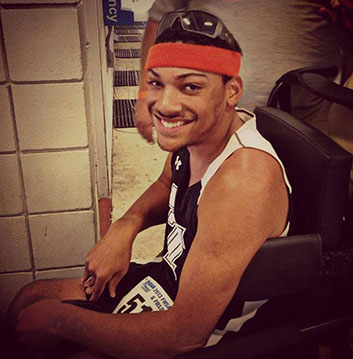 "It's something that I really enjoy, and one of my goals is to try to get exposure for this sport," he said. "It's a great way for someone like me to get involved in sports."
The road to the athletic field
Trenton, Fla., Drew's home town, is a small town of about 1,700 residents in the northern portion of the Sunshine State. He is the son of Samantha and Chris Worley.
Drew received a Cerebral Palsy diagnosis as an infant after it was discovered that he experienced a loss of oxygen during the birth process. His Cerebral Palsy affects his lower body; he uses an electric wheelchair for mobility. Drew's upper body was unaffected, and he has no developmental delays to speak of.
Though his childhood was far from easy, Drew said the people that live in his small, tight-knit community look beyond his disability.
"My school is really small, and everyone knows me," he said. "I always got along just fine with other students, and I have a lot of friends. I'm just one of the crowd." Drew added that because he has no developmental delays, he attends mainstream classes, which gave him many opportunities to mingle with a broad range of students.
In fact, Drew's talents are not limited to athletics. During the previous school year, he served as the class treasurer, and in September, he plans to launch a campaign to become class president.
"I enjoy student government, and I think I can bring a lot to the table [as a class president]," he said.
At school, Drew indulges another passion – drama and plays. As a member of the drama club, Drew has appeared in several student productions. Most recently, Drew played the role of the father in "Charlotte's Web," a play based on the classic children's book by author EB White.
Drew said he's an average guy that enjoys typical activities that appeal to other young men.
"I like hanging out with my friends, and pretty much anything other people my age like to do," he said.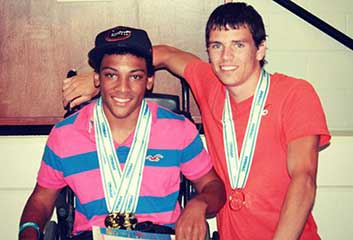 A long throw
Shot put success is measured by how far an athlete can throw a hand-sized metal ball. The farthest length denotes the winner of the competition. Most people are familiar with the sport from seeing it on Olympic broadcasts; it has been a sanctioned Olympic sport since 1896 for men and 1948 for women. In the sport, men and women compete separately.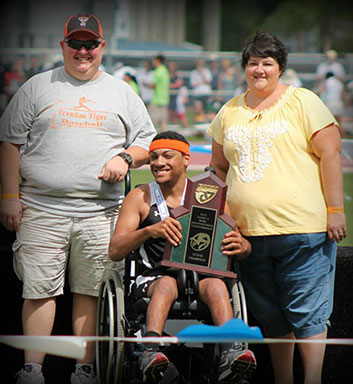 The concept of the shot put is simple enough, but the weighted ball can be difficult to handle, and precision is required to keep it on course. Drew tosses the ball from a specialized wheelchair, which is why the sport is considered to be adaptive in nature.
Because Drew has an abundance of upper body strength, the shot put was a perfect fit for his skills.
"It has helped me a lot with my upper body strength," he said. "But I still use free weights to help me maintain my strength."
Though Drew initially made his way into track and field sports as a joke, he credits a friend and fellow Trenton High track star, Brandon Stone, with encouraging him to pursue sports.
"It's something that I really enjoy, and one of my goals is to try to get exposure for this sport. It's a great way for someone like me to get involved in sports."
– Drew Dees
"Brandon competed in the high jump," Drew said. "He really helped me learn how to compete."
Though shot put is not a sport that can easily be maintained after high school competition, like running, Drew feels like it will always be part of his life.
"Right now I'm investigating the possibility of being a judge," he said. "I think that would also be a good way for me to raise the profile of the sport. It's a way that I can stay involved in shot put."
Looking forward
Though Drew intends to stay involved in the shot put scene in high school, he's doing so with a keen eye towards his own future.
Drew said that he uses computers regularly. With that in mind, he said he's going to pursue computer graphics and computer programming at the University of Florida once he completes his high school studies.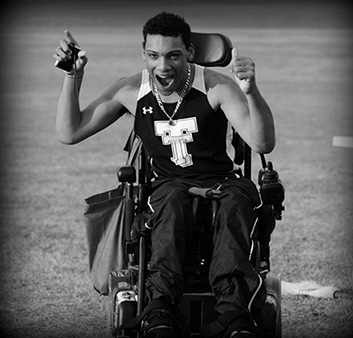 "I'm on my laptop all day long," he said. "It's a natural choice for me."
He has some sage advice for people with disabilities that want to take on new challenges, especially those that involve athletics.
"I always tell people to not let others tell you things about yourself that will interfere with reaching your goals," he said. "I never let anyone tell me that I couldn't do something because I had a disability. I would tell people to just do it anyway.
"I guess that, for me, it's been a long road," Drew added. "It wasn't easy; I've overcome a lot of stuff. I always tell people that [success] is not going to come easy."
Athletes with Cerebral Palsy

Athletes are mythic figures that have used their bodies to achieve an enviable level of fitness. Although most people don't associate individuals with Cerebral Palsy with sports and other acts of endurance, these athletes use their bodies to achieve feats of physicality that are only surpassed by personal satisfaction and confidence.