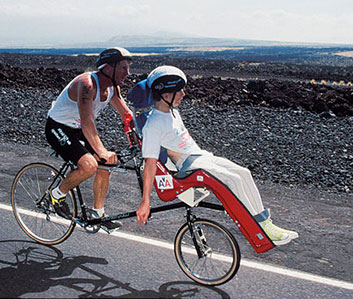 The Father and Son Bond
If you watch an endurance race today, chances are, there will be a division for wheelchair athletes. But at the time Dick pushed Rick across the finish line in 1977, the sight of a wheelchair racer would have been extraordinarily rare.
In 1981, the Hoyts would finish their first Boston Marathon, 26.2-mile trek through downtown Boston, with Dick pushing Rick in a special wheelchair. The event, Dick admits, was somewhat difficult for him.
"I had never run like that before," he said.
Four years later, on Father's Day, the father and son would take on something that was, at the time, unprecedented: a triathlon that consisted of a one-mile swim, a 40-mile bicycle ride, and a 20-mile run. For the Hoyts, the question was not if they could achieve this, but how?
The answer lied in equipment. For the swimming portion of the triathlon, Dick pulled Rick in a specialized boat with a bungee cord wrapped around Dick's waist. To bike, the pair used a two-seater bicycle with a custom-made seat, and for the final road race, he pushed Rick in his athletic chair.
"In January 1988, after a year of racing to include one Ironman, a half Ironman, three Olympic-distance triathlons, five marathons (including one in Barbados), three half-marathons, and fifteen short road races, I wrote a letter to the Hawaii Ironman officials to get permission to compete in the 1988 event…I emphasized our experience and passion for the sport and what we could bring to a worldwide event. Finally, I wrote about the honor it would be for us to compete in the race. We were preparing for our eighth consecutive Boston Marathon when the word came back from the Ironman World Championship: Our application had been rejected. The officials were concerned that the swim would be too dangerous for us. I took their response in stride. We had been rejected before, so I hadn't expected this to come easily."
– Dick Hoyt, Devoted: The Story of a Father's Love for His Son, 2010.
From there it was onto the most challenging of all sporting events, the 1988 Ironman Triathlon in Kona, Hawaii. This grueling event, which the duo has taken part in six times, is comprised of a 2.5-mile swim, a 112-mile bike ride, and a 26.2-mile marathon.
"I quickly wrote back, emphasizing the safety measures we always take and pointing out that we had swum triathlon distances before in all kinds of waters…The answer was the same. They regretted that they couldn't allow us to compete for safety concerns."
– Dick Hoyt, Devoted: The Story of a Father's Love for His Son, 2010.
The first try did not go well because Dick got sick, but they returned to Hawaii in 1989 and finished the race. In 2003′s Ironman attempt their bike crashed and they spent five hours in the hospital, Rick with stitches on his face and Dick with road rash.
"It was disappointing, especially after we crashed, Dick remembered. "But we got back up to try again, and we finished." They would make several other returns to the beautiful state of Hawaii to compete.
Over the years, the Hoyts had completed a number or marathons, triathlons and road races, but in 1992 it was time to take on a new challenge unique to them – a 37,035-mile trek across the United States through 18 states from Santa Monica Pier in Los Angeles to the Marriott Long Wharf on Boston Harbor, Mass. The journey took 47 consecutive days and it was a family affair to remember that they named "The Trek Across America."
At the time Rick published his book in 2012, Team Hoyt participated in 1,003 races, including 248 triathlons, 22 duathlons, 70 marathons (including 30 in their beloved Boston) 94 half marathons, 216 10-kilometer sprints, 157 5-milers, and 152 5-kilometer races, to name a few. Their tours include The Trek Across America; biking through Connecticut, Rhode Island, and Massachusetts for the "Axa World Ride '95;" and a race from Pittsburgh to Washington D.C.
Rick is amazed at his father's strength.
"Let me put it into perspective for you. The average triathlete probably weighs about 150 pounds and their bike weighs about 17 pounds. This is a total of 167 pounds. Dad weighs about 180 pounds and our bike weighs about 70 pounds, because it needs to be heavier and stronger to hold both me and my seat," disclosed Rick. "Dad isn't very pleased about this, but I now weigh about 100 pounds, thanks in part to a regular diet of ice cream and chocolate cake. This totals 350 pounds, or almost 200 pounds more than the average triathlete with his bike. The same math could be used to figure out how heavy a load Dad has to pull over a two-mile swim as well."
"That's when I called in the big guns. Judy used the congressional pull she had from her work with congressmen to implement Chapter 766 a few years earlier to convince a Hawaiian senator that our participating in the prominent competition would be good publicity for his home state. He agreed and got in touch with the Ironman representative in charge of our application, Valerie Silk. At the same time, Dave McGillivray, who had close ties with Ironman committee members, pleaded our case, too. Eventually and incredibly, Silk consented. We were officially invited to participate in the 1988 Ironman World Championship."
– Dick Hoyt, Devoted: The Story of a Father's Love for His Son, 2010.
"I also describe my dad as one of the most determined individuals I've ever met; not simply determined to help me in my life, but also to help others." Rick said.
For Dick, taking part in the events with his son has been a bonding experience.
"In 1989, when Dick and Rick completed their first World Championship Ironman triathlon in Kona, Rick became the first disabled person in the world to ever compete in and complete the Ironman in Hawaii. Due in part to his efforts, Ironman now has a physically challenged division. Nearly twenty-four years later, Rick became the first disabled person to be inducted into the Ironman Hall of Fame."
– Kathy Sullivan-Boyer, Team Hoyt Office Manager and Dick's Girlfriend, One Letter at a Time, 2012.
"From the beginning, everything we did with our other sons, we did with Rick," he said. "At first, people would look at us, but eventually, they embraced us." In his book Devoted, Dick chronicles the journey, races and accomplishments of their combined racing careers. Throughout their many interviews and books one theme remains, there is no Team Hoyt without each other. And, both will boast, they never finished last.
Transcending Limits, Helping Others
Dick retired as lieutenant colonel of the Air National Guard on July 28, 1995, after 35 proud years in the military. He was determined to continue to race and spread "awareness about what can be achieved if a person only believes in himself."
In 2005, the Hoyts used their notoriety to create a foundation, The Hoyt Foundation, Inc., to help others with disability take part in athletic pursuits; promote and foster inclusion in everyday life; and raise disability awareness. Benefactors include the Boston Children's Hospital, Easter Seals of Massachusetts, Rehab Resources, various summer camps, and therapeutic organizations.
"By competing with my father, I send the message that everyone can set a goal and they can reach it, as long as they never give up. In 2008, Dad and I were inducted into the Ironman Hall of Fame. I was inducted as the twenty-sixth member and Dad just behind me as the twenty-seventh, because, as you know, I always finish just ahead of Dad…First, as a man with disabilities, it has given me the chance to compete in one of the world's truly special sporting events. Second, allowing me to compete, led to the establishment of the physically challenged division. Third, it gave me the stage to show all types of different people that they can set, strive for and achieve their goals. And finally, I got to go to my favorite place on earth eight times."
– Rick Hoyt, One Letter at a Time, 2012.
Their motto is "Yes You Can" to promote the message that you can do anything you set your mind to for individuals with or without disability. For the Hoyts, after decades of being told "No you can't" they want to send a different message for others to hear.
"I knew the credit went to my son. He was my motivation. Something gets into me when I'm competing along with Rick that makes us go faster. My strength comes from him, as if it moves from his body into mine. The strength that I got from my son that day enabled us to become Ironmen."
– Dick Hoyt, Devoted: The Story of a Father's Love for His Son, 2010.
Dick has also written about his experiences with his son. The book, "It's Only a Mountain," highlights his achievements in the athletic realm. His latest book, "Devoted: A Father's Love for His Son," delves into his personal path as Rick's father, and their journey of persistence and bond. In 2012, Rick's first book One Letter at a Time, co-authored with Todd Civin, the Hoyt's social media director, was published to not only share Rick's voice, but dozens of personal accounts of individuals whose lives were positively impacted by Rick and Team Hoyt.
"…to me finishing is so important. It is a representation of my life. Mom and Dad could have quit when I was born, but they didn't. They could have given up trying to help me learn to communicate or trying to get me into public school. They chose to continue, and because of that, I've had one heck of a ride. We never fail in our athletic competitions despite the fact that we have gotten lost during races and even finished with flat tires. We still continued and still finished the race. Dad and I are not quitters."
– Rick Hoyt, One Letter at a Time, 2012.
The Hoyt's both have received several awards for their efforts to bring the issues of the disabled into the nation's conscience. These include the induction into the Ironman Hall of Fame, the "Living Legends" award from the Sports Museum of New England; a Certificate of Achievement from the President's Council on Sports and Fitness; the Champion Sports Award from the Washington D.C.-based Lombardi Foundation; the Parenting Award from the Army National Guard, the "Exemplary Father" award from the Office of the Mayor in Dayton, Ohio; and the Humanitarian Service Award from the Commonwealth of Massachusetts.
Dick currently spends his time on the speaking circuit, and of course, continues to participate in athletic events with Rick. Dick's girlfriend, Kathy Boyer, a strong support for Team Hoyt fields thousands of emails and media requests from all over the world while coordinating Team Hoyt and the Foundation's activities and schedules. With the addition of Todd Civin as their social media director the Hoyts have established a website, Facebook presence and many followers.
Throughout all the attention and glory, Dick said he doesn't like to be singled out as a special father.
"This for me was what it means to be a father," he said. "But Rick has graduated from public school and from college, and he's achieved more than many people will in a lifetime. And we're going to keep going (in racing) until one of us can't anymore."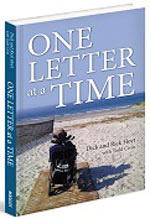 AN INSPIRATIONAL MUST HAVE!
Perhaps you have been inspired by Team Hoyt's story or know of someone that would be. If so, consider purchasing their new books! Purchase Here!
To order multiple items, call 413-245-9466 today!
Ask for:
– Rick Hoyt and Todd Civin. One Letter at a Time, 2012
– Dick Hoyt. Devoted: The Story of a Father's Love For His Son, 2010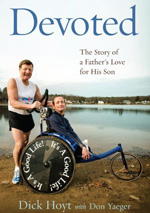 To connect with the Hoyts:
Team Hoyt Website
Team Hoyt Story on YouTube
Team Hoyt Facebook Fan Page
Continued…
For Dick Hoyt: Part I – Race by Race, a Father's Love Lifts Son
For Dick Hoyt: Part II – The Basics
For Dick Hoyt: Part III – Transcending Limits
Relationships and Cerebral Palsy

There's an old saying that the measure of a person's life is measured by how much they are loved. There's no doubt about it: our relationships with others are the cornerstone of our ability to thrive and enjoy life. Relationships allow us to explore all of the facets of giving and receiving love, from the patient and protective concern shown between a parent and child to the fire and chemistry that happens between friends, mates and spouses. And the level of ability has nothing to with the level of love one is willing to give to or receive from another.