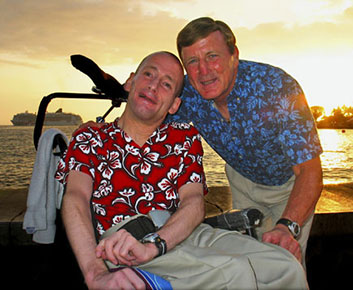 Race by Race: A Father's Love Lifts Son
A son's relationship with his father is one that can leave an indelible mark on both parties, but there aren't many fathers – or sons – that have the ability to leave that same mark on a community of people that, too often, have no voice.
It's a role that Dick Hoyt could never have conceived of when in 1977 his son, 15-year-old Rick, asked if the pair could participate in a five-mile charity run to raise money for local track and lacrosse player Jimmy Banacos, paralyzed in an automobile accident. The request, in and of itself, was a blessing as Rick has severe spastic quadriplegia and Cerebral Palsy that rendered him non-verbal and reliant on his wheelchair for mobility. For most of Rick's first 15 years, Dick knew his son was intelligent, but struggled to find ways to communicate with him.
"A spastic wave of his arms, a nod of his head, or a glance in a specific direction were amongst the very limited weapons that Rick has in his communications arsenal," said Todd Civin, co-author of Rick's newly released book "One Letter at A Time."
"Due to the way his muscles constantly tensed, writing and sign language were not possibilities either," wrote Dick in his book "Devoted: The Story of a Father's Love for His Son," published in 2010 describing that until age 12 Rick was unable to communicate vocally. "We had long since learned how to interpret our son's smiles and nods, his "yes" and "no" head shakes, but as good as everyone in the family was about figuring out what Rick needed, we were still only making educated guesses."
"Judy and I were stunned. Brain damage? What did this mean for his future? The doctor could only tell us that early tests indicated our baby had no physical control over his limbs and in all likelihood never would. He was breathing on his own, but it was labored…In addition, they were having trouble feeding him from a bottle. We had so many unanswered questions."
– Dick Hoyt, Devoted: The Story of a Father's Love for His Son, 2010.
In late winter 1974, engineering students at Tufts University in Medford, Mass., led by Dr. William Crochetiere, the engineering department chairman, developed a communication device for Rick. The device spoke for him by allowing him to select letters by tapping against a console for words. In the years that followed, the team tweaked and re-engineered the device that the family would eventually dub the "Hope Machine."
"It was the Hope Machine that really brought us hope for our son's future," said Dick. "For the first time, we began to imagine a full life for Rick, one that afforded him opportunities we'd never have imagined, including the chance to attend school. Public school, at that time, was reluctant to include Rick in the classroom amongst his peers and friends. We knew that Rick's computer proved our argument that our child was capable of learning and communicating."
"When doctors left us alone after delivering the news, Judy and I had a good cry. Then we had a serious conversation…I knew it wasn't going to be easy, but this was my boy, my namesake. I loved him from the moment I saw him. I was determined to be the best father I could, regardless of whether he had a disability."
– Dick Hoyt, Devoted: The Story of a Father's Love for His Son, 2010.
After all, a parent's role, in the best of situations, is to turn negatives into positives; remove barriers; and make the impossible possible. Sometimes, it's a superhuman effort; one that takes determination, persistence, fortitude and devotion. And luckily for Rick, that's something his father and mother had in spades.
So when Rick used his Hope Machine to ask his father if they could run in the charity race to show Jimmy that life goes on with a disability, Dick wouldn't even think of declining. "This was something he needed to do, and I needed to do it for him," said Dick.
"I watched as he squirmed and twisted his body, not making a sound. For a split second I wondered if we were ready for this. I kept thinking about my own childhood. What a carefree kid I'd been, with all the opportunities I'd had despite growing up in a large family on a tight budget. I realized how lucky we'd all been to be so healthy and active. It had been exactly the kind of life I wanted to provide my children."
– Dick Hoyt, Devoted: The Story of a Father's Love for His Son, 2010.
"Rick really wanted to help the lacrosse player because he understood what he was going through," he said. "And this was something he wanted to do with me, so I thought, why not push him in a wheelchair?"
At race completion, the phenomenon known as Team Hoyt was born. The Hoyts would go on to participate in more than 1,000 endurance races, marathons, triathlons (including six Iron Man Triathlons), duathlons and tours in the United States and abroad. They were hooked, and competitive.
Their accomplishments in racing can only be complemented by the funds they raised for organizations, the inspiration they became to others, the technology they furthered, and the advocacy that furthered inclusion in racing, education, recreation, and more.
"Everyone says a child changes your life. We knew that our son Rick was about to change our lives in ways we never could have predicted."
– Dick Hoyt, "Devoted: The Story of a Father's Love for His Son," explaining his initial thoughts while bringing Rick home from the hospital after birth.
Fast forward 30 years, and Dick, now 72, and Rick, 50, show no signs of stopping, and his dedication to his son is still a testament to the power of love.
"Our work isn't done yet," Dick said. "I know that I will do that as long as I can physically, or until Rick decides he wants to stop. But I don't see that happening any time soon."
'Just a Dad'
Richard "Rick" Eugene Hoyt, Jr., was born January 10, 1962 in Holland, Mass., the first son of Dick and Judy Hoyt. Rick was oxygen-deprived at birth by an umbilical cord wrapped around his neck which caused his brain injury. Eight months later Rick was diagnosed with spastic quadriplegia and Cerebral Palsy; he was also non-verbal, but his intellectual capacity was unaffected. Rick also has reverse tongue where food that usually travels down the throat, instead travels upward which hampers feeding and proper nutrition levels.
"Mom and Dad wanted to believe that I would eventually get better, and though maybe deep down inside they knew that I would never be perfect, they at least hoped for improvement," said Rick. "At that point they did not have an official diagnosis of Cerebral Palsy, so they just went about each day hoping they would wake up and everything would be okay. Day by day they would be disappointed.
"I would sleep for hours on end. I didn't cry or eat well. I didn't roll off my stomach, and I certainly didn't sit or crawl," Rick wrote in his book, One Letter at a Time. It was apparent, Rick would never be able to walk, talk, or control his muscles from the neck down. He would require assistance to feed, drink, bathe, dress, communicate, and more.
"The doctors went on to say that the best thing my parents could do was to put me in an institution and go on with their lives as if I never existed," said Rick. "They said I would never be anything more than a vegetable. Dad and I often joke about this now and try to figure out which vegetable I am."
Physicians who treated Rick told the devastated parents that their son would have little quality of life; that he should be institutionalized. But the new parents would have none of it.
"They told us he wouldn't do anything, but we took him home," said Dick, who was enlisted in the Air National Guard. Judy and Dick sought the guidance of Dr. Robert Fitzgerald, a psychologist at Children's Hospital Boston who had polio and spent his childhood in a wheelchair. Dr. Fitzgerald encouraged them to raise Rick like they would any other child.
"He advised Mom and Dad to treat me as they would any able-bodied child and to enrich my life with the same experiences they would if I didn't have a disability," said Rick.
"I'm just a dad, and it meant everything to me to be able to take my son home," Dick added. "And as he grew up, we knew he was smart, and funny, and curious. It was our job as parents to make sure he received all of the opportunities everyone else has."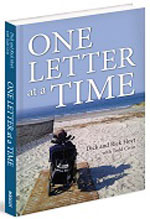 AN INSPIRATIONAL MUST HAVE!
Perhaps you have been inspired by Team Hoyt's story or know of someone that would be. If so, consider purchasing their new books! Purchase Here!
To order multiple items, call 413-245-9466 today!
Ask for:
– Rick Hoyt and Todd Civin. One Letter at a Time, 2012
– Dick Hoyt. Devoted: The Story of a Father's Love For His Son, 2010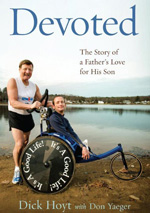 To connect with the Hoyts:
Team Hoyt Website
Team Hoyt Story on YouTube
Team Hoyt Facebook Fan Page
Continued…
For Dick Hoyt: Part I – Race by Race, a Father's Love Lifts Son
For Dick Hoyt: Part II – The Basics
For Dick Hoyt: Part III – Transcending Limits
Relationships and Cerebral Palsy

There's an old saying that the measure of a person's life is measured by how much they are loved. There's no doubt about it: our relationships with others are the cornerstone of our ability to thrive and enjoy life. Relationships allow us to explore all of the facets of giving and receiving love, from the patient and protective concern shown between a parent and child to the fire and chemistry that happens between friends, mates and spouses. And the level of ability has nothing to with the level of love one is willing to give to or receive from another.