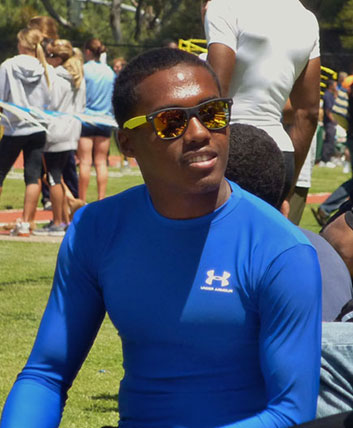 Paralympic Hopeful Sets High Hopes for His Future
Teen track star Ahkeel Whitehead, 17, a California high school senior who has mild Cerebral Palsy that affects his left side, has tracked all of his miles, logged all of his progress and worked aggressively to make one very big dream come true: To represent the United States as a track and field athlete in the 2016 Paralympic Games in Rio de Janerio, Brazil.
"It would be the most exciting thing in my life to compete in the Paralympics," said Ahkeel, who has amassed several hours on the athletic field not only as a runner, but also on the football and basketball teams at his high school.
"If I make the team it would be incredible because I've always wanted to showcase my abilities," he added.
The road to the Paralympic Games is one that Ahkeel has traveled before. He traveled to trials in Indianapolis in 2012, and although he did not make the Paralympic team, he set a U.S. long jump record.
"I was the best the U.S. had last time around," he said. "I didn't let the fact that I didn't make the team get me down – I went right back to work. And if 2016 doesn't work out, there's always 2020."
It's that sort of stick-to-it-iveness that has seen Ahkeel through some frustrating times. He has a mild form of Cerebral Palsy, but it makes physical tasks that involve his left side challenging.
Those challenges, however, aren't going to keep Ahkeel off the field.
"I'm already training," he said. "I'm already working towards my goal."
Off to a running start
Ahkeel was born in California and has spent his entire life in the San Diego area. When he was born, the umbilical cord was wrapped around his neck, which cut off the oxygen supply to his brain during the birthing process. His parents, Chris and Glady, did not initially realize he had Cerebral Palsy.
"My parents realized after a while that I wasn't moving my left hand, and that I was having trouble crawling," he said. "That's when they found out."
As he grew, Ahkeel didn't hear much about Cerebral Palsy in his home, and he sees that as a blessing his mild form of Cerebral Palsy allowed.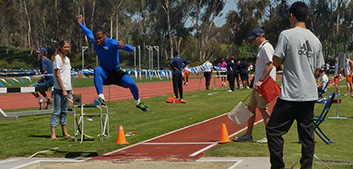 "My father didn't believe in equipment and I still don't use anything to this day," he said. "And it was a great gift because I did not see myself as different. I remember I used to have a lot of trouble opening cans and things like that, and my dad would tell me to keep trying, and be persistent. And eventually, I would find a way to open it."
By the time he was a young teen, Ahkeel became interested in competing in sports. By this time, he had learned more about how his condition affected his movement, and early frustrations on a flag football team that gave way to determination to work through physical limitations.
"I could be uncoordinated," he said. "But in the end it helped me because I always tried to be better. I knew that this was a competitive opportunity that I wanted, and that I would be at a disadvantage. But I kept going at it, hard.
"I can say it has worked wonders for me," he said. "No one knew that my left side was useless to the team. I could be like everyone else."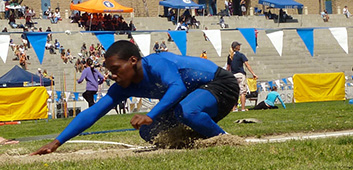 2016 and beyond
As he trains for future events, Ahkeel will have an ace up his sleeve that he has not had before. He is being coached personally to compete at the Paralympics and other events by his high school coach, Julian Marsical.
His first stops were the world championship competitions in France in July and the junior world championships in Puerto Rico in August. At the national level, Ahkeel is currently ranked eighth in the p-38 category, which denotes mild disability.
In Rio, his hope is to compete in five track and field events, including the 100-meter, 200-meter, 400-meter and 1,500-meter dashes as well as the long jump.
So far, Ahkeel has enjoyed an athletic career that has been injury-free, save for a slight injury out on the football field.
He said the biggest motivating factor in his life is simple. "I think I just enjoy competing," he said. "I know that I'm an underdog, and that pushes me much harder. I'm a guy who is fired up, ready to go. In [high school] track, they're all able-bodied athletes."
He said athletics has made a tremendous difference in his young life, and that he doesn't yet see a scenario where he would not be physically active.
"I believe that if it wasn't for athletics, I would not be where I am today," he said. "In my heart, I've always had a burning desire to compete and athletics has brought me that opportunity. It's good to set goals, and it feels great to meet them."
Ahkeel also gives props to his parents for guiding him on the right path.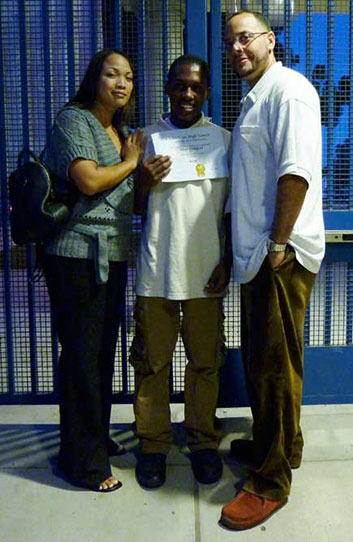 "I owe my parents everything because without them always encouraging, I could never compete," he said. "They just never created the idea that I can't do it. I am just a mirror that shows all of their efforts, and everything they've done."
Ahkeel said he seldom meets naysayers who doubt his ability to perform on the field, but in the event it occurs, the doubter should be prepared to bring his A game.
"I have not run into many naysayers when I go out and compete in events that are generally for able-bodied athletes or for people with CP," he said. "But if it happened, I would just tell them that if you think you're better than me, let's compete long distance. Let's see if you really are better than me. Bring it on."
In addition to athletics, Ahkeel closed out his latest high school semester with a 4.0 grade point average. He also plays a trombone, and is working hard to finish his senior year on a positive note.
This fall, he will attend San Diego State University, where he will study kinesiology.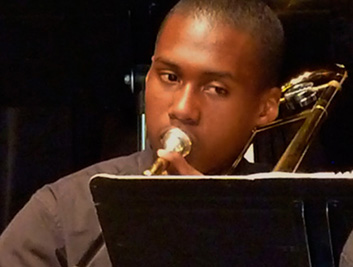 "I chose this major because I want to further my understanding of the human body, and go out there and raise awareness," he said. "I'm working with another CP athlete, and seeing him develop, I think this is something I would like to do as a career."
His advice to young people with disabilities who want to pursue athletics – or anything – is to go for it.
"If it's not athletics, go out there and show people what you can do," he said. "People look at us, and when they see we have CP, they want to baby us. Do not let them do it.
"We're strong, we're the strongest people on this earth."
"I believe that our purpose is to create memories," Ahkeel said. "Everybody is here for a reason. Find that reason, and create memories around it. If someone took away your memories, you would have no life. Stretch towards the gold — whether that's competing in the Paralympics or opening a jar of apple sauce. Just keep moving forward."
Athletes with Cerebral Palsy

Athletes are mythic figures that have used their bodies to achieve an enviable level of fitness. Although most people don't associate individuals with Cerebral Palsy with sports and other acts of endurance, these athletes use their bodies to achieve feats of physicality that are only surpassed by personal satisfaction and confidence.