Louisiana woman remains upbeat after two life-altering diagnoses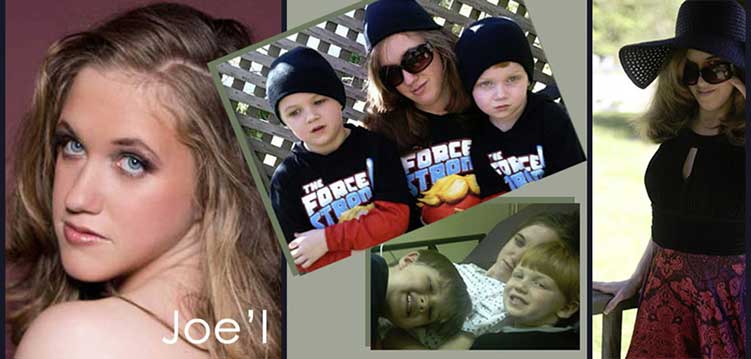 Some would consider the obstacles in the Baton Rouge Play Dirty Adventure Trail Run a challenge. After all, participants wade through a mud pit, run through a tunnel slosh, barrel down a slip-and-slide slalom and cross an elevated balance beam while navigating the three-mile obstacle course. For Joe'l Ash, a 27-year-old mother who was diagnosed with hemiplegia spastic Cerebral Palsy as a child, it seemed like a piece of cake – a fun piece of cake.
Especially now.
Her type of Cerebral Palsy causes severe weakness of the limbs on one side of the body, but the specific features can vary tremendously from person to person.
"It affects my right side,'' she said, adding that as a child, she was confined to a wheelchair.
After two decades that included many surgeries and therapies, Joe'l said her only physical impairment is that she has a small limp. "Now, I walk, run, work out and have the use of both my arms and hands.''
Running through a mud pit couldn't even begin to compare to her medical challenges.
"A friend told me I should at least try, so I signed up," she said. "I knew there were going to be others that are bigger, faster and stronger but for me to finish was an accomplishment in itself. When I was younger I was told I would never walk.
"There were five-foot-deep mud pits and you had to make it through them," Joe'l said. "I'm about five-feet-two [inches tall], and you could hardly see my head as I was making my way through. I got really dirty, but it was a lot of fun."
Perhaps equally surprising, the mud run came just months after she had surgery to beat thyroid cancer, followed by weeks of exhausting chemotherapy.
"I went into remission in March and the race was in May," she said. "I was feeling pretty good when I did the race. Part of what has always helped me during these challenges is having a good attitude."
Joe'l finished the obstacle course, her first, in 60 minutes.
If that wasn't enough, Joe'l was also busy doing the things she loved – working at a new job for a computer game manufacturer and spending time with her sons, Jacob, 6, and Jayden, 5.
"CP really does not affect or limit my life in any way now," she said. "It used to, but I have worked very hard and put in a lot of prayer and overcame every single obstacle that it had to throw at me."
Coping with challenges – both personal and serious – and overcoming obstacles are issues Joe'l says she can handle. Her faith keeps her from letting the health condition, her thoughts, or opinions of others hold her back.
"I use the negative to inspire me. I work that much harder to achieve my goals in life," she said. "Most people don't realize I have CP unless I tell them. I've worked very hard to make CP part of my past."
Joe'l said she hasn't been treated for Cerebral Palsy in nearly 11 years and is "doing great."
An inspiring start
Joe'l Ash was born in New Philadelphia, a small town in Ohio, where she lived with her parents, Royce and Kathie Barker, and her younger brother, Noah.
At 18 months old, she was diagnosed with type of Cerebral Palsy that required aggressive therapy and surgery to quell.
"Now, I would say my cause of CP is mild. It was a lot worse when I was young," she said. "I used a wheelchair and my parents were told that I would never walk. I couldn't even sit up because I didn't have use of my right hand and arm.
"I remember that I had a homecare nurse come in and help me," she said. "I couldn't brush my teeth on my own. I remember that my mother used to comb my hair for me."
Joe'l said therapists tried many methods to help her walk with assistance, to no avail, she said. "They tried walkers, but that didn't work because I couldn't stand up."
At age 4, Joe'l had the first of many surgeries. They included two heel cord lengthening surgeries, a procedure to cut hamstrings, and several operations to cut tendons in her feet and transfer soft tissue to shore up parts of her body that needed additional support.
By the time she was 8, Joe'l was taking her first steps in braces that, eventually, she would not need to ambulate on her own.
When Joe'l was 17, she had the most life-altering surgery of her young life. Fortunately, her family had moved to Louisiana, where she had access to a Shriner's Hospital in Baton Rouge.
Doctors there discovered that one of her hips was rotated 180 degrees backwards. After the three-hour procedure to set the hip in place, she had to learn to walk again.
Unfortunately, Joe'l had a reaction to the titanium used during surgery, which had to be removed. She said it prolonged her therapy. Unfortunately, she had been accepted at university, but wasn't able to attend because of a rule that all freshman must live on campus. Because of her health issues, she had hoped to commute.
"A reaction to titanium never happens to anyone, but somehow it happened to me," she said. "I was disappointed, but I didn't let it get me down."
While at Shriner's, Joe'l began to see her situation in a new light.
"There were kids there who were missing limbs," she said. "I remember that there was a girl there that had her hips operated on, and she couldn't control her eyes or breathe on her own.
"I knew right then and there that I was not going to do anything to get in the way of reaching my goals," Joe'l said. "Everyone has problems. It's how you overcome them and get through them that matters. You can't spend your entire life depressed about something. You have to make it better."
A curve in the road
In the usual fashion, Joe'l forged ahead after her surgery at Shriner's by enrolling in Baton Rouge Community College where she earned an associate's degree in graphic design. She married, became a mother two, and divorced.
Now a single parent with a new career, she felt good about her future. A new illness totally unrelated to cerebral threw her off course again when she was diagnosed with papillary carcinoma, the most common form of thyroid cancer.
Her reaction to the news, in typical Joe'l fashion, was priceless.
"I laughed – I thought, 'No, you're joking'," she said.
Joe'l said it took a while to come to terms with the diagnosis. Her first concern was for her boys. She underwent surgeries to remove her thyroid and a lymph node in her neck. She also underwent isolation radiation therapy to eradicate the cancer. By March 2013, her physicians informed her that she was in remission.
Joe'l said her boys were her inspiration throughout the ordeal.
"I don't think Jacob and Jayden grasped the concept of what was happening," she said. "When I was admitted for isolation, they'd write me little notes and bring me flowers. That's a big part of what kept me going."
Because she has Cerebral Palsy, and had cancer, she has drawn some interesting parallels between the two life-altering conditions. Cerebral Palsy is something that can be adapted to, but cancer is something that is progressive, and difficult to control even with the best medical care.
Joe'l also said she understood, for the first time, the connection between the body and the mind in relationship to health.
"I really learned that if you dwell on it, your health will suffer," she said. "You have to go into something like this with a positive attitude if you're going to beat it. You cannot allow yourself to get depressed about it, or it will begin to affect your health."
Still, Joe'l had her share of difficulty during the process. She had to be admitted to the hospital several times because her vital signs became barely detectable. And, Joe'l recently learned that she will need to undergo more tests to determine whether her cancer has returned. She's determined to remain optimistic not only for herself, but also for her sons.
"I made it through the first time," she said. "And I'll make it through this time."
Current perspectives and future goals
Joe'l's advice to children with Cerebral Palsy and other serious medical conditions: "Understand the relationship between a positive outlook and positive results.'' She added that it's also important to keep the faith."
She also suggested, "Look at yourself every day in the mirror and say, 'I am going to succeed' and then do it."
"I can remember times when I was growing up that some of the kids didn't like me because I was different," she remembered. "But as I got older and started meeting some goals and making friends, I ignored those people.
"My mother and I used to pray about it every night," she said. "I think that really helped."
Joe'l also said that it's important for people with Cerebral Palsy to seek out and talk to people with Cerebral Palsy to ask questions and talk about issues with someone who understands what they're experiencing.
These days, Joe'l is keeping a close watch on her health. But she's also making plans. Right now, she's working for computer game company that allows her to use her graphics skills. Ultimately, she hopes to hone her abilities and become a game designer.
"It's a fun job," she said.
When she's not at work, Joe'l enjoys her hobbies such as playing the piano and spending time with her sons.
"We do things like playing basketball outside," she said. "We have a lot of fun."
Adults with Cerebral Palsy

As we grow and mature into adulthood we're bound to have goals that may not seem to be attainable, or dreams we hope come true. While goals and dreams can be grandiose or simple depending on an individual's personality and temperament, Cerebral Palsy is not an impediment to an exciting, and ultimately rewarding, life.