Former Miss Iowa and pageant founder helps little girls realize their beauty
Abbey Curran still remembers what it felt like to be told that she likely could not compete in a local beauty pageant for teen girls when she was growing up in Kewanee, Ill. It's a feeling that, even then, she knew she didn't want any other girls – disabled or not – to experience.
Having an interest in participating in a beauty contest, Abbey says her teacher told her, "Oh Abbey, be realistic, you can't do that!"
"It made me mad when someone told me I couldn't do something," remembers Abbey, now 26. "I entered that pageant, and I was in the top 10. I was bit by the bug."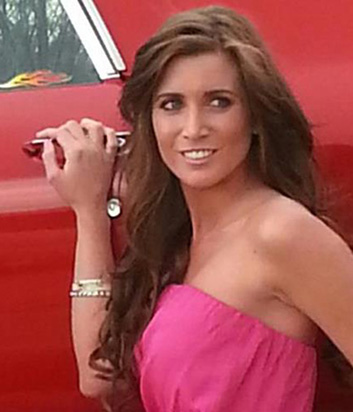 But that pageant – and the ones that Abbey entered thereafter – didn't end the story for this consummate contestant who if ever was told she couldn't do something, was determined to prove the naysayer wrong.
Abbey Curran, who was born with a mild case of Cerebral Palsy, made history when she was crowned Miss Iowa in 2008. That win meant that she was the first-ever woman with a disability to compete in the state competition, and the first one to win, even though previous to the competition someone told her she couldn't.
"I was told that some people are meant for the NFL and some aren't," she said, of the person's use of an analogy. "And, I was not meant for the NFL." In the end, she took home the coveted Miss Iowa title – after all, the proof is in the outcome.
"I always knew I could do anything, but it takes someone else to tell me that I can't to really motivate me to do something else – to prove them wrong," she said.
Abbey went on to become the first person with Cerebral Palsy to compete in the Miss USA pageant.
Abbey knew what a big confidence booster participating in a pageant can be for a little girl or young woman who has – too often – been written off at school and, at times, at home. That's what led her to create the first "Miss You Can Do It" pageant in 2004.
That first year, with only nine contestants, was an unquestionable success for Abbey, and her young participants.
"These are children that are sometimes bullied at school," she said. "But this summer – because everyone gets a crown – our participants are going to have something that I'm pretty sure that other kids will not have, and they're going to have a great time. Hopefully, it will help build confidence."
A budding star
Abbey Curran was born in Kewanee, Ill., to Mike and Katie Curran. When she turned 2-years-old, her mother noticed that when she was learning to walk, she grabbed onto the family's furniture as a brace to help her take steps. Her parents took Abbey to a physician to be evaluated, and were told that she had a mild form of Cerebral Palsy.
In childhood, Abbey underwent surgery to lengthen her heel-cord, physical therapy to assist in gait and balance and she wore leg braces. But that didn't keep her chores and lifestyle – she mowed the lawn, fed the hogs and performed farming chores.
Today, she walks with a slight limp, lightly drags her let foot and can lose balance, but that doesn't keep her from walking in her 2-inch platforms for dressing gown beauty competitions.
Growing up, Abbey had many friends. She describes herself as a girly-girl. When she turned 16-years-old, she saw an advertisement for the Henry County Fair pageant, and she wondered aloud, "Could she participate in this pageant?"
Even though someone told her she likely could not, she entered the contest anyhow.
An exchange with another girl, who had a severe disability, galvanized her resolve regarding pageant competition and disability.
"She told me that she would like to compete in a pageant, but her parents told her she could not," Abbey said. "She was saying they told her that people would laugh at her; I thought it was terrible."
During the next four years, Abbey competed in pageants regularly. "I wanted to prove them wrong (for her)," she said. "At every pageant, for four years, you wait for your name to get called."
Crowning glory
After Abbey moved to Davenport, Iowa to attend classes at St. Ambrose University, she obtained an application to enter the Miss Iowa pageant. She won that competition, and it changed her life. She entered with a dream of making top 10, but as the competition progressed she was in the top 5, then top 2, and then – to her surprise – she won.
"Because of my title, I had the opportunity to travel to speaking engagements; I had the opportunity to go to the Iowa State Fair, which was incredible," she said. "Pretty much any organization that helps people with disabilities called me; it was surreal."
Abbey's speaking engagements included United Cerebral Palsy and the Centers for Disease Control.
In 2004, Abbey formed the Miss You Can Do It! pageant, a beauty competition for children with special needs and challenges.
Contestants competed in a fairly traditional way: They participated in a one-on-one interview, a talent exhibition, fashion show and a stage question.
The pageant is sub-divided by age: children compete in the Little Miss category, teens compete in the Junior Miss category, and young women compete in the Miss category. The pageant is open to females between the age of 5 and 25.
At the pageant's inception, the competitors were mostly local, but today, competitors come from all over the United States, Canada and even Mexico.
Another fantastic opportunity presented itself when Abbey was contacted by the Home Box Office network, commonly referred to as HBO, which produced a documentary on the pageant, also called "Miss You Can Do It." It premiered June 24, 2013 on HBO to rave reviews. The documentary also aired on the Spanish-speaking network Telemundo.
Abbey said she hoped the documentary helps people re-conceive their idea of beauty, inside and out.
"I hope that people – including the children – realize that there's no reason you can't enter a pageant, or go to dance class, or achieve whatever it is you want to achieve."
The HBO documentary focuses on, not only the actual pageant, it follows a few of the contestants and their families. The documentary style approach followed their their struggles in life, their feelings, and their triumphs on the road toward the pageant stage.
The documentary is not the only time the pageant has garnered national attention. Abbey has appeared on several television shows, including the Ellen Degeneres Show, Inside Edition, Access Hollywood, Extra and CNN Headline News. She was also featured in magazines, such as People.
Pearls, and ruffles, and rhinestones
Backstage at the Miss You Can Do It! pageant, there's a fair amount of sparkling clothes, beautiful hairstyles, and boatloads of enthusiasm.
Wheelchairs and walkers, and braces and canes are not familiar sights at other pageants, but when the contestants take the stage on Miss You Can Do It! stage, they are the norm.
That's because the pageant fosters a sense of empowerment and support for contestants with special needs and challenges, said Abbey.
"They get oodles of confidence; they're the prettiest little girls. Everyone here likes them. They learn when they come to this pageant that they're not alone. People aged 5 to 105 love them," she said. "They get to go home with something huge."
The girls also have the opportunity to make friends with other children with similar interests, Abbey said.
"They meet other girls they would not meet otherwise," she said.
In terms of people without disabilities, she hopes they come to view those with challenges as people who have as much to offer as others. Abbey said that she has already seen some harmful perceptions melt away.
"I think an example is that one of my professors who served as a judge this year was worried about whether contestants would have trouble walking in the parking lot," she said. "I thought it was a good point; with the girls walking in. I think that taking part in something like the pageant can open people's eyes to things that they don't experience, or that they take for granted."
For Abbey, who is readying herself for speaking engagements in Denver, Dallas and Chicago during the next several weeks, the message of the pageant is simple: People with disabilities have vast and limitless capabilities and are beautiful. And, participants never know what they can achieve until they step forward and try.
Abbey said the future potential for the pageant is exciting, which she hopes becomes as anticipated as the Miss USA pageant is today.
"I hope that the pageant is regarded as an opportunity to see some of the hottest ladies in the United States," she said. "That's my goal."
Instead of America seeing a girl that walks differently while competing, she said she hopes we get to the point where they just see someone who competes like everyone else.
For more information on Abbey Curran and the Miss You Can Do It! Pageant:
Miss You Can Do It! Facebook Page
Miss You Can Do It! Pageant Website
Adults with Cerebral Palsy

As we grow and mature into adulthood we're bound to have goals that may not seem to be attainable, or dreams we hope come true. While goals and dreams can be grandiose or simple depending on an individual's personality and temperament, Cerebral Palsy is not an impediment to an exciting, and ultimately rewarding, life.