A tale of love and devotion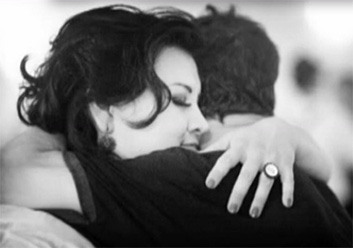 The first time his eyes met hers, he knew she was someone very special.
It was in Towson, Md., in mid-2004 when artist and film star Dan Keplinger first met a local nanny named Dena Huggler. And although it would take a while for the two to realize they were in love, it became apparent in time that the intense and driven painter and the shy nanny with a sweet face and a soft heart were a love match, said Dan, who is now 40.
"I met Dena as a fan of 'King Gimp,'" said Dan. "She was working as a nanny and she caught the film on HBO one night. She noticed that we lived close by . . . We kept in contact over the years, and one day, she helped me pack for a speaking engagement.
"While I was away, she had a missing feeling," Dan said.
Dena told Dan "I think I really like you."
"About time," Dan teased.
That feeling led to a five-year relationship, and on April 1, 2009, the couple would marry in front of a group of family and friends in a vintage movie house called the Senator Theatre in Baltimore, Md.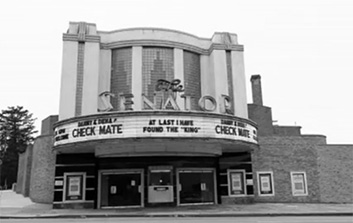 The wedding was an affair to remember; there wasn't a dry eye in the room as Dan and Dena took their vows.
Although there have been some unexpected challenges, Dan and Dena remain as happy as they were on the day they took their vows, Dan said.
"Because we are fools in love and do not take life too seriously, we can enjoy it to the fullest," he said.
'King Gimp'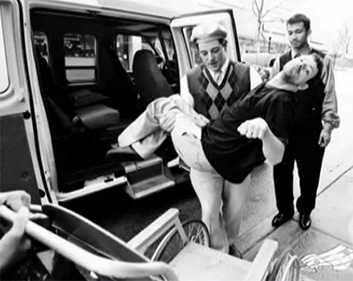 The Academy Award-winning documentary that chronicled Dan's life from ages 12 to 25 is called "King Gimp." The film won a Peabody Award and was nominated for a national Emmy. What makes the film unique is that the filmmakers documented the physical and emotional trials and tribulations Dan experienced as a pre-teen and young adult.
The word "gimp," which is a moniker bestowed upon him in childhood for his fearlessness, means a person with a "fighting spirit."
Dan experienced a lack of oxygen during birth, and doctors assumed he was still born. Dan revived on his own, and ever since, fighting for respect and his art has been a preeminent theme in Dan's life.
He was diagnosed with spastic and athetoid Cerebral Palsy as an infant, and uses a wheelchair for transportation. On occasion he employs assistive technology, an interpreter or computer to communicate, though he prefers speaking directly as most his family and friends comprehend.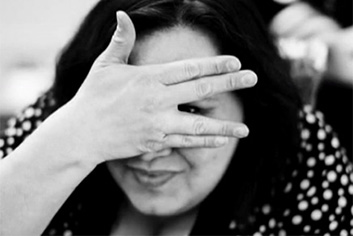 In the documentary, when Dan was 18 years old, he disclosed that he had loved a few women, but it had not lead anywhere. He expressed concern that he will never find someone that will love him.
"My friends say I will meet someone some day," he said in the documentary. "But, I see myself becoming a very old man, always being alone."
After "King Gimp" won an Oscar in 2000 in the Best Documentary-Short Subject, opportunities to meet new people personally and professionally came to fruition wherever he traveled.
"My artwork skyrocketed in the public eye. People are more willing to take time to understand me," said Dan. "I do not know if they now realize that I do have something to say, or if what I do say just blows them away."
In the years that followed Dan went on speaking engagements to schools and organizations promoting disability awareness and his art.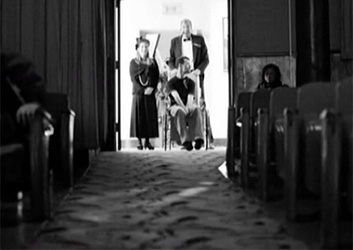 "I have been recognized in diners in Pennsylvania, Montana or New York to the mountains in the country of Chile," Dan said. "Inside, I am still very much the same person, but it does feel good to be respected and appreciated for who I am."
Though it took a long time, Dan credits the film for bringing him together with Dena, who he affectionately refers to as "Wifey."
"I know the film helped me to find Wifey," he said. "It gave me that chance to have a relationship, and my own family."
The big day
On April 1, 2009, Dan and Dena were married in the Senator Theater, an old-fashioned movie house that was slated for demolition. The wedding officiant during the ceremony explains that the man who falls for a pretty girl on April Fool's Day is destined to always be happy and always be with her.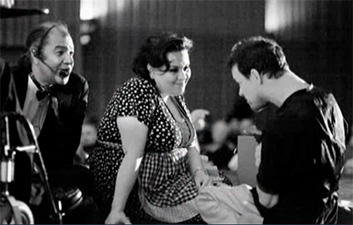 The events that led up to the wedding are as interesting as the couple who took vows that day. Their wedding was open to the public. There was a pre-wedding art exhibit the Fleckenstein Gallery featuring Dan's art. At the wedding the next day, Dan's mother Linda Ritter auctioned a painting to benefit the Senator Community Trust, a non-profit organization seeking to stop the demolition of the theater; they raised $2,500 on behalf of that effort.
The day of the wedding, Dena placed love notes on the dressing room entrance to let Dan know how much she appreciated him. During the prelude to the wedding, attendees were treated to Australian singer-songwriter Lenka Kripac's music video "The Show." Dan entered the room to the tune of "Oh Danny Boy" sung by the Muppets and Dena walked down the aisle to Peter Gabriel's "Book of Love."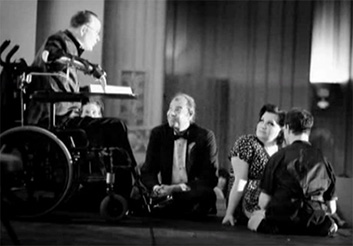 In attendance were not only family, friends, and former assistants, but those that admired Dan's art, locals that did not personally know the couple, and others with impairment and disability that wanted to witness the couple's union. In total, 500 were witness to the unique union.
"It was as non-traditional as a wedding could be, and pretty darn fantastic," quipped a guest.
The ceremony took a 1930's theme in honor of the venue. The couple would sit, kneel and dance on stage in a manner unique to the couple and the comfort of Dan's disability. An officiant conducted the ceremony, while a translator was nearby to interpret Dan's contributions. There were speeches and introductions before the officiant would ask Dan what his greatest accomplishment was. "She's sitting right next to me," Dan replied, then turned to Dena to ask her to be his "queen."
"The ceremony was emotional, unorthodox, tearful and triumphant," said The Tower Light, the Towson University's campus and community news source. "When asked for his vows, Keplinger answered with a 'Hell yes.'"
According to one wedding attendee, the event's feel was a tribute to Dan and Dena's love, and a testament to believing in one's own purpose.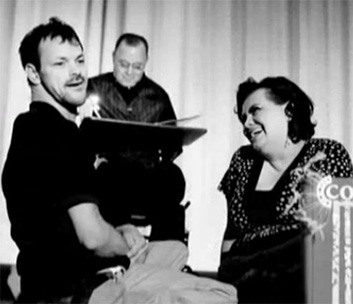 "He is an artist who creates emotional, artistic statements that stem from his perseverance over a crippling disability," she said. "He is a gentle soul that never stops at anything he attempts to achieve, be (it) in living independently, getting an education, creating art or even falling in love … he is an inspiring man who manages to create beauty in a most difficult manner."
The day was not without glitch, Dena's wedding dress did not arrive until after the ceremony, but a suitable 40's style polka-dot dress served well. At the reception, observer tears would return as Dan's mother sat on the dance floor next to Dan to celebrate Dan's latest milestone; Bette Midler's "Wind Beneath My Wings" aired in the background.
By night's fall, Julio Iglesias' "To All the Girls I've Loved Before" was played as a prelude to Dan dancing with all the girls that had ever shared a part of his life, including his new bride, his past assistants, his mother, and many guests.
They honeymooned for 28 days on a working road trip from Illinois, through Montana, Texas, Oklahoma and Tennessee.
Starting a family
After they married, the Keplingers settled in Parkville, near Baltimore. Dan has taken on the role of a step parent to 20-year-old Brooke, Dena's daughter from her first marriage.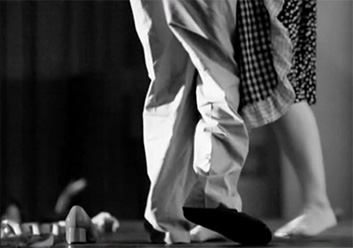 The couple has also taken a special interest in Michael, a 53-year-old cognitively impaired neighbor and friend whom they now affectionately call their son.
"We did a symbolic adoption," Dan said. We started to hang out a few years ago, and Wifey and I would look out for his best interests. Although Michael is older than both of us, he looks at Wifey and I as parent figures. I see myself as someone to give Michael some guidance and to advocate for him, but at the same time not to take away Michael's independence."
Dan said his romantic life turned around when he began to look at how a relationship could work in his life.
"[I wanted] someone to be more of partner in life compared to the typical husband and wife deal," he said. Rather than look for someone to "always take care of me," the hope was to have someone to share more adventures with.
Love and obstacles
Dena Keplinger said she knew Dan was "the one" shortly after meeting him in 2004.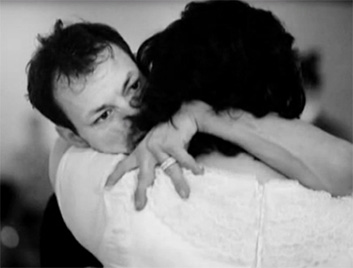 "Those dimples, they always have a way of telling a story," she said. She refers to his smile as "a beautiful investment."
"I was a fan, friend, girlfriend, fiancé, wife and the one [for Dan to] grow old and gray with," Dena said.
The couple has overcome some challenges, some of which have little to with Dan's disability, and others are directly related to it. Dena would say, some were the direct result of her own disability, of sorts.
After they first became a couple, Dena found Dan's notoriety difficult to handle, but ultimately came to accept it.
"One of the things that could have kept us from dating was not my disability, but my fame," Dan said. "Dena hates the spotlight. I said she was with the wrong man, because I need a woman to stand at my side."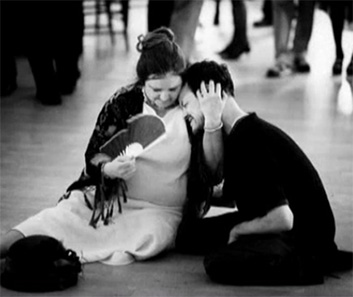 "I am not comfortable being in the lime-light, while Danny is on continual stage," Dena admitted. "Danny did me a favor, he gave me truth. He said, 'Honey, I think you are more disabled than I am.'" She says he was right.
"I had so many challenges of fear, frustrations and barriers – mind versus body." Dena said. Dan convinced her that the mind was more powerful than the body because it houses passion.
Dena said that Dan is intelligent, sensitive, funny, and caring – the total package.
"I've never met someone who was more comfortable in their own skin as Danny is," she said. "I am most impressed by his character and wit."
They formed a consensus that both had challenges that were worth fighting for.
"It wasn't worth losing love for the sake of being comfortable in my shell," Dena contends.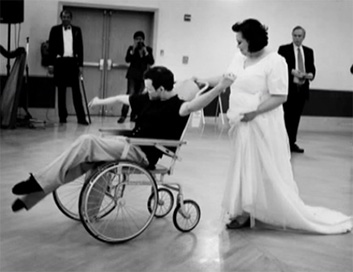 Also, an unexpected issue regarding housing hampered their relationship progression. Dan lived in subsidized housing that does not have provisions for a married couple, so even though Dena is technically Dan's personal care assistant (PCA), the couple had to make a move in order to live together.
Often their challenge is not their own, but that of others. When traveling together for engagements, Dena is not automatically seen as Dan's wife. "They do not see us as an equal partner, but Dena as the caretaker," Dan disclosed in blog.
"We might have made it more complex than it needs to be. Wifey is also my PCA," Dan said. "We joke that she gets paid for kissing me. We see it (kissing) as my way of contributing to the income of the house."
Dena not only provides personal care for Dan and serves as his interpreter during speaking engagements, she has responsibilities outside of the home. While she is away, Dan spends his time alone creating art or booking speaking engagements.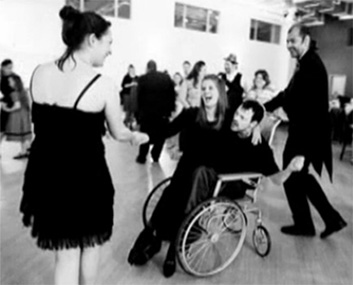 Like most couples, they experience what Dan calls "tiffs."
"Every couple has their tiffs. Imagine having a tiff and next second you need to ask your partner to help get a drink, or to eat something," he said. "Other than that I think we are like every other couple, we just have to depend on each other a little bit more."
Overall, Dan and Dena's relationship is built on love, respect and partnership. The nature of his work requires travel which has become a shared past time. "We consider them as small getaways rather than work," Dan said. "Most of the time we drive to the engagement, so it becomes a total adventure." He says due to their shared love of shopping, it takes the couple twice the time to get to their destinations.
Currently, Dan is considering going back to college. He holds two degrees from Towson University; he graduated in May of 1998 with a B.S. in Mass Communications and returned to Towson in the fall of 2000 for a second B.S. in Art. The couple is relishing spending time with friends and family.
Advice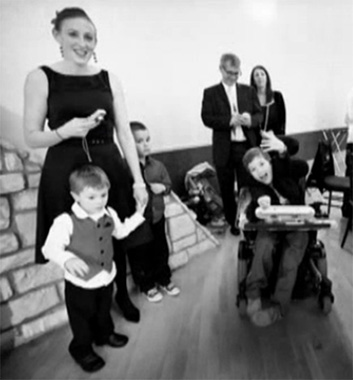 Dena said the advice she would give to a person that wants to enter a romantic relationship with a person with disability or impairment is to keep an open mind, and focus on an emotional connection.
"Danny is equally sensitive to my needs as I am to his," Dena said and she tells a story of the extent to which Dan delivers. She said that in the time they have been together as a couple they have owned seven vacuum cleaners. She says buying the equipment is Danny's chore by choice.
"One particular day he took it upon himself to take his power wheelchair to Target (a six mile round trip)," Dena said. After the purchase the Target employee inquired as to where Dan's car was. Dan handed the man a bungee cord and looked back at his wheelchair. When Dena returned home that day, their back patio was covered in shredded box, yet plugged into the wall was a beautiful, new, blue vacuum cleaner.
"If married men would only listen to me there would be so many more happy wives," Dan advised. To Dan, even if the task took nine hours to complete, it was worth the reward: Dena's smile.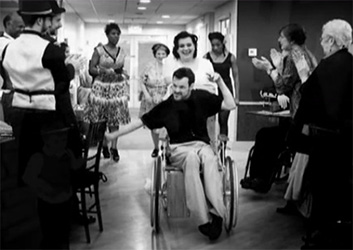 Dan Online
View Dan's Award-Winning Cingular Wireless Commercial
Follow Dan
Book Dan for Speaking Engagements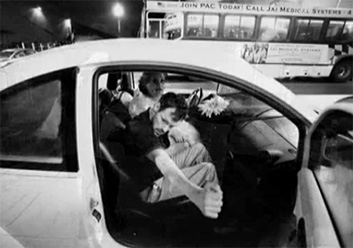 Or, contact Dan via email [email protected]
Dan on Canvas
View Dan's Art at Phyllis Kind Gallery
King Gimp' chronicles man's teen and adult challenges, triumphs
Academy Award-winning documentary follows the daily life of Dan Keplinger from the ages of 12 to 25 years old, with a special nod to his search for acceptance and success as a sought-after artist. Keplinger, at the beginning of "King Gimp" is a self-conscious teen with severe Cerebral Palsy living with his single mother, Linda Ritter, in suburban Baltimore, Md. But at the end of the film, he's a college-educated artist; working his magic on the canvas, and pondering the meaning of love.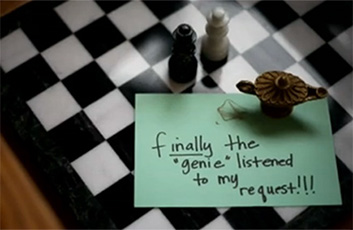 To purchase King Gimp contact the National Films for Humanities and Sciences at 1-800-257-5126 or visit MedSchool Maryland Productions and Video Press, University of Maryland School of Medicine.
Relationships and Cerebral Palsy

There's an old saying that the measure of a person's life is measured by how much they are loved. There's no doubt about it: our relationships with others are the cornerstone of our ability to thrive and enjoy life. Relationships allow us to explore all of the facets of giving and receiving love, from the patient and protective concern shown between a parent and child to the fire and chemistry that happens between friends, mates and spouses. And the level of ability has nothing to with the level of love one is willing to give to or receive from another.