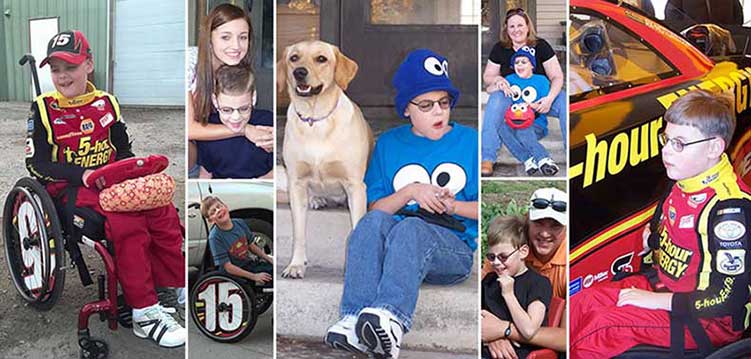 To say he's a racing fan is an understatement. Ian Wilson's home-sewn NASCAR-inspired costume and custom wheel hubs help him cross the finish line as racing's ultimate fanboy.
Boy, 10, suits up as race car driver's ultimate fanboy
When Ian Wilson is riding around his hometown of Cottonwood Falls, Kan., the first thing a person may notice is the oscillating number "15" on his wheels.
The number, for the 10-year-old, is a fitting accessory for the young racing fan because his main mode of mobility long ago ceased to be a "wheelchair" when it was modified into a shiny, fast racecar that zooms down the sidewalk and the hallways at his school. The suped-up wheels satisfy a boy's need for speed.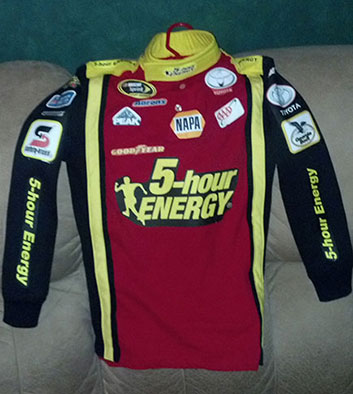 "Ian became fascinated with NASCAR two years ago when we won some tickets for a car race in Kansas City," said Erin Wilson, Ian's mother. "We went to the race, and he got to meet Clint Bowyer. There's been no going back since then."
But the budding racing enthusiast's custom wheels didn't mark the end of little Ian's transformation from curious child to Clint Bowyer's number one fan. His father, Dow, used his long-dormant sewing skills to fashion his son a replica of Bowyer's firesuit, which served as both Ian's Halloween costume and the outfit he wore to the grand opening of the Clint Bowyer Autoplex, the racing champion's automobile dealership in nearby Emporia, Kan.
"He just loves wearing his suit," said Erin. "And he was featured on some major networks like the Speed Channel Inc. It was a really big deal for him – and for us."
A boy at the starting line
Ian Wilson was born near Cottonwood Falls, which is a town that is home to about 900 residents and is located about two hours outside of Kansas City.
Born at 25 weeks, Ian suffered a cerebral hemorrhage when he was two weeks old that led to a diagnosis of spastic quadriplegia and Cerebral Palsy. In the aftermath of the bleed, Ian would endure two delicate surgeries to ensure a similar situation does not recur.
"Ian has had two bilateral shunts inserted [into his brain]," Erin said. "The first one was inserted a month after the bleed, and the second was inserted about a year later."
By all accounts, Ian has exceeded his physician's expectations.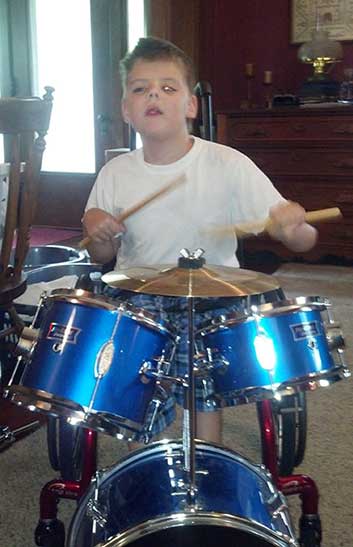 "He surprises us every day with all the things the doctors said he would never do, walking, talking, learning," Erin said. "We were told when he was five years old that he wasn't going to talk, other than echoing what other people say. They were saying he would never talk or speak in a functional way. And he communicates very well, and he's progressing in school."
Currently, Ian is learning to walk using a walker; so far he can stroll for about 50 feet. His parents hope that Ian will be able to build on the skill. He's also coping with a visual impairment that left him blind in one eye, and he came through hip surgery a year and a half ago like a champ, his mother said.
'And Daddy takes the lead!'
Ian's Dad, Dow, is a fan of auto racing, and as such, his love of "anything cars" has been passed down to his son.
That passion gave birth to converting Ian into a bonafied NASCAR racing fan – and his wheelchair, into a modified racecar.
"My grandparents used to own a clothing business, and I learned how to make alterations to clothing there, and I also had a high school sewing class," remembered Dow. "I decided that I wanted to make Ian a firesuit – but I hadn't been behind a sewing machine for any reason for about 25 years."
But old skills never fade, and soon, Dow was dismantling a red shirt and a black shirt. With the shirt pieces and the leftover fabric, he attached the black sleeves to the front and back of the red shirt. He then added a collar and yellow embellishments, as well as decals of Bowyer's sponsors. After three evenings sewing, the result was as close to an exact reproduction of Bowyer's firesuit that any boy could possibly hope for.
"I was happy with the result, and [Ian] loves the suit," Dow said.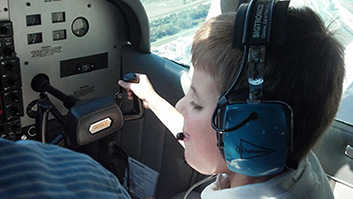 In terms of the chair, Dow took a design with Bowyer's number 15 to a firm called Kansas Graphics in the hopes that they could make a specialized hub cap for Ian's chair. At the graphics company, employees decided the best approach would be to print the design onto a heavy plastic, so Dow could inset them between the spokes on his son's chair.
That approach worked beautifully. And, the Wilsons were not charged for the work.
"It was really nice of them," Dow said.
The professional-looking suit has garnered Ian a lot of attention – even from Bowyer himself, Erin said.
"He's very verbal and very social, and he likes the attention," she said. "He really likes meeting people."
Erin said she believes that Ian enjoys the sights, sounds, and energy of professional auto racing.
"I think he likes the hoopla," she said.
Although the family doesn't often make it to the races, they watch events on TV. Since that day at the Kansas Speedway, Ian's fascination has not abated. When Darrell Waltrip begins his broadcasts, Ian mimics the famed announcer's signature opening line, "Boogity, boogity, boogity! Let's go racing, boys!"
Also, when he's riding in the family vehicle, he'll often shout out some of the terms he's learned when watching events. For example, if Dow is driving, he'll say, "And Daddy takes the lead!"
Not spinning his wheels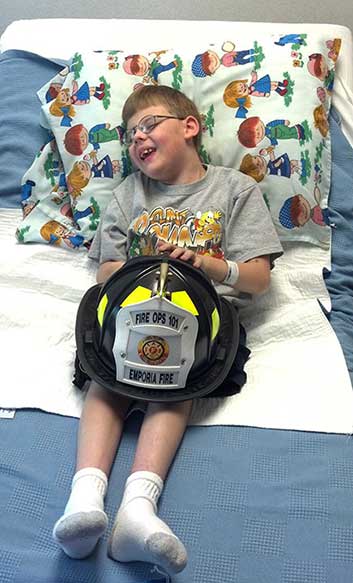 When Ian's not indulging his love of racing, he's a student at Chase County Elementary School, where he will be entering the fourth grade in August. Erin said he enjoys school.
At home, Ian has many interests. He enjoys the Disney animated feature "Cars," and likes watching television, listening to music, and swimming. Ian also likes spending time with his parents and his 17-year-old sister, Whitney. Often, Ian will join Dow on the golf course.
One constant presence in Ian's life is his dog, Katie. The Golden Retriever-Labrador mix canine is seldom far from his side.
Erin, who along with Dow, has watched Ian exceed his initial medical assessments, said having a child with a disability is about remaining positive.
"I focus on what Ian can do," she said.
She added that although parents should listen to physicians, children with disabilities are often full of surprises.
"I would tell parents not to give up; not to simply settle if one doctor or specialist tells you your child is never going to progress," she said. "Don't just accept that determination. We had a physician tell us – after [Ian] took standards tests where he placed pegs in holes and picked up blocks – that he would not progress.
"But, Ian had other ideas," she said.
Relationships and Cerebral Palsy

There's an old saying that the measure of a person's life is measured by how much they are loved. There's no doubt about it: our relationships with others are the cornerstone of our ability to thrive and enjoy life. Relationships allow us to explore all of the facets of giving and receiving love, from the patient and protective concern shown between a parent and child to the fire and chemistry that happens between friends, mates and spouses. And the level of ability has nothing to with the level of love one is willing to give to or receive from another.