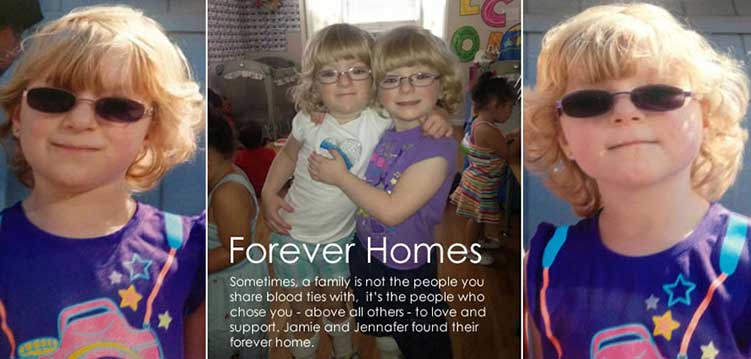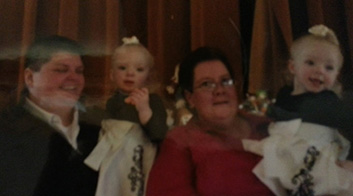 For Kerry and Patricia Hutchinson, the fact that their adopted twin daughters have Cerebral Palsy is a component of their active and loving forever home, but not the focus.



The twins are secure in their forever home with older sibling Shawn, 7. Hopefully, McKenzie, who is 9-months-old and a biological sister of the twins, will also be able to claim the Hutchinson household as her forever home, as well.
For Kerry and Patricia, adoption makes for a busy home
Sometimes, a family is not the people you share blood ties with, it's the people who chose you – above all others – to love and support.
This is not news to adoptive parents; the desire to have children in some cases leads would-be parents to search the world over and take extraordinary measures to fill a home with joyous noises and little footsteps.
Kerry Hutchinson and Patricia Burke-Hutchinson know that notion all too well. The suburban Boston couple has supported 10 foster children in their home. And, thus far, they're the adoptive parents of two, the legal guardians of one, and going through the process of adoption with another. The children – Shawn, 7, Jamie and Jennafer, both 5, and McKenzie, 9-months – filled not only the Hutchinson home, but their parent's hearts, as well.
"All of our children are a gift from God," said Kerry, who like Patricia, always knew that she wanted to be a mother someday. "Our children have made our family complete."
"All children, no matter what their needs are, need love. That's something that doesn't change. So, in our family, the fact that the children have special needs makes no difference at all."
– Kerry Hutchinson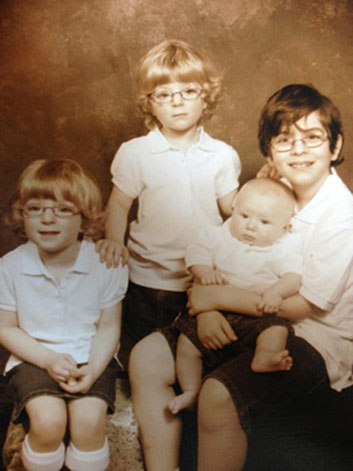 Just last year, Jamie and Jennafer were diagnosed with mild to moderate Cerebral Palsy. The diagnosis came after a long process – one that baby McKenzie is currently undergoing. But in a testament to the spunk and optimistic nature of childhood, the girls' condition has done little to slow them down.
"They're active all of the time," Kerry said. "We have a busy household and we wouldn't have it any other way."
An unexpected phone call
Kerry and Patricia's adoption odyssey began several years ago after they determined that they wanted to open their home to foster children with the goal of adopting. As part of this arrangement, they knew that they would likely encounter children with special needs, and children that have led eventful lives.
After a battery of training, interviews and home visits, the Hutchinsons graduated the program.
"Once we applied to become adoptive parents, we went through training like all adoptive parents do," Kerry said. "That helps a parent learn how to handle children with special needs."
Many potential parents are intimidated by the prospect of opening their home and heart to a child with special needs, but for Kerry and Patricia there was no fear whatsoever.
"All children, no matter what their needs are, need love," Kerry said. "That's something that doesn't change. So, in our family, the fact that the children have special needs makes no difference at all."
In 2008, Patricia received a call that there was an emergency removal of a set of newborn twins. The caseworker told Patricia that Jennafer may have Down Syndrome, but that physicians were unsure. Patricia immediately wanted to take in the children; Kerry was a little more cautious because she initially wanted a boy.
But when they went to pick up Jamie and Jennafer, their hearts melted. "I knew that when they put Jennafer in Kerry's arms, she would never let that child go," Patricia remembered. "And the possibility that Jennafer had Down Syndrome didn't matter at all."
As the girls grew, the parents noticed they had started to walk on the tips of their toes. That prompted a series of tests and evaluations, and an eventual diagnosis of Cerebral Palsy.
In April 2009, Jamie and Jennafer's biological parents' parental rights were terminated, Kerry and Patricia adopted the twins. Since that time, the girls' biological sister, McKenzie, who is 9 months old, was also placed with the Hutchinsons, and they plan to adopt her, as well.
The girls also have an older sister that was never placed with the Hutchinsons, but the families have made friends and are encouraging all the girls to form a relationship. The twins' older sister has a more severe form of Cerebral Palsy. Her parents have cared for nine children with special needs.
The princess and the caretaker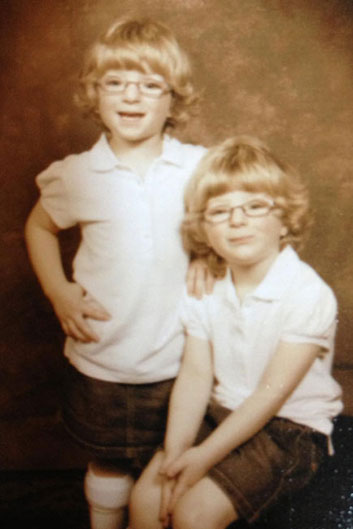 Jamie and Jennafer are mirror-image twins, which means they develop reverse asymmetric features. If they faced each other, they would appear to be exact reflections of the other twin.
Jamie is older than Jennafer by about two minutes, but so far, Jennafer is the dominant twin, Kerry said.
"She's the boss," laughs Kerry. "Jamie has a more motherly personality. If she hears a child crying and it sounds like her brother, she immediately wants to find out where it's coming from. We have to assure her that it's not her brother."
Jennafer also likes to play dress up, and both girls enjoy Little Einstein programming.
Both Jamie and Jennafer use leg braces to help improve their mobility. They are both working towards improving speech and fine motor function. These issues are being addressed through therapy, Kerry said, and there's no reason to believe they won't have a thriving childhood with their parents and their siblings.
This month, the girls are entering full-day kindergarten at a local school, where they are sure to learn many new things and form new friendships, Kerry said.
Kerry said that if any potential adoptive parent is on the fence about adopting a child, they should jump down and take the plunge.
"There are so many children out there that need love and a stable home," she said. "It's been the greatest thing in our lives."
She also said that when it comes to a child with special needs, or adoptive families in general, people should keep their hearts open. After all, sometimes the family that's not genetically connected to a child is the one he or she was meant to have.
"Don't judge a book by its cover," she said. "If a child looks a little different or walks a little different, they're still a child. They need love, like any other child."

Finding a child care program or facility that meets the needs of a child with Cerebral Palsy is an expensive undertaking. Luckily, families that meet a certain set of criteria can take advantage of government funding and supports.
Child Care
Government-Assisted Child Care
Child Tax Credits
Ask your tax consultant if you are eligible for:
Child and Dependent Care Tax Credit
Child Care Assistance Programs
Earned Income Tax Credit
Education Tax Credit
Working Family Credit Program
Ask your employer if they offer pre-tax accounts for child and dependent care.
Child and Adult Care Information
Child Care Resources
Do you have doubts that someone else can care for your child?

Government assistance – also known as public assistance – is aid, service or supports that are provided to an individual by a government agency based on established criteria – income, disability, dependency or need, for example. Government resources come in the form of cash, food, services, shelter, technology, supports, and more.
Government Assistance