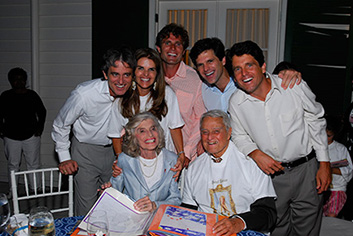 Eunice Kennedy Shriver,
July 10, 1921 – August 11, 2009
Inspired by a sister with special needs, Eunice Kennedy Shriver spent her lifetime changing attitudes and pressing for social acceptance on behalf of people with disabilities.
Making a Difference in the Lives of Our Children
"Inspired by her love of God, her devotion to her family, and her relentless belief in the dignity and worth of every human life, she worked without ceasing – searching, pushing, demanding, hoping for change. She was a living prayer, a living advocate, a living center of power… She founded the movement that became Special Olympics, the largest movement for acceptance and inclusion for people with intellectual disabilities in the history of the world…" – Statement by the Shriver Family, August 11, 2009.
Worldwide, Special Olympics holds competitions 365 days a year with over 3.7 million athletes in more than 170 countries. They offer 32 Olympic-Style summer and winter sports programs for children with special needs. Special Olympics is but one of Eunice Kennedy Shriver's accomplishments.
Eunice Kennedy Shriver's legacy as an advocate lives on
Eunice Kennedy Shriver was probably the highest-profile woman in a family that included several strong personalities. By the time her long, prolific life as a trailblazer and advocate came to a close in 2009, the fact that she was the sister of a President of the United States seemed to be a footnote among a long list of accomplishments.
She made her mark as Executive Vice President of the Joseph P. Kennedy, Jr. Foundation, was Founder and Honorary Chairperson of the Special Olympics, and she started Camp Shriver so those with disability had a camp to enjoy. Simply put, she was a tireless in her efforts during three decades to improve and enhance the lives of individuals with disabilities.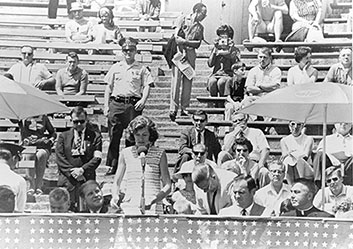 But Eunice Kennedy Shriver, a member of a family that was led by a onetime U.S. Ambassador and included a brother that achieved the U.S. presidency and another that served as the U.S. Attorney General, made a habit of stepping outside of other's shadows. By the time she founded the Special Olympics in 1968, this woman of wealth and privilege had worked as a social worker in a woman's prison in Alderson, W. Va., and lent her talents to the juvenile court system in Chicago.
Shriver had also endured more than her share of personal tragedy; she had lost her oldest brother, Joe Jr., a Naval Aviator in the U.S. Navy during World War II; her sister, Kathleen, a Red Cross volunteer in plane crash in France; her brother John, the 35th President of the United States was assassinated in 1963, and her brother Robert, a U.S. Senator was assassinated in 1968.
One of Shriver's older sisters, Rosemary, struggled with an intellectual disability, which emboldened Eunice's mission to create more opportunities for people with intellectual disabilities.
Because of this, the young Eunice Kennedy knew how important it was for a person with intellectual disabilities to feel empowered and valued, and understood that – given opportunities – people with intellectual disabilities could achieve more than anyone could imagine.
In 1957, Eunice Kennedy Shriver's lifelong efforts began in earnest when she assumed the helm of the Joseph P. Kennedy, Jr. Foundation. Named after her late brother, the Foundation seeks to prevent intellectual disabilities by identifying causal factors, improve access to opportunities for people with disabilities, and change people's attitudes about people with disabilities.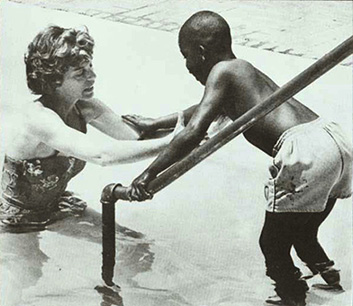 She enjoyed many successes at the Foundation, including:
the establishment of The President's Committee on Mental Retardation in 1961
the development of Camp Shriver in 1962
the development of the National Institute for Child Health and Human Development in 1962
the establishment of a network of university-affiliated facilities and intellectual disability research centers in 1967
the establishment of the Special Olympics in 1968
the establishment of the "Community of Caring" programs in 1200 public and private schools from 1990 to 2006
"One day in 1967 she listened to a plan from the Chicago Parks and Recognition department to hold a track meet for the city's kids with intellectual disabilities," reported Jack McCallum in his article "Small Steps, Great Strides" published on December 8, 2008 in Sports Illustrated Magazine. The track meet was spearheaded by Anne Burke, then a teacher for Parks and Recreation who urged Eunice to donate $25,000 in funding so kids from all over the country could participate.
On July 20, 1968, one-thousand assembled athletes competed in the Olympic-style competition for at Soldier Field in Chicago. There, only seven weeks after her brother Robert was killed in a Los Angeles hotel, Eunice Kennedy Shriver led the athletes onto the field and recited what would become the Special Olympics oath: "Let me win, but if I cannot win, let me be brave in the attempt."
There was little fanfare in the stadium, barely any press had assembled to cover the event. But through tireless efforts to grow the program, advocating for inclusion in athletic programs throughout the world, and altered the perceptions of people with challenges, Shriver became the driving force behind what today is an elite, worldwide athletic program that drives sport, fitness and health programs worldwide.
In the beginning
The fifth of nine children born to Joseph Patrick Kennedy, Sr. and his wife, Rose Fitzgerald Kennedy, in Brookline, Mass., Eunice Kennedy spent her childhood engaged in athletics with her siblings. Her father was the U.S. Ambassador to the United Kingdom during many of her formative years.
Eunice Kennedy Shriver's oldest sister, Rosemary, was born with an intellectual disability, so Eunice understood first-hand the difficulties faced by individuals with disabilities.
Rosemary Kennedy was coming of age during a time when people with disabilities were met with ambivalence in society; opportunities for education and inclusion in everyday endeavors were years from being a reality. This was a circumstance that Eunice Kennedy resolved to change.
After graduating with a Bachelors of Arts degree in Sociology from Stanford University in California, and short stints working at the Penitentiary for Woman at Alderson, the House of the Good Shepard in Chicago and the Chicago Juvenile Court, Eunice Kennedy Shriver decided to lead the Joseph Kennedy, Jr. Foundation.
The foundation was established in 1946 in the name of Eunice's brother, Joe Jr. The sole mission of the foundation was to advance disability rights and create opportunities for people with intellectual disabilities.
Four years after Eunice Kennedy Shriver took the helm of the foundation, significant accomplishments were stacking up. In 1961, President John F. Kennedy established the President's Committee on Mental Retardation, which examined issues like access to education and the quality of health care and civil rights as it related to policy making. It was a first-of-its-kind committee, and was the result of endless phone calls and lobbying Eunice Shriver took part in to bring the plight of children and adults with intellectual disabilities into the public's consciousness.
A year later, she worked in concert with the government to establish funding and support for the National Institute for Child Health and Human Development, or NICHD. This organization focuses on our understanding developmental disabilities and intellectual disabilities as it relates to important events that occur during pregnancy. Five years later, the Foundation helped establish university-affiliated centers at several major research universities; these centers channeled the best and brightest minds in medicine to spearhead research into treatments and therapies to help people with disabilities.
Also in 1962, Eunice Kennedy Shriver took her concerns to the public in a ground-breaking article about the treatment of people with intellectual disabilities in an article in the widely-read "Saturday Evening Post." In the article, she called for a change in attitudes and support systems.
A public service campaign called a "Community of Caring" followed in 1981. This campaign aimed to reduce the number of children born with intellectual disabilities among teen mothers by harnessing the power of education and emphasizing character. The program would expand with 16 model institutions and more than 1,200 programs in public and private schools.
Beyond the Special Olympics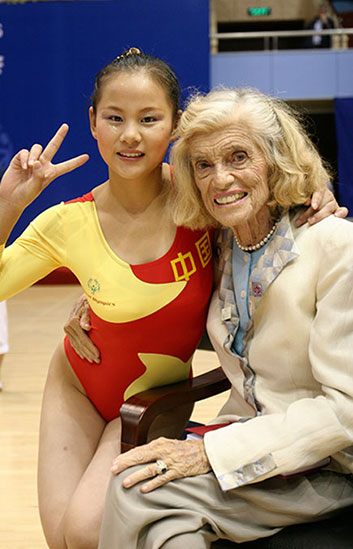 Although Eunice Kennedy Shriver's name is synonymous with the Special Olympics, her legacy extends beyond that colossal achievement. In 1962, shortly after she took the helm of the Joseph Kennedy Jr. Foundation, she received a call from the parent of a developmentally disabled child. The parent was despondent because she could not send her child to camp. At that time, there were no camps designed for children with disabilities; and conventional camps often could not, or would not, accommodate a child's needs.
So, Eunice told the parent to bring her to their Maryland home she shared with her husband, Sargent Shriver, and their five children. Called, Timberlawn, the private home became the site of Camp Shriver for children with intellectual disabilities. There, the children would enjoy sports, the family pool, activities, friendship, and acceptance.
Today, Camp Shriver is a fully-inclusive camp for all children, with two locations at the University of Massachusetts in Boston, and Stonehill College in Easton, Mass., and several satellite camps in other cities throughout the United States.
In her lifetime, Eunice Kennedy Shriver received many honors, including the Presidential Medal of Freedom, the nation's highest civilian honor. She also received the Mary Lasker Award, the Philip Murray-William Green Award, the Laetare Medal of the University of Notre Dame, and The Four Freedoms' Freedom from Want Award, among others.
Eunice Kennedy Shriver died on August 11, 2009. But today, her legacy is still felt. In March 2012, Eunice Kennedy Shriver's friend Sen. Tom Harkin (D-Ia.) with his co-sponsor Sen. Roy Blunt (R-Mo.) introduced the Eunice Kennedy Shriver Act. This bipartisan legislation builds on her mission by reauthorizing the Special Olympics Sport and Empowerment Act, whose programs support people with disabilities through health, education, and global initiatives. The legislation was introduced in the U.S. House of Representatives by Rep. Steny Hoyer (D-Md.) and Peter King (R-NY).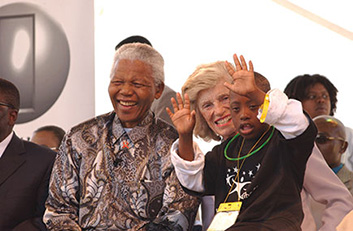 But Eunice Kennedy Shriver's legacy is most deeply felt in the hearts and minds of the children she believed were capable of making a significant contribution to society, their families, and most importantly, to themselves. Worldwide, the Special Olympics holds Special Olympic trainings and competitions 365 days a year, with over 3.7 million athletes, aged 8-years-old and above, in more than 170 countries. They offer 32 Olympic-style summer and winter sports programs, and have a Young Athletes program for children ages 2 to 7.
"Through sports, our athletes are seeing themselves for their abilities, not disabilities. Their world is opened with acceptance and understanding," touts the Special Olympics website. "They become confident and empowered by their accomplishments. They are also making new friends, as part of the most inclusive community on the planet — a global community that is growing every day."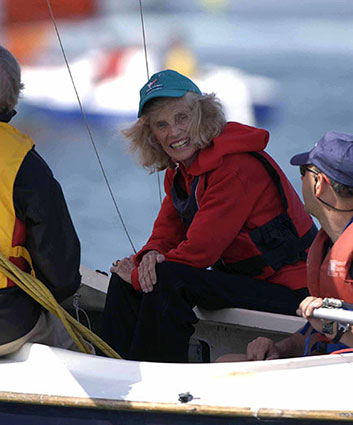 Relationships and Cerebral Palsy

There's an old saying that the measure of a person's life is measured by how much they are loved. There's no doubt about it: our relationships with others are the cornerstone of our ability to thrive and enjoy life. Relationships allow us to explore all of the facets of giving and receiving love, from the patient and protective concern shown between a parent and child to the fire and chemistry that happens between friends, mates and spouses. And the level of ability has nothing to with the level of love one is willing to give to or receive from another.