'War Eagle, Arkansas' explores complex relationship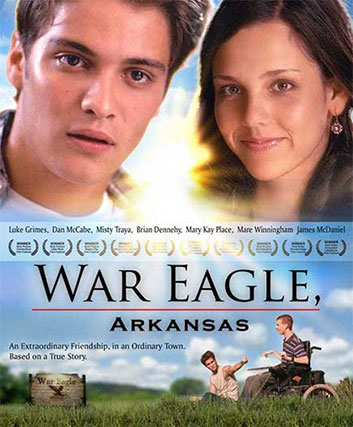 It would be easy to call the film "War Eagle, Arkansas" a buddy film, but once one peels back the layers of the film's emotional narrative, the question it poses is more complex than the banter back and forth of its lead characters.
Set in the rural town of War Eagle, which is a small town in Benton County, Ark. It turns out that, like many picturesque towns below the Mason Dixon line, War Eagle offers a lot of southern charm. However, it's not exactly roiling over with opportunities for education or work its residents.
That's why the film's two main characters are contemplating what their fates might be if they stay in the sleepy town. Enoch, a handsome, all-American teen is a star baseball player that has a stutter and likes poetry. His best friend is Wheels, a whip-smart teen who uses a wheelchair because he has Cerebral Palsy.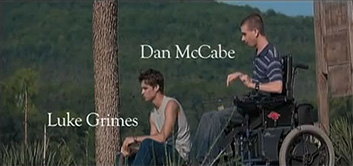 Enoch, it turns out, has a decision to make. The teen's skills at home plate have secured him a full scholarship at a prestigious university in Tennessee. Enoch is conflicted. He can take the scholarship and leave behind everything he knows, including his lifelong friend Wheels, or he can stay in War Eagle, where his opportunities are limited.
His grandfather, who helped raise Enoch, is in favor of the scholarship.
Wheels has fewer options. He is considering the scope of his life, and the fact that his best friend may be leaving. He also wonders what his fate will be in a small town with few resources. What will become of him?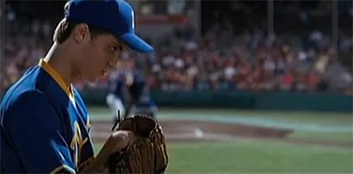 The friendship between the boys is one that has been beneficial for both of them. Enoch takes Wheels everywhere he goes and ensures that his friend with disabilities meets people and interacts with others. Wheels, with his razor-sharp wit and salty language, serves as a voice for Enoch whose stuttering becomes more noticeable in social situations. Ironically, it is Wheels who encourages Enoch to make a decision about the scholarship without considering the wishes of his hard-charging grandfather.
"I don't care if you can't get out a full sentence," he said. "Don't let your Grandpa do all the talking."
As the film proceeds, matters become complicated when Enoch falls in love with a local girl named Abby, which makes him once again question the conventional wisdom of leaving the small town in the rearview mirror.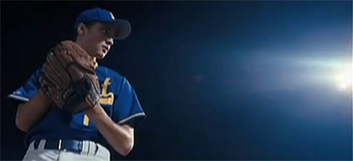 Eventually, as the deadline for Enoch to make a decision draws closer, the friendship between the two teen boys intensifies. Matters reach an apex when Wheels erroneously believes it is his disability that is preventing Enoch from accepting the scholarship offer.
"I think you should go," Wheels said. "Leave – no. Get out. Go sign your scholarship, because I don't want your help, and I don't want your pity."
Enoch knows that the decision to leave his friend is about more than disability, it's about the security and confidence Wheels has afforded him, and the relationship the two have forged.
"There's wasn't a damn minute I was friends with you because I thought you needed help," Enoch tells Wheels.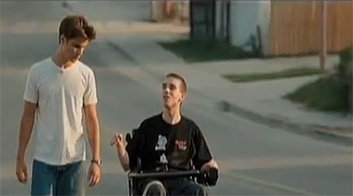 There's also a subplot about whether the boys will help a local African American minister rehabilitate a local church. The film also chronicles Enoch's relationship with his grandfather and with Abby, the local girl he loves.
There are many moments in "War Eagle, Arkansas" that will seem familiar to anyone that has lived through their teenage years. Chief among these is the intense bond of friendships, the pain of separation, the conflicts with adults, and the wonderment of young love.
The film also poses another question that in some ways is difficult for anyone, disabled or not, to answer. If society regards someone as disabled, and yet they can do something or take on a role for an able-bodied person that no one else can fill, then is that person truly disabled? If the answer to that question is a yes, then shouldn't the other person be considered disabled?
Inspired by the real-life friendship of Tim Ballany and Vincent Insalaco III, "War Eagle, Arkansas" made use of various locations against the backdrop of the Ozark Mountains. Insalaco produced the film.

Released in 2007, "War Eagle, Arkansas" immediately received rave reviews at several independent film festivals. The film won best picture honors at the Breckenridge Film Festival, the Hollywood Film Festival and the California Independent Film Festival. The actors in the film took home several festival awards, as well.
The film is available for rental on YouTube. DVDs of the film are available at retailers, and online.

Of course parents already know their child's journey is the stuff movies are made of, but as it turns out, there are several movies about individuals with Cerebral Palsy and how their condition has affected their lives. Here are some films that tell stories about inspiring people.