"A Simple Act" highlights the humble nature of kindness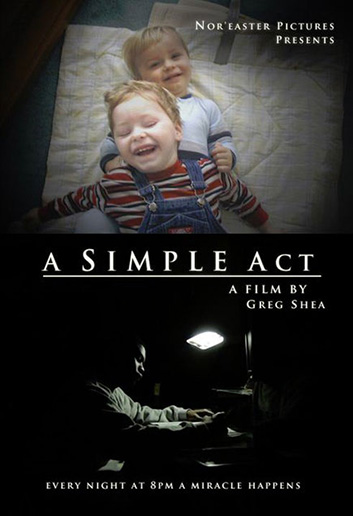 It was bedtime at the Parker home in Melrose, Mass.
Rick and Patty Parker, who live in a two-story home in a sleepy suburb of Boston, had their established routine. They would round up their son Ben, then 8-years-old, and carry his twin brother Sam up to their bedroom for much-needed respite.
It's a routine that played out night after night, and one that Sam's parents had no reason to believe would end. Sam, who because of a lack of oxygen in the birthing process, was born with Cerebral Palsy that left him immobile, blind, nonverbal, and dependent on a feeding tube for sustenance, was carried by his devoted father up 14 steps to his bedroom.
Then, unexpected news came. Rick required heart surgery that would leave him unable to lift – let alone carry – his son. This created a problem for the Parker family because Sam had grown too heavy for Patty to lift, and because of the layout of the house they could not move bedrooms downstairs. Those 14 steps, for Rick, became an insurmountable mountain.
"It was a slap in the face," Rick Parker said. "It was like, you know, how are we going to live where we are? We had to re-think everything because they didn't want me to lift a gallon of milk, so what was I going to do? How was I going to bring my son up and down the stairs?"
Unbeknownst to the Parker family, they would be the recipient of an extraordinary gift of kindness; one that would make it possible for the family stay intact, preserve Rick's health, and make it possible for Sam to remain at home with his family. The source of the gift is a strapping high school football captain named Rudy Favard, whom the family had never met.
The conundrum
The Parkers and Rudy's story first appeared in a Boston Globe article, and was later made into a 30-minute documentary by Nor'easter Films called "A Simple Act." The documentary details how Rudy, who was then a student at Malden Catholic High School, came to the decision to visit the Parker home each night to carry Sam up to his room every night.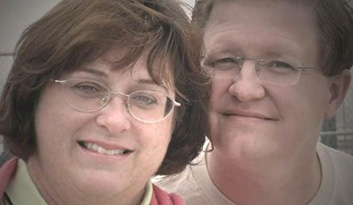 The documentary, which is entirely narrated by those involved in the story, details how Rick and Patty meet and eventually marry. It moves quickly through the birth of the couple's twins and the diagnosis of Sam's Cerebral Palsy. Then, the couple learns Rick will need heart surgery at the Cleveland Clinic, forcing them to make the heartbreaking decision to place Sam in a nursing home during the weeks Rick is hospitalized miles away from home.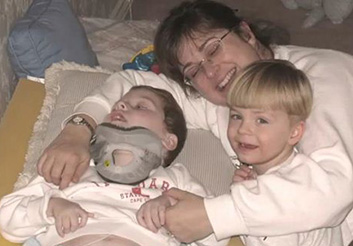 "I think like any pregnant woman you just have fantasies of the perfect life," said Patty reflecting on her pregnancy and hopes for the family. She envisioned walks with a double stroller and two happy little boys who would be best friends and playmates. Rick envisioned going to football games with his boys, playing baseball and attending the first day of school. In hindsight, they admit they weren't prepared for a future of caring for a child with special needs, especially with the unexpected restraints their own health would impose.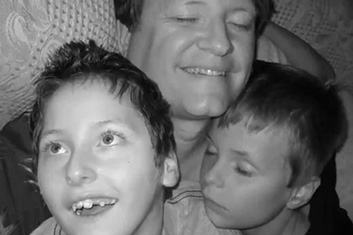 A question that the Parkers never thought they'd have to answer, lingered. How will they physically be able to care for their son? How can the family continue to live in their home?
Desperate to find a way, Patty called her pediatrician who put her in touch with Elizabeth Paquette, the nurse at Malden Catholic High School. It took Patty four minutes to stop sobbing long enough to tell her story, Elizabeth said. Paquette told the overwhelmed mother that she'd take care of it.
And, that's where Rudy came in.
A kind act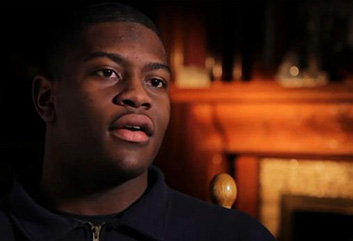 For the Favard family, who also share their story, the story of the Parkers and Rudy is one that brings their family full-circle.
Rudy's mom Rose grew up in Haiti. Rudy was born 18 years after her previous child and well into Rose's senior years. A nurse told her that it was probable that her baby would be disabled, and that she shouldn't follow through with her pregnancy. But Rose said that disabled or not, God had a grand plan for Rudy.
Rose, an immigrant to the United States, was no stranger to adversity. She came to the United States to look for a better life for her family, obtain employment and sponsor other family members to citizenship. She recalls the feeling of being in need and having nowhere to turn. That's when Rudy was born.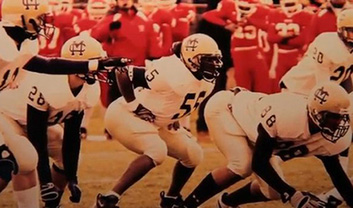 "In my own experience when you have people that need help it's really good for not only you but for your children and your children's children," she said. "This is the lesson for me. That's why I've always, always told my children to help the people who need help." Rudy was raised with the philosophy that through helping others, your own life is enriched.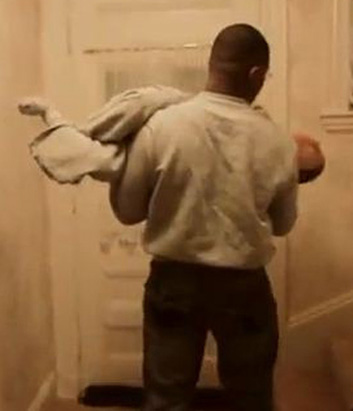 "I could have been Sam, and Sam could have been me," Rudy acknowledged.
"He's such a generous spirit," Elizabeth said about Rudy's kind and caring nature. "I knew Rudy would be the man for the job."
Rudy – despite taking some well-intentioned and respectful ribbing from his teammates – agreed to drive over to the Parker home every night at bedtime to carry Sam to his bedroom, where Sam could be with the family and monitored by his parents.
Although Rudy was offered modest compensation for his effort, he declined.
"He didn't even want any money," said Ben, Sam's twin brother. "To my mom that was like he really loved us because we were in need."
Genuine appreciation
"A Simple Act" is first and foremost about the difficult decisions families with a child with disability must consider. But more importantly, it's a story of inspired solutions made possible by the kindness of others.
The central principle of the documentary initially made Sam's father Rick skeptical, but today, he's convinced of the power of love and generosity.
"[Rudy] has values that you look for in high school kids and seldom find," he said.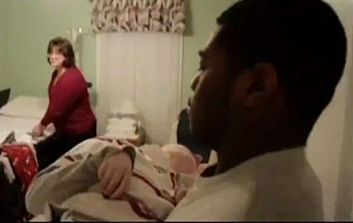 "I watched Rudy immediately go up to my son Sam and take ahold of his hand while other people were talking and say hi to Sam." Rick said. "He didn't want everybody else to see him, but he spoke right to him and at that point I knew that this kid is different."
"The first time I went over to the Parkers, I wasn't really nervous," Said Rudy. "I was more anxious because I wanted to see how things were going to work out."
According to Rudy, helping others should be a goal all of us have.
"I have those days when I don't want to do homework, don't want to go to practice, don't want to wake up and go to school," Rudy said. "Then watching Sam you realize that if God gives you the opportunity by his grace to do it, then you should take it while you can."
"What he did has kept our family intact," said Patty. "He saved my husband's life and allowed me to keep my son with me."
In retrospect, Rick and Patty were once sad to think that Ben would grow without the sibling rivalry of an able-bodied twin, until they realized the additional role Rudy played in providing Ben with occasional play, mentorship, and generous character.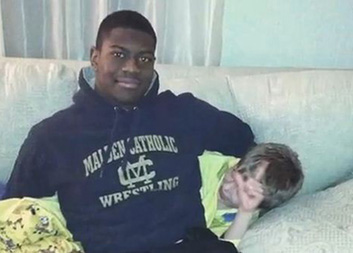 "To say that Ben worships the ground that Rudy walks on is an understatement," said Patty.
"It's like getting a gift every time he comes over," Rick said. "He's more than just a part of the family. I don't even have the words."
Rudy's simple act of kindness reached the hearts of many.
"It envelopes you – that love, that generosity, that spirit," said Elizabeth, recalling the football captain gently cradling Sam to his chest to ascend the stairs. "You know that you are witnessing something that's much bigger than a young man carrying a boy upstairs."
To view the documentary, visit:

Of course parents already know their child's journey is the stuff movies are made of, but as it turns out, there are several movies about individuals with Cerebral Palsy and how their condition has affected their lives. Here are some films that tell stories about inspiring people.