Through a camera's lens, film captures disability's perspective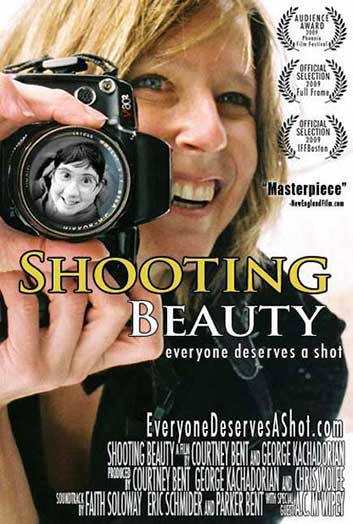 It sounds straightforward enough in the beginning. An aspiring fashion photographer gets an invitation from a Cerebral Palsy nonprofit to photograph the inhabitants of a day program. It evolves to the point where those day program participants shoot photographs on their own.
But what happened over a four-year period to the photographer and filmmaker Courtney Bent and the budding photographers at United Cerebral Palsy of MetroBoston's day program became a testament of the power of art to heal, to inspire, and to prove to all of us that no matter what our ability levels are, we have more in common than what meets the eye.
The revelations – and more – are chronicled in "Shooting Beauty," a 62-minute documentary conceived and produced by Bent and directed by Emmy-nominated filmmaker George Kachadorian. The film was released in 2009 to wide acclaim for its effort to uncover a hidden core of beauty at the center of the photographers that exist in essentially all of us.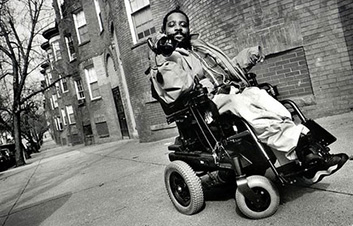 Sometimes, a camera can capture what we want to say and why we want to say it in a more potent way than words can. In the case of what would be called the "Picture This" project, a photograph relays a message for the need for love, the expectation of belongingness, the heartbreak of loss, and the elation of being understood.
The project was a cathartic one for the UCP program attendees and also for their photography teacher.
"I grew up in a family where both of my parents were in the fashion industry, she said. "Fashion and clothes – how you looked – is what paid the bills … I just never felt like I could fit into that world."
Interesting perspectives
The seeds of "Shooting Beauty" began at, of all events, a dance-a-thon in Boston.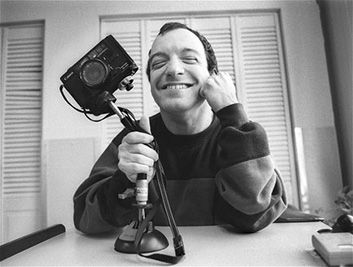 "I'm a photographer in Boston and one of events that I was photographing was a dance-a-thon," she said. "It was at this huge convention center. It was five floors of people dancing to all kinds of music.
"At one point, I saw this group of people in wheelchairs," Courtney said. "So I'm looking at these people and thinking that's kind of scary to me … So I was curious. What is it like for somebody to live in a world where they really don't fit in?"
Many of the people Courtney met that night on the dance floor attended a day program at United Cerebral Palsy of MetroBoston's headquarters. One invited her to take pictures. She accepted.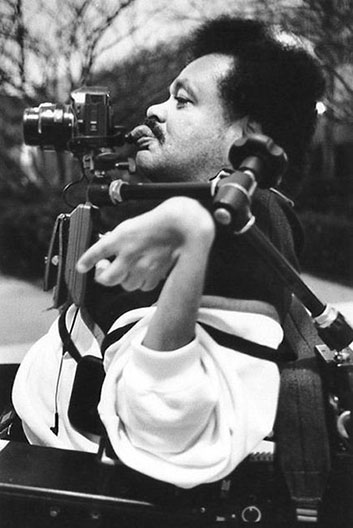 "If anything, it was me confronting my fears of something that was so different from my world, to see if I could relate," she said. "I felt like I couldn't be accepted in my world; I wondered if I could be accepted in their world?"
But once Courtney took photos of the people she met, an unintended consequence was apparent. Courtney noticed that others found the pictures to be strange. It occurred to her that she must be doing something wrong because stereotypes are coming out in the photos.
"That's when I realized that they needed to take the camera into their own hands. They needed to start telling their own stories because I wasn't doing it very well," she said.
So Courtney modified point-and-shoot cameras using tripods and attached them to wheelchairs. She added features to make it easier for each photographer to operate. She also taught them how to load film, if they were able. She prepared them to take photos based on their strengths. One young man named EJ operates the camera with his tongue.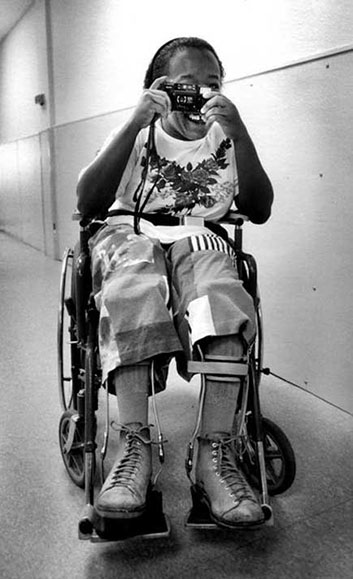 The photographs taken by Courtney's students were taken from the unique physical perspective of the photographer; the photos told their stories from their perspective.
One of the photographers, Tony Knight, took photos and videotaped his journeys from his power wheelchair.
"I run into situations where little kids, we're talking about five- and six-year-olds – the most curious creatures on earth – will walk up to me and say, 'What's wrong with you?' he said. "That's why I love kids, they will throw all kinds of questions out there. And, it's probably questions the adults wanted to know but didn't have the nerve to ask."
Sometimes, the photos were joyful, such as a woman holding a baby or a smiling bus driver, but at other times they captured other people looking confused, or turning away. To a casual onlooker, the photos relay what disabled people cope with every day.
"What I was trying to capture in that photograph was people's reactions to my wheelchair as well as my camera," Tony said. "Some of them you can see looking confused, other people are looking over at me as if I'm not there. If you look at it long enough it's the, reaction of society in general. It's all in that picture if you look at it close enough."
Vantage points
As the project unfolded, Courtney's relationship was transformed from one of a mentor, to one of a friend. May Jo Chaisson told Courtney how exasperated she was that her mother inadvertently opened the back of the camera and exposed the film.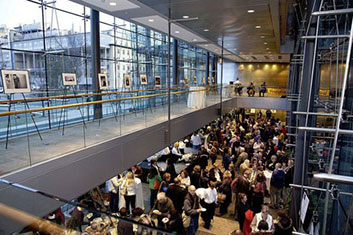 EJ explained to Courtney why he took photographs from the top floor of his apartment building.
"You can get a shot of everything that is going on in the community," he said. "I came up here one day when I was feeling down and depressed. I came up here and started feeling good. I have a feeling that I'm free. I'm not locked up, cooped up in the world."
Cheryl Magnusson, who uses a word and alphabet chart to communicate, shared with Courtney the sadness she was feeling about unrequited love.
Tom Herrick, a participant in the UCP day program, initially did not want to be involved in the project. He grew up in a home and had remained in one bedroom from the time he was born until he was an 18-year-old. Because of this, he was not socialized properly and had emotional programs that made it difficult for him to connect with others.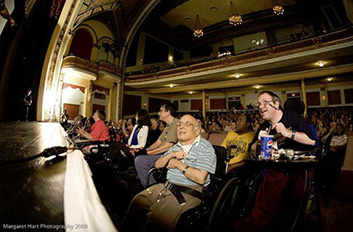 He changed his mind about taking pictures and it brought him to life. It helped draw him out of his shell. After Tom's first assignment, he had two or three self-portraits, one of which was published on the front page of a local newspaper.
Tom, who learned dark room skills, said it was exciting to see an image emerge on paper.
"I kind of look forward to seeing how pictures like that are going to look," he said. "It's almost like Christmas. There's a lot of satisfaction you can get out of doing it."
When Courtney secures space at the Multi-Cultural Arts Center in Cambridge, Mass, for an exhibit, each photographer will choose the photos they like best for an exhibit. The photography was unconventional. In an odd way, the composition worked artistically.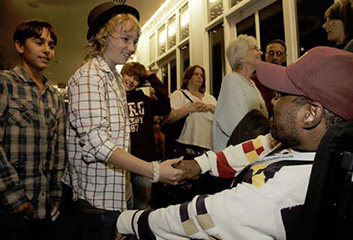 The final collection of images, collected during four years, serves as a statement about how people with a disability see the world by documenting their lives through the lens of a camera. And, the show was a enormous success both in terms of attendance and in terms of breaking down barriers between people with disabilities and everyone else.
Since the documentary was released, the concept of "Shooting Beauty" has evolved into a program that includes a traveling workshop for individuals with special needs, a school curriculum, a Girl Scout patch program, and disability awareness workshops for colleges and corporations. There is also a fundraising effort to help bring accessible cameras to organizations that serve individuals with disabilities.
The goal for "Shooting Beauty" is the same as it was when Courtney walked in the UCP building for the first time, to have a voice and to start conversation.
"Everybody has a right to be heard," Courtney said. "To me, the most important thing is to start the conversation."
"Shooting Beauty" has received 22 awards at various film festivals throughout the United States, including audience awards at the 2010 Durango Independent Film Festival, the 2009 Independent Film Festival Boston, the 2009 Phoenix Film Festival, and the 2009 Moondance International Film Festival.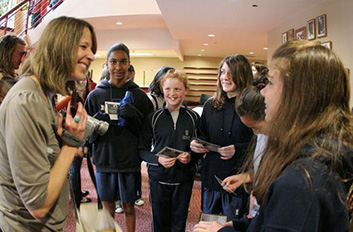 The film was given top documentary honors at the 2009 Charlotte Film Festival, the 2010 Buffalo Niagara Film Festival, the 2009 New Hampshire Film Festival, and the 2009 Moondance International Film Festival.
The film has also taken home other awards, including the Best Director Award for Kachadorian at both the FirstGlance Hollywood Festival 2010 and the 2009 Full Frame Documentary Film Festival.
"Shooting Beauty" was named the Most Inspiration Documentary at the 2009 Atlanta International documentary Film Festival. The "CapeCod Times" also named the documentary its "Film of the Year" in 2009.
To lean more about the documentary, visit:

Of course parents already know their child's journey is the stuff movies are made of, but as it turns out, there are several movies about individuals with Cerebral Palsy and how their condition has affected their lives. Here are some films that tell stories about inspiring people.