"Music Within" tells advocate's quest for full employment for the disabled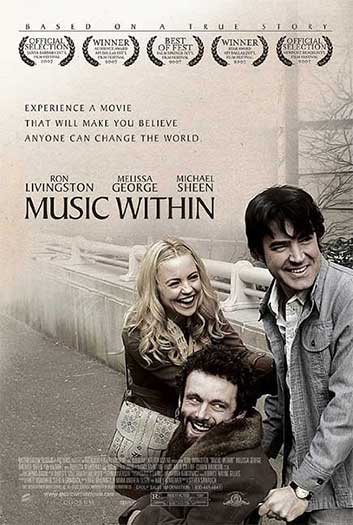 "Music Within" tells the story of a troubled young boy who is lucky enough to survive a challenging childhood with a mentally unstable mother only to be faced with further hardship. He is rendered almost 100 percent deaf after an explosion while serving in Vietnam.
But potential, as they say, is a catalyst for success. It is those hardships that will lead the film's main character Richard Pimentel through the challenges of disabilities so that he can fulfill a new role – as an advocate for others with a disability that, in many cases, are more severe than the one he acquired as a soldier.
The film – which is based on a true story – begins with Richard's birth. We see him grow through a series of scenes, all of which focus on his troubled relationship with an emotionally fragile mother who is unable to bond with her son. We see Richard growing into boyhood with his mother and grandmother, and later with his father who owns a successful Chinese grocery near Portland, Ore. and often works as a cook.
In a pivotal scene, we see Richard at about 8-years-old and overwhelmed by his circumstances. He is in a classroom taught by a favorite teacher Mr. Parks who tells the class that many people aren't lucky enough to field the music within. Music being the activity they were meant to do or the mission they were meant to complete.
This leads Richard to ponder his music and whether he will be afforded an opportunity to find his music, given the hardships he is experiencing. What, he wonders, is his purpose?
"I could never be a cook like my father because I'd already made my career choice – Superhero," he said. "As a superhero you occasionally have to deal with something annoying like kryptonite. My kryptonite was called home."
The film then flashes forward where Richard's speaking skills earn him a walk-on at Portland State University. An advisor later suggests to him that although he is a gifted speaker, he needs to live life before entering college to earn a point of view. He decides, instead, to join the U.S. Army. It turns out that what Richard thought was his music had slowed, if only for a while.
"I had a life, and there was no way that I was going back to it," he said. "Fortunately, the government had this program where you could gain valuable life experience and see the world. They would guarantee your education in exchange for services rendered. It was called Vietnam."
Once on the ground, he volunteers to stay behind with three other soldiers. The small group is fired on, their camp explodes.
The noise from the explosion left him with a severe case of tinnitus, the absence of sound. When he is sent stateside to recover, he applies for his government issued college funds and is told the monies will not be authorized because he is deaf. He was also informed that he won't be able to concentrate. All of the anger of his childhood – and all of the resolve – resurfaces.
Richard learns how to read lips and enrolls in classes without the help of the Army. One day, in the lunch commons he notices a young man in a wheelchair that is struggling to open a can of soda. He opens the can for him. When the young man tries to speak to him, Richard says, "Don't bother, I'm deaf."
The young man – a scientific genius named Art Honeyman – asks him if he's too good to speak with him. Richard is shocked to discover that because of the pitch of Art's voice, he can hear him.
Soon, the pair is inseparable. Richard takes Art, who has severe Cerebral Palsy, roller skating and hangs out with him on campus. Together, the duo struggle to fit into school, nor the 1960s counter-culture. Richard's starts a budding relationship with a hippie named Christine, a friendship with a troubled veteran named Mike, and trust with Art. Art begins helping with tasks like eating and showering.
It's after college that a pivotal event takes place. Art calls Richard to take him to an almost-completely inaccessible pancake house at 3 a.m. As they make their way through the tables, both men can feel the stares from diners and employees at the restaurant.
After they find a table, a waitress tells Art and Richard, "My manager told me that we can't serve you."
Richard asks, quizzically, "You can't serve pancakes?"
The waitress replies: "I think you two need to leave; you're making the other customers very uncomfortable."
Richard said, "Oh, why?"
"Hey, we can refuse to serve whomever we want to here," the waitress replied.
Richard incredulously said, "You've got to be kidding me. It's my friend's birthday and all he wants is pancakes."
After Art makes a sarcastic comment about wanting to take the waitress out for a date, the conversation takes a cruel turn.
"You are the ugliest most disgusting thing I've ever seen," she tells the men. "I thought people like you died at birth. How do you expect people around here to eat? People shouldn't even have to look at you."
Then, the waitress threatens to call the police. Eventually, both Richard and Art were arrested under a group of provisions called "ugly laws" which made it illegal for people who were deformed or maimed to appear in public.
It is this incident that re-starts the music Richard was searching for years ago.
Now, determined and galvanized, he resigns from his job as an insurance agent and accepts a position helping veterans find employment. After he is fitted with high-powered hearing aids, he is charged to devise training programs for all government agencies that serve as a framework for hiring people with a disability.
He also begins advocating for the passage of the Americans with Disabilities Act, which provides broad civil rights to people with a disability and aims to stop discriminatory hiring practices.
Released in 2007, "Music Within" tells a true story about striving to do the right thing, and how to be motivated by a desire to help. The film stars Ron Livingston as Richard, Michael Sheen as Art, and Melissa George as Christine. Supporting performances are provided by Rebecca DeMornay, Marion Ross and Hector Elizondo.
The film may not be suited for young children, because of mature topics and language. It is rated R.
To view this documentary on YouTube, visit:
To purchase this documentary on Amazon, visit:

Of course parents already know their child's journey is the stuff movies are made of, but as it turns out, there are several movies about individuals with Cerebral Palsy and how their condition has affected their lives. Here are some films that tell stories about inspiring people.