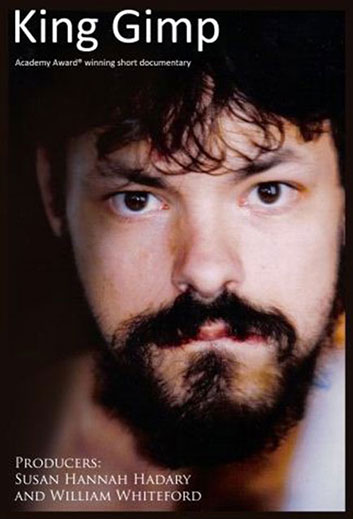 'King Gimp' chronicles man's teen and adult challenges, triumphs
Young people need a lot of encouragement to identify their path and find their place in the world, but for Dan Keplinger, that path has had it's ups and downs.
Keplinger, at the beginning of "King Gimp" is a self-conscious teen with severe Cerebral Palsy living with his single mother, Linda Ritter, in suburban Baltimore, Md. But at the end of the film, he's a college-educated artist; working his magic on the canvas, and pondering the meaning of love.
Becoming a self-sufficient, independent adult was not an easy undertaking for Dan. "King Gimp" follows Dan's transition from a pre-teen in school for those with special needs, to mainstream high school, and into adulthood in independent living, college and an art career. His physical and social challenges were documented over a 13-year period by filmmakers Susan Hadary and Bill Whiteford.
In the beginning of the documentary, Dan – who is somewhat verbal and is trained on the use of communication devices — offers insight into the nuances of day-to-day living for a child with severe Cerebral Palsy. His thoughts, which are painstakingly typed letter-by-letter with the assistance of a head stick device, appear on screen much like subtitles.
"Most people think 'gimp' means someone with a lame walk," he said. "But 'gimp' also means a fighting spirit."
The early years
Dan's mother Linda Ritter explains the circumstances of her son's young life. At this point in the film, he is 12 years old.
"Dan was born when I was 18 years old. I had a very difficult time delivering him. He had a lot of problems breathing, [he] had some oxygen deprivation, and they determined that Dan had Cerebral Palsy," she said.
By the age of 6, Dan's father divorced Linda. Dan credits his mother's devotion and resolve not to protect him as being influential in his upbringing.
"They (doctors) wanted my mother to put me in an institution," he said. "But she would never give me up."
"I never once questioned why he was born with a disability," Linda said. "I'm so glad he was born to me."
During the film, aspects of Dan's life are laid bare, tasks like opening a door or controlling his body enough to change clothes prove to be excruciatingly difficult. Dan communicates mostly by using a headpiece with a pointer to type on a keyboard.
Dan began his education at Ridge School, a school for children with special needs. It was a school that educated children until they were 21 without transitioning them into the mainstream program. Dan would spend the next six years at this school.
"When I was little, I felt safe at Ridge," he said "Nobody picked on me or called me names. But by the time I was 14, I was really tired of Ridge School. My best friend Pete died from muscular dystrophy that year. He was the only kid at Ridge I could talk to. Without Pete, there was nothing."
Decision to mainstream
Longing for something different, Linda explored options available for Dan to attend mainstream high school. A psychologist told Linda that Dan was not prepared, either educationally or psychologically, of handling the rigors of a mainstream school. Still, Linda fought – and won – the battle to place Dan in a mainstream program. He was eventually enrolled in Parkville High School.
"What a nightmare," she said. "Tuesday was the first day of school, he came home – I was in tears, he was in tears – and I was like, 'Oh my God, what have I done?' They told me that he would fail, and here he's failing."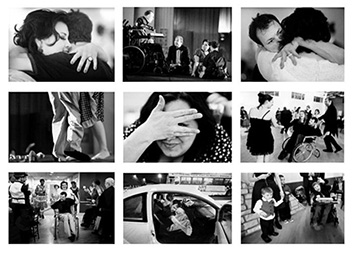 Dan was also frustrated.
"No one could understand that I was an intelligent person inside this body," he said.
There was a silver lining, however. It was at Parkville that Dan discovered art. The same head stick pointer, albeit with brush or charcoal pencil attached, that gave Dan an opportunity to communicate with others gave him an altogether different voice.
"The best thing that happened to me had to be art," he said. "Art gave me a way to express myself without anyone interpreting for me.
"When I paint there is a sweet, siren voice telling me where the bush will move," Dan said. "I obeyed the brush. The brush became my force. Painting can be something deep; something dark, a part of you that only you know. At Parkville High, an artist was born, and the artist was me."
Dan met many acquaintances at Parkville, but few lasting connections.
"I never had much of a social life," he said. "Sure everyone would know and speak to me, but I never made real friends. Because of my schedule, I couldn't even eat with the other kids. Instead, I had to have lunch in a storeroom."
Although he was fast to comprehend, his ability to complete homework was painstakingly slow, often taking him into the early morning hours. As his mother attested, Dan didn't give up.
College bound
"King Gimp" follows most of Dan's milestones, including when, at 20 year old, Dan becomes a student at Towson University in Towson, Md. It's there that Dan is able – after some setbacks – to hone his abilities as an artist.
Initially, a college professor told him that he would never be an artist, which almost made him quite art altogether. But eventually, he found another faculty member, Stuart Stein, who better understood his abilities, and helped him expand his artistic vision. Stuart would remain a lifelong mentor and friend.
"It hasn't really been that arduous or difficult or anything like that working with Danny," Stuart said. "In a lot of ways, it's like working with any other student."
Stuart even tried Dan's methods, wearing the headpiece and stick, to better understand Dan's techniques, and challenges, such as mixing paint.
Companionship
At 25-years-old and strikingly poignant towards the documentary's end is a hope yet unrealized, that of finding meaningful love.
"What is love?" he asks. "I have loved a few women. I always dream about them, but it never goes anywhere.
"I love Laura (his assistant) and care about her," Dan said. "I think she feels the same, but not quite. I'm sure with other people it would lead to romance.
"Sometimes it gets lonely, but I don't think about it much," he said. "My family and friends say I will meet someone some day, but I see myself becoming a very old man, always being alone."
The film
The film follows Dan through romantic disappointments, moves, finding his niche in the art world, and obtaining his social footing, independence, business acumen and self-sufficiency.
"King Gimp" runs 39 minutes. The filmmakers, Hadary and Whiteford, won an Oscar for Best Documentary Feature – Short Subject in 2000. They offer the documentary for home or school distribution.
The documentary is out of general circulation and at $150 is slightly higher priced than most films today, but is still available for purchase through Video Press at University of Maryland's School of Medicine.
The student version of the film is purchased by schools and community colleges as a tool to promote awareness and understanding of disability and of the perils of those with Cerebral Palsy and holds additional physical and speech therapy footage.
Those struggling to justify the expense may want to consider purchasing the student version so they can later donate to their local school system to promote the film's message while touting Dan's availability for speaking engagements.
Dan Online
View Dan's Award-Winning Cingular Wireless Commercial
Follow Dan
Book Dan for Speaking Engagements
Or, contact Dan via email [email protected]
Dan on Canvas

Of course parents already know their child's journey is the stuff movies are made of, but as it turns out, there are several movies about individuals with Cerebral Palsy and how their condition has affected their lives. Here are some films that tell stories about inspiring people.