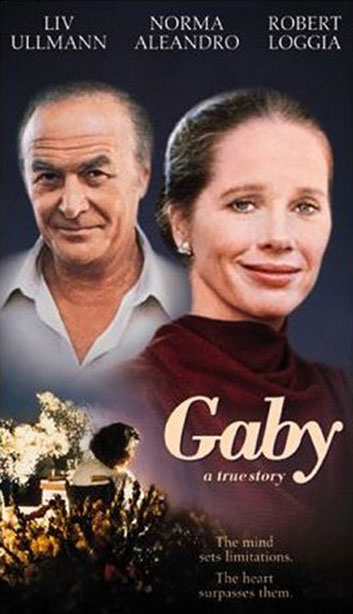 'Gaby – A True Story' weaves tale of family, and the struggle to fit in
Gabriela Brimmer was one of the first advocates that worked to change the public's perception of people with physical and cognitive challenges. Born in Mexico in 1947, Gabriela would transition from a shy child who had trouble communicating with others to a force within the international community.
By the time she was 32, she would be a published author, and the founder of the Association for the Rights of People with Motor Disabilities, in her native Mexico.
But Gaby's journey to a place of self-sufficiency is one that is not easily traveled. Both non-verbal and wheelchair-bound, Gaby learned to communicate with help of her devoted nanny, Florencia, and learned to express herself using the written word after a long struggle to attend conventional public schools, as opposed to a separate academy for only disabled students.
Gaby's odyssey is highlighted in the film "Gaby: A True Story." The film, which was released in 1987, follows Gaby's life from her birth to Austrian Jewish immigrants who survived the Holocaust, to her struggle to be seen as a vital, intelligent and sensitive young woman while locked in a body that didn't work in the same way as her peers.
But "Gaby" also tackles bigger concepts; namely the struggle for independence, the right to an education equal to able-bodied students, a parent's ability to bond with a child with disabilities, and the nature of love and intimacy.
The movies opens with photos from a wedding, then ominous photos of World War II, then a family living happily in Mexico. The first live scene is that of a baby crying in her crib. The Brimmer family's nanny, Florencia, observes, "She can't control herself."
At the physician's office, Gaby's parents, Michel and Sari, are told she has a severe case of Cerebral Palsy, and that it's possible, but not probable, that her mind is unaffected by her condition. They also tell the Brimmers that Gaby's condition is likely the result of an incompatible Rh factor; as their first-born, David, is healthy.
As Gaby grows, the family is at cross roads about whether Gaby should continue living at home. Michel insists that Gaby stay at home; Sari seems to question whether that is a proper decision.
Michel suggests that they need to look at Gaby differently. "We don't have a daughter, we have a problem," he tells Sari. "If we want a daughter, for gods sakes, please, let's start treating her like one."
As this conversation takes place, Florencia seems to be bonding with Gaby. She gently pulls back the curtains of Gaby's crib, picks her up, and carries her to kitchen, telling her stories about her childhood with her sister. It's 2 a.m., and when Sari finds out about the early morning feeding, she threatens to fire the nanny, until she learns that, for the first time, Gaby ate all of her food.
Sari's apprehension towards her daughter lessens once it is discovered that Gaby's intelligence has not been affected by her physical condition, and that she can recognize letters that are read to her by pointing to them with her foot on a chart. But it is the relationship with Florencia that anchors Gaby, which is a source of both comfort, and discomfort, for her parents.
Gaby is eventually enrolled in a school designed exclusively for disabled teens. But for Gaby, this environment is stifling, she tells her friend Fernando.
"Unless we demand something better, nothing is going to change," she tells Fernando. "What do you think about normal public school? The normals have nothing over us intellectually. We can't let them put our minds into wheelchairs, too."
Gaby and Fernando then embark on a quest to attend public school, and develop a romantic interest in one another. She wins the right to go to public school, but sadly, her relationship with Fernando ends in disappointment because his parents believe sending him to public school would be too cruel.
The film then follows Gaby's development as a writer, which begins when she is a teen, after she learns to operate a typewriter with the toes on her foot. Also, Gaby's interest in romance – with its pitfalls – is explored when she develops feelings for an able-bodied man.
All of these emotions fuel Gaby's writing. "How can I scream when I can't talk?" she asks. "How can I stop loving with the seed of a woman inside?"
Gaby Brimmer, after the events depicted in the movie, worked tirelessly to secure access to the same services, mainly public education and participation, for people with disabilities. She was the author of three best-selling books, including Gaby Brimmer: An Autobiography in Three Voices, which she penned with Elena Poniatowska. Gaby died in 2000, at the age of 53.
"Gaby: A True Story" is study in the emergence of a personality that is, at first, suppressed. The film stars Rachel Levin as Gaby, Liv Ullman as Sari, Robert Loggia as Michel, and Norma Aleandro as Florencia.

Of course parents already know their child's journey is the stuff movies are made of, but as it turns out, there are several movies about individuals with Cerebral Palsy and how their condition has affected their lives. Here are some films that tell stories about inspiring people.