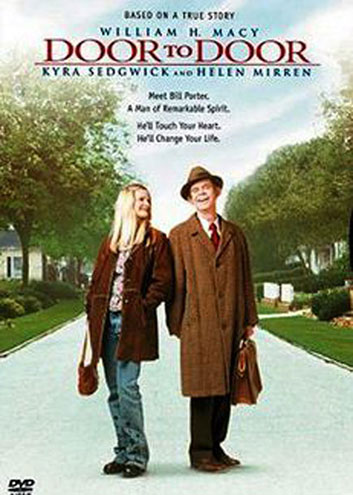 'Door to Door' opens up story about determination, grit
It's a bone-chilling winter in Portland, Ore., in the mid 1960's and Bill Porter is working his way through his door-to-door sales route, where he touts the quality and durability of household products like small appliances and laundry soap made by Watkins Co.
And though it's an ordinary occurrence to have brisk winters in the Pacific Northwest, there's nothing ordinary about Bill, who walked eight to ten miles, five days a week in sun, rain and snow despite the effects of Cerebral Palsy had on his body.
Thirty years later, Bill's story came to the attention of a journalist at Oregon's largest newspaper, The Oregonian, and about four years later, the TNT network picked up his story and produced a television film based on Bill's life called "Door to Door."
As the movie opens, Bill's physical challenges are fairly obvious – he has several issues that affect his right side, as well as speech difficulties – he has the support of his loving mother, Irene. The film quickly moves into young adult years, which present a difficult dilemma that many parents of children with disabilities encounter, and one that is vexing for individuals coping with physical impairment: That of finding meaningful and gainful employment.
For Bill's part, he has a dream that even his parents aren't sure can come true: He'd like to be a salesman. And Bill's dream job – which typically attracts people persuasive, often fast-talking individuals – did not seem to be a good fit for Bill, at least not at first. But he is motivated by the fact that he wants a career of his own, and the fact that his mother, who is already of modest means, will not be able to care for him forever.
After several unsuccessful attempts to find employment, Bill applies with Watkins Co., where at first, his overtures are also rejected. It's only when Bill offers to take the least profitable route, and work only for commissions that the hiring manager reconsiders and offers Bill a position.
Bill gets a rocky start on his route, which seems to be filled with people who are unwelcoming to salesmen and uncomfortable with Bill's condition. After the first several days of slammed doors and surly potential customers, Bill also begins to doubt whether sales is the right job for him.
"It's just going to take people a little longer to warm up to you," said Bill's mother, whose unwavering faith encourages Bill to be persistent.
As Bill's sales pitch and dedication is honed, doors that were once slammed begin to stay open, and he is able to turn some customers into friends. Bill's supervisors also take notice of his job performance in the difficult sales territory, and begin to support his efforts to grow his new job into a successful career.
The film also depicts the growing friendship between Bill and a woman named Shelly, who he hires to help him out around the house, but becomes a lifelong friend and confidante.
Bill Porter was born in 1932 at a time when little was known about the causes and the ongoing affects of Cerebral Palsy. He attended public high school, and has worked for Watkins Co. for more than 40 years. His story has been featured on several television news programs, including "20/20," and print media such as "People" magazine. Today, he runs his business online. Bill also shares his story on the public speaking circuit.
William H. Macy of "Fargo" fame stars as Bill. The rest of the cast includes Helen Mirren, who plays Irene Porter, Kathy Baker, who plays Bill's best customer Gladys, and Kyra Sedgwick, who plays Shelly.
"Door to Door" tells Bill's life story with sensitivity; but it also tells a bigger story about hard work and determination and working past barriers that are both real and perceived. It also tackles a story seldom discussed in the media or depicted in a Hollywood production – that of how difficult it is for people who have disabilities to obtain employment, even though they have the skill sets, personality and perseverance to benefit a place of work.
"Door to Door" is a time capsule of how, during 40 years, attitudes towards people with disabilities have changed, in most cases for the better.
Ultimately, "Door to Door" is a story of patience, persistence and friendship, and of the unbreakable spirit of one man who met and exceeded the expectations of not only other people, but his own.

Of course parents already know their child's journey is the stuff movies are made of, but as it turns out, there are several movies about individuals with Cerebral Palsy and how their condition has affected their lives. Here are some films that tell stories about inspiring people.