'Romeo Riley' and his wheelchair; there are no limits to the trouble this private eye encounters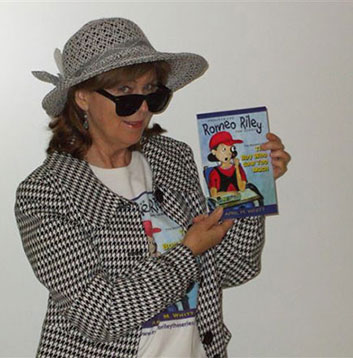 Writing books for children is often about creating characters that young readers can relate to.
For children with disabilities, characters with special needs are nearly non-existent; they are seldom seen on television or in film, the media, or books. But April M. Whitt, the author of the Romeo Riley children's series, has broken through that barrier by creating a character that not only has the concerns of an ordinary child, but also the worries and challenges of children with physical impairment.
Romeo Riley is the subject of two "Private Eye" children's books called "Romeo Riley: The Boy Who Saw Too Much," and "Romeo Riley for President: The Case of the Crooked Campaign." The character of Romeo has Cerebral Palsy, uses a wheelchair and communicates with his friends and teacher using a communiation device.
Self-publishing the private eye series is the culmination of two dreams, the first of which is to write books that will entertain elementary school-aged children, and the second of which is to write about the activities and desires of a child with disabilities.
"Maybe it's a mixture of a life-long dream and the 13 years I've worked with children with disabilities," said April. "All of the children I've worked with have different personalities, and when I'd read books to them, they would be happy and laugh.
"But I came to realize that even though the books were funny, there was no one in them that my kids could relate to," she added. "There are kids that can't speak or move in the way others do, but inside, they're all regular kids. And there weren't any characters out there that have a disability. I looked at the kids and thought to myself, 'You're different from other kids — why isn't there a book about someone like you?'"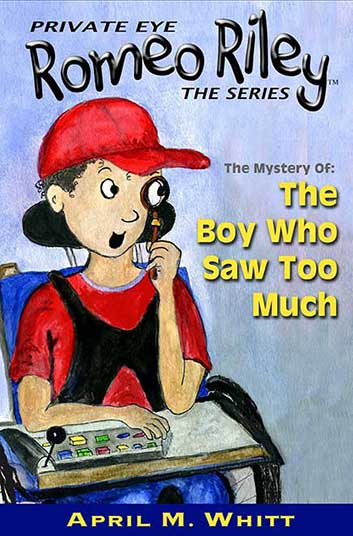 In 2010, the character of Romeo Riley began to materialize, and April began putting pen to paper for the first book. The storyline in each book is in the mold of the classic "Nancy Drew Mysteries" series that were popular in the 1950s and 1960s; each book follows a singular excursion from inception to conclusion.
In 2011, the "Boy Who Saw Too Much" was published. The story follows Romeo in school, where he is attempting to discover who is responsible for vandalizing the principal's office, and whether the incident is related to a mysterious message written on a bathroom wall.
In 2012, "The Case of the Crooked Campaign" was published. This book follows Romeo's candidacy for the position of student council president. During the campaign, it becomes clear that someone who is competing against Romeo is attempting to use influence – or other methods – to bypass the will of pre-teen voters in the election. Romeo and his friends work diligently to expose those responsible for the election-day rivalry before the ballots are counted.
Though the books follow a storyline that is intended to engage young readers, April said she hopes kids learn more about children that are coping with disabilities. Although the books do make references to how Romeo gets around in his wheelchair, the author would prefer that the focus not be exclusively on the fact that the main character is disabled.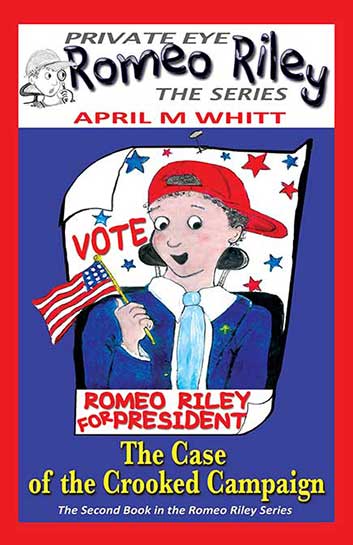 "First and foremost, the books are for people to enjoy, and I want the reader to laugh the whole way through," she said. "I want the reader to realize that everyone has problems – but a good story is an escape from whatever it is that bothers us."
April, a resident of Lakeland, Fla., has bigger plans for her teen hero during the next few years. First, she is hoping for two or three more installments of the Private Eye series; the next book will have a Christmas theme and should be available before the 2013 Christmas holiday season. April said the new book will feature the same cast of supporting characters and introduce a few new ones.
She is also working on making her books available in an eBook format for customers that prefer electronic readers. Currently, the books can be ordered at the Romeo Riley website. For now, April hopes all children, especially those with disabilities, see a little of themselves in Romeo Riley.
"I hope they enjoy the books and laugh along with the characters," he said.
'Romeo Riley' valentines speak to the heart
April recently determined that she would like to further her mission of portraying positive representations of children with disabilities into the marketplace by offering downloadable Valentine's card at the Romeo Riley Website.
"They're not fancy; they're something a parent or a friend can print out from their computer and give to someone special," said April. "It's something nice for Valentine's Day."
There are several valentines on the website, all of which are emblazoned with Romeo's image and clever sayings such as, "Oh Romeo, oh Romeo, I wheelie like you."
Visit Romeo Riley Website for more information.

Among the colorful and engaging selection of children's books, there are few characters with a disability that young people with Cerebral Palsy can relate to. However, as evidenced by Romeo Riley's crack detective work and the photos of ballerinas in pink, that tide is slowly turning.