A playground encounter inspires children to include others in childhood play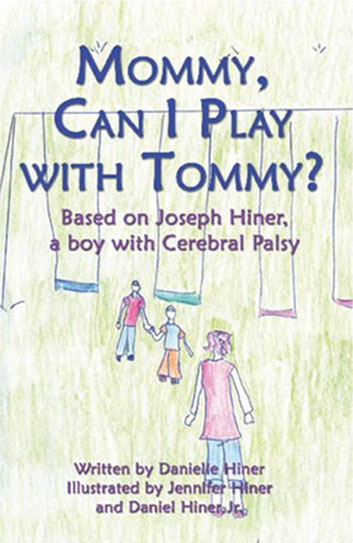 Every parent of a child that has Cerebral Palsy knows his or her son or daughter copes with some challenges other children don't encounter.
To children, Cerebral Palsy makes a child somehow different; this is especially true if a child uses a wheelchair or assistive equipment to ambulate, communicate, or take part in activities. Because of this, a child may experience some apprehension when they meet a child with Cerebral Palsy that, for all practical purposes, has the same dreams and interests as other children his or her age.
Breaking down misunderstandings about the disability is not a topic typically covered in children's literature. However, "Mommy, Can I Play with Tommy?" aims to send children a message: The boy or girl that uses a walker or a wheelchair is just like other children.
The writer of the book, Danielle Hiner, published the 21-page book in 2004. Based on the experiences of her son Joseph, the goal of the book is to educate children about persons with special needs, and why they should not be afraid to befriend them.
"Tommy" follows the story of Joey, a 5-year-old boy with Cerebral Palsy. Joey and his mother are playing at a playground when Joey sees other children playing.
"Joey had not learned to talk yet," the story said. "But he loved to swing on the swings, like all children do. While he was swinging that day, Joey had noticed some of the children playing tag. He stopped swinging to watch them laughing and running."
Needless to say, Joey felt left out. This made his mother feel sad because she knew he wanted to participate.
Soon, it becomes clear to Joey's mother. The kids on the playground aren't sure how to engage Joey because of his disability. This changes when a child named Tommy approaches Joey and his mother.
"Can [Joey] play with us?" Tommy asked.
"He doesn't know how to play tag," said Joey's mother.
"We can teach him how," Tommy said.
Tommy then goes about showing Joey how he can use his abilities to play tag with the other children.
Inclusion, which is a touch point for all disability issues, is the central theme of "Tommy." Hiner's goal for the book is to help children realize that they should not exclude children with disabilities.
All children, including those with disabilities, have something positive to offer and they are capable of being good friends.
Although "Tommy" is a short book, it's one of only a handful of children's stories that focuses on a child with a Cerebral Palsy. "Tommy" is best suited for young children.
Danielle Hiner lives in Boardman, Ohio, where she is a substitute teacher's aide. She published "Tommy" because she understands that children will accept other children with special needs if they understand how to interact with them.
"Mommy, Can I Play with Tommy?" is available at bookstores and at Amazon.com.
To Purchase 'Mommy, Can I Play with Tommy?', visit:
Contact Jackie
Special Services Coordinator
Publish America
301-744-7589

Among the colorful and engaging selection of children's books, there are few characters with a disability that young people with Cerebral Palsy can relate to. However, as evidenced by Romeo Riley's crack detective work and the photos of ballerinas in pink, that tide is slowly turning.