Plan well, employ teamwork, make time for one another and anticipate trouble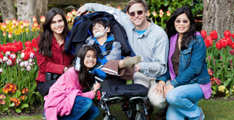 It's a scene made for the movies: A family has to live with relatives because of insufficient household income, one parent disappears into the night leaving the other to make ends meet, or housing is so inadequate that they seek more suitable options.
The sad fact is that for some children with disability and their families; this is a reality. Most parents that have a child with disability may find it difficult to plan for their child's future needs; primarily due to the lack of being able to foresee the unknowns.
Children with Cerebral Palsy likely require more doctors' appointments, insurance coverage can change, and children grow out of their adaptive equipment and assistive technologies. In addition, home and automobile modifications may be required.
A house that is insufficient for a family becomes a trap that confines a child and his or her caretakers because of size and layout. The cost of health care may increase while health insurance coverage is reduced. Even a rise in gas and utility expense can put a squeeze on household spending. A parent may need to modify employment, especially if child care becomes prohibitive. Relationships can come under additional strain. And, financial constraints can create new stressors.
There are no hard and fast data on the effect of these situations on marriage, or divorce rates. What is known is that the divorce rate is high for the parents of children with disabilities; some studies have suggested it's in the 50 to 70 percent range.
Keeping the family unit together can be a tough proposition for any family in these tough economic times, but the issues that tend to break families can be mitigated or eliminated altogether with teamwork. All stakeholders – the parents, children and extended family members – will need to give a little to achieve harmony and balance.
Here are several issues that can be problematic to families that have a child with special needs, and some suggestions about how to reduce the impact.
1. Finances
Having a child with special needs places an immediate stress on a family's finances, even if the family is lucky enough to have adequate insurance. Depending on the nature and severity of a child's Cerebral Palsy, he or she will likely need supplemental therapy that might not be covered with insurance.
Assistive technologies and adaptive equipment are needed to help ensure a child can thrive and maximize their abilities. These include braces, walkers, wheelchairs and communication devices, some of which are expensive and will need to be replaced from time to time as a child grows. And, because a child often needs significant hours of care – if not 24/7 care – it is likely that one parent will need to resign from a job, or reduce their hours, which effectively reduces household income.
The Fix:
Of all the issues that special needs families face, this one is the most vexing. There are resources and people that are willing, able and available to help.
Government assistance can be quite helpful. Medicare, Medicaid, and Supplemental Security Income (SSI) may be available. A family may also be eligible for nutrition, child care and energy assistance, as well.
The safety net that has been constructed for people under financial duress can provide some relief. Relief may come from either the federal government or the state government – a good place to contact is the state's family service agency, Department of Developmental Services, and the Department of Health and Human Services.
Emergency medical assistance or temporary assistance for needy families provide a one-time only stipends.Medical services may also be available at reduced rates or sliding scales based on income. A community social worker may be aware of additional resources within the local community.
Parents should also enlist the help of family and friends, when offered, to take care of a child when trying to maintain work schedules and household income.
For more information on available government assistance, call MyChild at
(800) 692-4453 and ask for Kit No. 101 – Getting Started with Government Benefits.
2. Marriage
In the best of circumstances, marriage requires effort and commitment. But because of the financial and time demands required when raising a child with special needs, it's easy for couples to place their marriage needs on the back burner.
Issues that come up between couples are often the result of being overwhelmed, overworked, and under appreciated. Often, conflict stems from not understanding a mate's point of view. For instance, a parent can fall into the trap of believing that he or she is the only person that can meet the child's needs, and that no other person is competent to care for the child. This effectively shuts out the other parent, and sometimes, other children.
Or, a parent may feel that his or her needs are of little importance; feeling unappreciated can unravel a marriage.
The Fix:
A strategy that works well for couples is to make sure that no matter what happens during the day, they each set aside 20 minutes of bonding time to re-connect, express feelings, and talk about the issues that seem to be driving a wedge in the relationship. Make parenting a team approach versus a competition between mates on who is outperforming the other.
This might require parents to stay up an hour later than they typically would, or get up earlier. It requires both parties to make their own feelings a priority, which can be difficult for some. If a parent feels guilty about taking time out from his or her child, they should know that a child is happier when a parent – married or single – is happy and well-adjusted.
Also, parents should not be afraid to seek assistance from family members so they can have time together. Parents are often pleased to discover that family members are often happy to learn to care for a child. Another option is to seek professional counseling to see if persistent issues can be worked out early as opposed to later. Counseling, upon initial diagnosis, can also better prepare a couple (or a single parent) for the road ahead.
3. Housing
The issue of a home's physical structure is something most people don't think about, but sometimes parents of a child with disability face a perfect storm of circumstances when it comes to making their current home viable for their growing child.
Sometimes a home is not built to suit an individual with special needs. This is especially true if a home was built before today's open layouts were popular, or before Universal Design standards were implemented. Because a couple never plans to have a child with disabilities, they often get stuck in a home where a child is confined to limited space. And moving out of a home is not as easy for parents as one would think. As the child grows into adulthood, ramps and lifts become necessary for greater independence and mobility.
In the rare case a family's income is not affected by having a child with disabilities, they may be able to move out of their home and into a more suitable dwelling providing they can sell their home without taking a financial loss. But other parents face a difficult situation created by a challenging housing market: They cannot sell their house for what they paid for it, or, they cannot qualify for a mortgage that would cover the costs of a more suitable home. Apartments, condominiums, and trailers may not be ideally located within the community, near public transportation, or accessible by today's standards. It's a difficult situation with few easy solutions.
Fix:
If a family cannot sell their home and move into another dwelling, they may try to work with what they have.
Home modifications can be costly, but families may qualify for community block grant funds, low-income emergency funds, homeownership voucher programs, loan programs or tax credits. The U.S. Department of Housing and Urban Development (HUD) provides housing counselors to help families with their housing concerns. They provide homeownership assistance and rental help. In emergencies, HUD provides disaster relief, emergency assistance, and foreclosure counseling. Energy assistance and weatherization plans may also apply.
Charity groups and disability advocacy groups will often help by building ramps to ensure a child has easy access to his or her home.
Family members, particularly those that work in the skilled trades (electrical, heating and cooling, construction, and plumbing) may donate their talents – they might be able to remove unneeded doors and obstructions that make life cumbersome.
Also, consider other uses for rooms. A first floor room may be transformed into a bedroom until the parents can afford to have a lift installed along the stairway.
Remember that keeping a family together isn't about what works for other family members, neighbors, or other people. It's about what works for the family.
Relationships and Cerebral Palsy

There's an old saying that the measure of a person's life is measured by how much they are loved. There's no doubt about it: our relationships with others are the cornerstone of our ability to thrive and enjoy life. Relationships allow us to explore all of the facets of giving and receiving love, from the patient and protective concern shown between a parent and child to the fire and chemistry that happens between friends, mates and spouses. And the level of ability has nothing to with the level of love one is willing to give to or receive from another.