Aspiring writer finds joy, perspective through words
At 25 years old, Zach Fenell is young enough to still have most of his life ahead of him, but old enough to be able to look back at his experiences, and learn from them.
Fenell, an Ohio resident with mild to moderate spastic Cerebral Palsy who has penned his autobiography, "Off Balanced," has enjoyed great days and survived bad ones. He has pursued – and met – most of his personal goals so far. But in the process of writing his story, he has undergone an epiphany in how he sees his experiences growing up with Cerebral Palsy.
"There are a lot of things that are frustrating about being disabled," he said. "Especially as a young person – sometimes people treat you differently; what's worse is when people assume that if you have a physical challenge, you must be developmentally disabled, or have a learning disability. You're different, and that makes you stand out."
"But I realized along the way that I carried a lot of resentments because I couldn't do some of the things other people did," he added. "And I didn't give much of myself."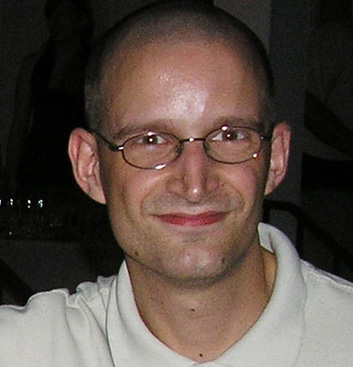 Today, Zach is in a much better space. Despite having undergone painful spinal surgery and coping with powerful emotions, Zach graduated in 2009 from Notre Dame College in Ohio with a bachelor's degree in communications where he minored in writing and philosophy. He's working steadily towards a career as a freelance writer.
Growing up unique
Zach grew up in South Euclid, Ohio, which is outside of Cleveland, with an older brother, Bill, a younger brother, Nick, and his parents, Bill and Terri Fenell.
Though his parents realized Zach was not meeting his development milestones in the way their other children were, a diagnosis of Cerebral Palsy did not come until he was 5 or 6 years old, when an MRI helped to confirm his condition.
From there, Zach participated in therapies and treatments that are typical for children with CP, including occupational and physical therapy. Although Zach can never remember a time where he didn't feel different from his peers, early on he began trying to blend in. But that proved to be a source of turmoil internally for Zach, and between Zach and his parents.
"I developed an intense interest in baseball – I'm a Cleveland Indians fan," he said. "And I didn't even get to play little league. They told me, 'safety first.' I heard that a lot as a kid."
In fact, Zach remembers that his parents told him to make sure to take the elevator at school instead of the stairs to avoid getting hurt. Although he had previously taken part in gym class, when he was in the eighth grade, they requested that he not take part in gym classes because they feared he would get hurt because other children had become stronger – and more competitive – than Zach.
"Gym is required of all Ohio high school students, so we had an arrangement where I was the assistant to the gym teacher," he said.
Couple that with the fact that Zach's balance issues precluded him from riding a bike, and his sporting options were perceived as being limited. "There was a lot of negative self-talk about it," he said. "But my parents were concerned about my health."
But Zach's parents had reason to be worried. While still in junior high school, Zack learned he would need surgery to correct a curved spine caused by Scheuermann's Disease, or Scheuermann's kyphosis.
The surgery included inserting a rod into his spine, which is not only a delicate procedure, but also one that can have several complications.
"Share your story and don't shut down…Give people an opportunity to get to know you. Answer questions about what it means, and don't try so hard to blend in."
– Zach Fenell
When Zach awoke from the surgery, a complication he had never considered was a reality. "During the surgery I couldn't move my right leg," he said. "I was temporarily paralyzed. I remember waking up surrounded by a bunch of people who asked me to move my leg, and in a raspy voice, said 'I can't."
In the summer leading up to high school, Zach attended physical therapy, and was able to go from using a wheelchair to a walker, and then a four-pronged cane to a regular cane. By his sophomore year, he was walking on his own.
The following year, Zach obtained his fist job as a cashier at a discount grocer. At first, he used a stool at the register, but when he was promoted to supervisor, he was required to move, and it wasn't a problem, he said.
Pen to paper
The idea for "Off Balanced" came to Zach in 2008, when a Notre Dame theology professor, Sister Karita, read his class assignment, a paper about his struggle to regain the ability to walk after the spinal surgery.
"Sister Karita knew that I was writer in the college newspaper, and she suggested that it might be a good spiritual exercise to write it all down," he said. "She said it could inspire others who are going through the same struggle. That opened my eyes to see it from a new perspective."
The book covers Zach's life as a teen with Cerebral Palsy; he reflects on how his condition affected his home life, and his relationships with peers, and how both of these were off-balance because of Cerebral Palsy. He also humorously reflects on crushes and social issues.
As Zach wrote several drafts of the book, something he hadn't considered occurred to him. He had too often pulled away from people as a way to cope with being different.
"I recalled one time that I went to the Cleveland Auto Show with some friends," he said. I was trying to keep up with my friends, and they walked ahead of me, and I wasn't able to enjoy the auto show. I was trying to intentionally speed up without tripping, and I was upset about it.
But I've come to realize that if you need help, you shouldn't be ashamed to ask," he added. "If I would have spoken up, they would have slowed down."
Today, Zach doesn't allow himself to stand apart from others because of his disability. "I embrace Cerebral Palsy as part of who I am," he said. "We went to an Indians game, and when I tried to climb the stairs with hot dogs and sodas, I asked someone to take the food up for me. "Can you grab this and take it up for me?" Zach said. There's nothing wrong with speaking up – people don't know what's going on or how you feel."
Finding answers
Zach still lives at home in South Euclid, Ohio, where he's pursuing an independent writing career. He has contributed to Yahoo! News as well as music websites, and has written for private firms. His areas of concentration include disabilities, music, food, and of course, the Cleveland Indians.
He said his family is an overriding factor in his level of achievement.
"My parents were protective of me; I may not have understood it at the time, but now I'm grateful," he said. "And I didn't get a free pass to mischief or easier chores because I had Cerebral Palsy – they expected pretty much the same of me as they did my brothers."
His advice for young people coping with disabilities is simple: Share your story and don't shut down.
"Open up about your disability. Don't have a bad attitude, and don't close yourself off," he said. "Give people an opportunity to get to know you. Answer questions about what it means, and don't try so hard to blend in."
Once he was able to answer others' questions, "I found out that everyone can move on, and I really began to enjoy my life," he said.
For more information on Zach:
Artists with Cerebral Palsy

Painting is a popular pastime with an end result that's as precise as the skill required to compose and execute images on canvas. Artists with Cerebral Palsy, however, know that the most intricate brushstrokes are often not made by the hand or fine motor skills alone.