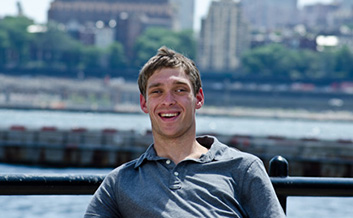 Humor, adventures keep Zach Anner rolling
Humor serves many functions for those who have an affinity for it; what is funny can be rooted in something inconsequential, or silly, or in something serious.
For Zach Anner – a comedian, television producer and writer – humor has been a salvo since childhood. As a Batman-loving four-year-old who used a wheelchair because of spastic Cerebral Palsy, young Zach asked an unsuspecting adult, "Have you ever danced with the devil in the pale moonlight?"
As he grew up, went to high school, then college, and started a career in public access television, Zach learned to greet physical setbacks that may sideline a lesser individual with grace and wit.
It wouldn't be too long into his 20's that Zach would learn just how far a keen sense of humor and a self-deprecating demeanor can take a person. In 2011, he sent an audition tape to the queen of media herself, Oprah Winfrey, to be a contestant on "Your OWN Show: Oprah's Search for the Next TV Star."
After some preliminary competing and then securing a spot among the top five finalists on the show, Zach was slow to secure votes. He quickly harnessed the power of the Internet. He also garnered the assistance of celebrity endorsements that included musician John Mayer. Zach won nine million votes and clinched the competition (his co-finalist was also offered a show) along with a $100,000 prize and a new vehicle.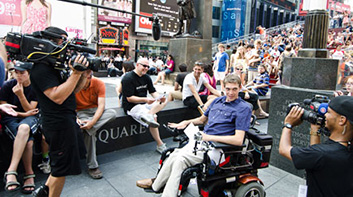 "It was a great opportunity," said Zach, who splits residency between Texas and New York. "It was not only a chance to advance my career, it was also an opportunity to show people that those of us that have disabilities live active, enjoyable lives."
"But I wanted the show to be fun," he said. "I didn't want it to dwell on my disability."
The show that was produced by the OWN TV was called "Rollin' With Zach." It was a travel show that introduced viewers to fascinating people and places across the United States; Zach and the crew traveled to cities like Los Angeles, New York, Las Vegas, Chicago, San Francisco and Portland, Ore.
Moreover, "Rollin' With Zach" showed viewers that individuals with a disability, as long as they plan well, can travel to desirable locals. It ran for six weeks beginning in December 2011.
"That was important to me for several reasons," he said. "People who have disabilities feel they cannot travel, and I really wanted to dispel that myth."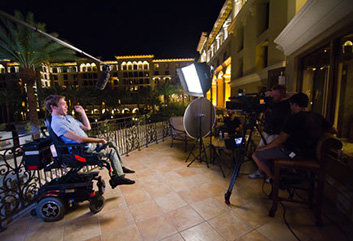 The showman's beginnings
Zach was born in suburban Buffalo, New York. He credits much of his creativity to his mother Susan who is a theater professor, and his brother Brad who was – and still is – a partner in his pursuits.
When he was a little more than a year old, Zach was diagnosed with spastic Cerebral Palsy, a condition he has referred to as "the sexiest of all of the palsies."
As a child, Zach developed an interest – or to hear him tell it, and obsession – with movies and television, and resolved early that he wanted a career in front of and behind the camera.
Zach was the first wheelchair-reliant student in his school district that was mainstreamed. He had a personal aide, which he says was an immense help to him although, at times, awkward.
"Nothing says 'cool' like having a 45-year-old guy around all of the time," he said. Still, Zach's quick wit helped him make friends. As a young man, Zach had the opportunity to work at Disney World where he worked in the security department.
In 2005, Zach entered the University of Texas, where he would eventually study film and television production. It was there that Zach met a group of young aspiring filmmakers, comedians and actors that would become the backbone of his entertainment dreams.
"One thing that I have learned is that you can never let a disability stop you from doing the things you want to do. I try to look at it as something I have to cope with. It's a challenge – there's no doubt about that – but it's one that shouldn't stop people from pursuing goals."
– Zach Anner
Zach would interview local celebrities at the university's cable access network for a sketch comedy show produced by his friends. Although he didn't necessarily angle to be in front of the camera, his co-producers encouraged him to get in front of the camera, a bonafied comedian was born.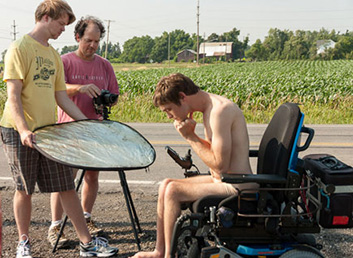 Later, Zach would be an integral part of a Texas-based comedy troupe called "Lark and the Beard" and a popular web series called "The Wingmen."
He said his activities in Texas helped him blossom.
"I was doing something I had always wanted to do. For the first time I felt that, yes, I could really have a career in the entertainment industry," he said. "It was a great moment."
Then, Oprah entered the picture.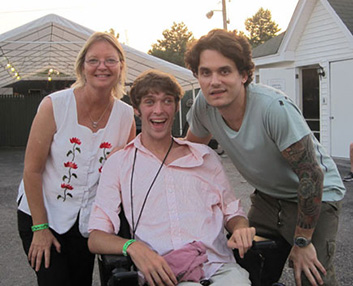 "I sent in the tape thinking that no one would see it. I honestly didn't think that I would have a shot at being a finalist," confessed Zach. "There's part of it where I was in my underwear, and when I found out that I was a finalist, I thought, everyone is going see me in my underwear!"
Zach's idea was for a travel show that would cope with the unexpected – often times, vacations may not go as a traveler envisions. But the point of Zach's show – which showed him navigating inaccessible cities with humor – is that those with a disability should feel that traveling the world attainable.
"One thing that I have learned is that you can never let a disability stop you from doing the things you want to do," he said. "I try to look at it as something I have to cope with. It's a challenge – there's no doubt about that – but it's one that shouldn't stop people from pursuing goals."
After "Rollin' With Zach" ended, Zach took some time off before introducing another show called "Riding Shotgun with Zach Anner." Zach describes the show as an eight-week comedy tour through eight cities. The show has many of the same elements as "Rollin' With Zach," but makes use of humor to a greater extent. And like the previous series, "Shotgun" focuses exclusively on cities in the U.S. and Canada.
"Riding Shotgun" was produced in conjunction with the social media and entertainment website Reddit.com. It premiered on Youtube on Oct. 23, 2012. The series features cities in the U.S. and Canada. Zach said he and his merry band of co-conspirators just released their newest edition, filmed in Denver, Colorado.
Words of wisdom
Zach said that one way he has coped with his disability is by not letting it define him or his goals. He advises anyone that has a disability to do the same, and not to use it as a deterrent to pursuing passions. He recognizes that when physical challenges do surface, it may not always be easy to overcome, but try to find a way.
Zach is working on several projects, including scripts and ideas for new programming. Right now, he is traveling between New York and Texas, and is taking his success in stride.
"Life is an adventure," he said. "Right now, I'm following my path to see where it takes me."
Artists with Cerebral Palsy

Painting is a popular pastime with an end result that's as precise as the skill required to compose and execute images on canvas. Artists with Cerebral Palsy, however, know that the most intricate brushstrokes are often not made by the hand or fine motor skills alone.