Cerebral Palsy doesn't dim filmmaker's artistry and vision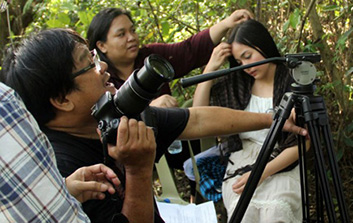 There's a scene in one of Ron Sapinoso's films that shows a haunted young woman that magically appears, then fades away, in a lush, green field.
To make a scene such as this work, computer graphic artists and film editors must put in hours at the computer, working with their tools, tablets and peripherals to make the frames seamless, and believable. Making the young woman come to life is work for the hands, two things the art form's 46-year-old creator has limited use of.
"During the first two hours of my animation routine, I could still relax my muscles as I have trained them how to respond," he said. "But the rest of the hours, especially when the project is stressful, the process is painful – I am just using a mouse and not those high tech tablets."
But the call of creativity is seductive for Ron, and he admits that despite the pain his condition causes him, he is driven to make films.
"The process is bloody and painful (artistically speaking)," he said. "But the end result is heaven."
Opening credits
Ron was born in the small village of Imus, Cavite, Philippines, where he would grow under the guidance of his father, Tatoy, who is a retired police officer; and mother, Ehrlinda, a government health worker. He also has three younger sisters. Ron was never officially diagnosed with Cerebral Palsy, and he's not sure what form of the condition he has.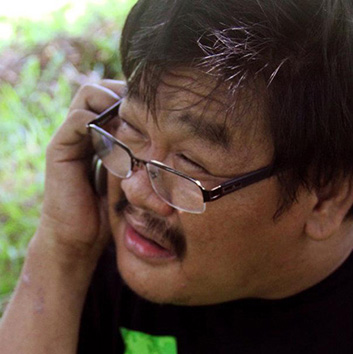 "When I was born, my mother didn't understand my condition," he said. "It was when I researched about it that I understood that I have CP. I was in high school then."
One indicator provided some important insight into his condition, and it came from the medium that Ron is obsessed with: Film.
"I remembered when I was very little, perhaps three to four years old, I was like the young Christy Brown in the movie 'My Left Foot' starring Daniel Day Lewis," he said. "The only difference was that I was using my left foot changing the channel of our remoteless television."
Creativity soon became a force within Ron, and when he was 7 years old, he began the painstaking process of teaching himself to paint. He also began writing – stories, poetry, free verse – anything that allowed him to express himself. Along the way, he would also work as a lifestyle photographer, and attend the Philippine Law School, where he would earn a bachelor's degree in law.
"People need to remember they are the star of their own movie."
– Ron Sapinoso
"The reality is that the world, in cinematic perspective, is a Mad Max movie, especially for us with Cerebral Palsy. But through the frame of the mind we can make this Mad Max film into a Walt Disney movie, one frame at a time."
– Ron Sapinoso
But creativity would be the beginning of a long-term vocation for Ron. By 1997, his paintings would be displayed in as part of an exhibit in Germany, and Ron's abilities as a writer and an artist would earn him a career in the Filipino comics industry – where he would win awards for both his writing and his artistry. He also began working for advertising agencies.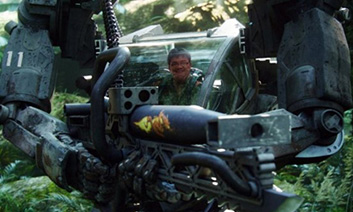 In 2001 – when Ron was 36 years old – he began to learn the art of computer-generated animation.
"I wanted to make a movie but I did not have money and movie equipment, but we have a PC at home," he said. "So I self-studied the process of digital animation in order to satisfy my hunger for filmmaking. In animation, you will never need expensive cameras and actors – you only need a computer and a little artistic talent."
But mastering the use the equipment – Ron uses a DSLR camera to make movies and a personal computer for his visual effects, editing, and animation – has often been difficult. He had to learn how to use the mouse, which directs the computer, in his own way, and about a year after finding what works for him, Ron began working as a professional animator for film companies and private firms.
He said what he finds inspiring is "anything and everything that inspires and teaches good and lovely things."
Lights, camera, action!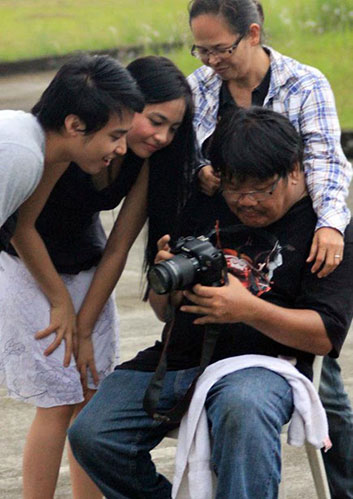 In 2003, Ron stopped working for ad agencies and decided to begin making film shorts and feature-length films full-time by forming a production company called Lipadiwa Film Productions.
"Mangkukulob" is a feature-length thriller that has not yet been yet been released. The film was written and directed by Ron. He has also written, directed and handled all editing for several shorts as diverse as the sweet love story "Flowers for Leah" to animated "Starry Night," which depicts a wheelchair-bound man experiencing the sounds and sights of a busy city as if he were somehow inside the Vincent Van Gogh painting of the same name.
Today, Ron writes, directs, produces and handles all editing at Lipadiwa. In his role as a producer, Ron finds his animation has taken a back seat.
"Honestly, I don't do much animation these days," he said. "I am into filmmaking and visual effects right now. But I know I will return to animation soon."
Ron's work has been recognized by his peers. In 2006, he won the Advanced Configuration and Power Interface (ACPI) AniMazing Short Film Award, and the 2009 Computer Graphics (CG) Excellence Award in Singapore. He was nominated for the Dakilang Caviteno Award in 2009, as well.
When he's not a film set, Ron still lives semi-independently in Cavite, where he lives with his wife, Mary Grace, and 12-year-old son, Ronin Jener. His mother also lives close by.
Although filmmaking is his passion, he said the most therapeutic aspect of his life is Mary Grace.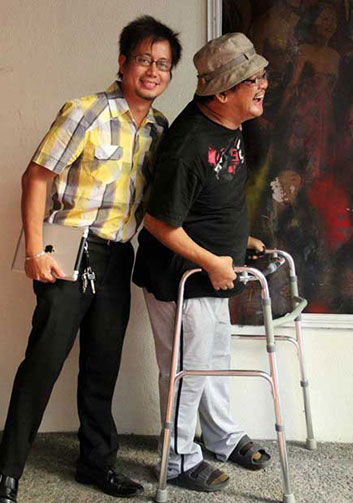 "Animation and making Independent movies has not been therapeutic for me, but my wife is," Ron said. "She is the reason why I have managed to control some of my movements. Back when I was just courting her I needed to control my voice and speech so that she could understand me. Her love made me confident."
His advice to people with disabilities to not be deterred by their struggles and to follow their faith. "I tell people with disabilities that they have the power to be very able," Ron said.
By following your faith, Ron suggests "life will be easy no matter how really hard it is."
Ron said people need to remember they are the star of their own movie.
"The reality is that the world, in cinematic perspective, is a Mad Max movie, especially for us with Cerebral Palsy," he said. "But through the frame of the mind we can make this Mad Max film into a Walt Disney movie, one frame at a time."
For more information on Ron:
Artists with Cerebral Palsy

Painting is a popular pastime with an end result that's as precise as the skill required to compose and execute images on canvas. Artists with Cerebral Palsy, however, know that the most intricate brushstrokes are often not made by the hand or fine motor skills alone.