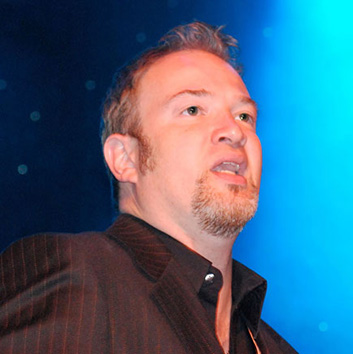 Singer hits the right notes in Las Vegas
Mark, a 41-year-old singer, performer, music manager and father that works a grueling schedule in Las Vegas, prides himself on a diverse career that has included, in his younger days, fronting a hard rock and heavy metal band, to today lending his velvet vocals to songs made famous by classic crooners like Frank Sinatra, Dean Martin and Ray Charles.
"Today, I'm more likely to sing something for a more adult audience," said Mark. "But I really enjoyed rock and roll."
"The veteran showman's voice is piano-key smooth as he launches into two Ray Charles standards, "You Don't Know Me" and "Georgia on My Mind." But there's something peculiar about the way the 43-year-old New Jersey native moves about the room: his mouth droops slightly, his left hand hangs limp, his left leg is somewhat stiff," said Marc Martin in a post to the LA Times in May 2012. "Giovi has Cerebral Palsy, a condition he believes has hurt him in the hard-hearted music industry. But not here at the Tap House bar and restaurant; not among this standing-room-only crowd of 150."
There was a time when Mark Giovi feared his physical impairment, visible to his audience, would upstage his vocals.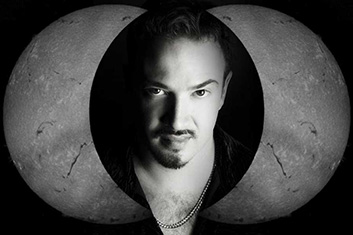 Opening curtain
Mark's path to the spotlight began in Trenton, New Jersey. As an infant, Mark was diagnosed with Cerebral Palsy. Luckily, his condition did not affect his voice, and when he was about 7-years-old, he had an opportunity to sing in a band that featured his father, Louis.
"I liked the reaction I received when I sang," he said. "It was definitely something that I wanted to keep doing."
Performing with his dad for just one performance led Mark to a lucrative and rewarding career in adulthood.
First, he won a spot in his high school choir. Eventually, Mark started his own band.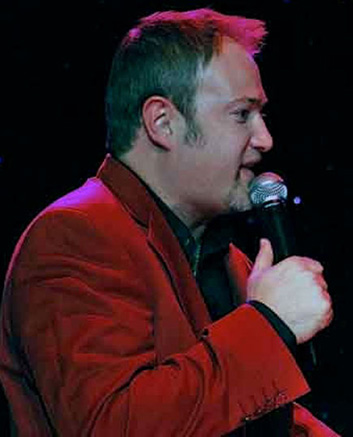 Soon, the band built a following and was playing in local venues, parties, fire houses and the garage band favorite, the Battle of the Bands. It was at this time – in the late 1980s – that he successfully auditioned for a band in New York City.
"It was a rock and roll band, and the shows were physical," said Giovi. "At first I have to say I had some doubts about performing."
Mark's form of Cerebral Palsy is considered mild to moderate, but it affects the entire left side of his body. His movements, he thought, may distract the audience from his vocal talent.
But Mark stuck with the band, and toured New York, New Jersey and Pennsylvania. Their CD sold a respectable 2,000 copies.
"I always tell people to let go of their inhibitions. I used to have all of these concerns about my movement on stage, but in the end, people didn't seem to notice. They like the music and enjoyed the show. They saw how much fun I was having, and at the end of the day, they were with me."
– Mark Giovi
In 1994, Mark moved to California and started two bands – a rock band to play in Los Angeles and a jazz trio to play in Beverly Hills. He was motivated equally by the professional opportunity as he was the weather.
"I had to move to a warmer climate because it helps my joints," he said.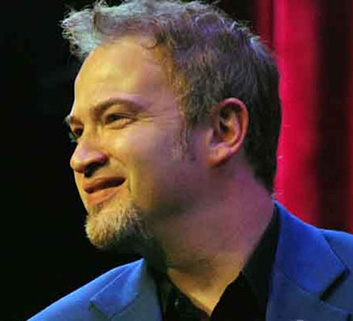 It was in California that Mark met, through mutual friend, American tween pop and hip hop sensation Aaron Carter. This opened the door to become the singer's vocal coach, back-up singer and tour manager for three years. In this role, Mark traveled the world and performed in venues that seated up to 20,000 concert goers when Carter opened for national acts like Britney Spears, Backstreet Boys or NSYNC.
What happens in Vegas
It was after his stint with Carter that Mark – by now a married father with a child on the way – decided to take his act to Las Vegas.
"I moved out here having put everything on the line," he said. "This was the chance to live our dream, and so far, it's been wonderful."
Once in Vegas, he met up with a friend, a singer named Genevieve Dew, and formed a singing duo that filled in for lounge acts on hiatus.
In Sin City, Mark's adopted city, Mark is crafting a career as a club performer, having entertained at smaller clubs like Café Nicole and the Bootlegger Bistro, an authentic Italian Restaurant, as well as major casinos. Mark has performed as part of a show called "Neon Nights" at the Boulder Station Casino, and the "Harvest Moon Dance" at the Sahara. He performed with the Las Vegas Tenors in "Bite" at the Stratosphere Casino, Hotel & Tower for six years.
Currently, Mark has two ongoing gigs that allow him to share his talent the residents and visitors in Vegas. The first is six night a week engagement at Casa di Amore, a popular Italian restaurant and entertainment known for its nod to the clubs of Vegas' heyday.
The second is at the Suncoast Hotel and Casino, where he performs about three times per week. He said performing in Vegas has been an amazing experience.
"I'm having the time of my life," he said. "It's been a lot of fun."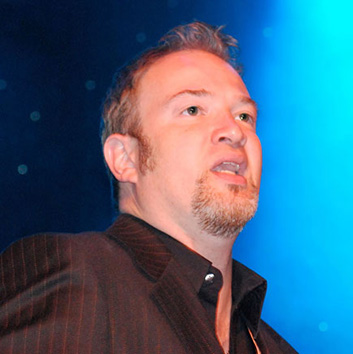 When he's not performing or spending time with his family, which includes 2- and 8-year-old daughters and a 6-year-old boy, Mark is working on a new CD he describes as a labor of love.
"The CD is a combination of original music and inspirational Christian music," he said. "It's really close to my heart. Once it's complete, I'm going to offer it through iTunes or music websites."
He has also appeared on the United Cerebral Palsy Telethon and several national talk shows, including NBC's TODAY Show and ABC's Regis and Kathie Lee.
Mark said one great aspect of his career is that he can set a positive example for individuals with disabilities who, like those without disability, have big dreams.
"I've always wanted to be known as a great singer, but more so as a great inspiration," he said. "I was born with Cerebral Palsy and just want to be a great inspiration to people all over the world."
He offers this advice to individuals with disabilities or impairments that aspire to entertain: Go for it!
"I always tell people to let go of their inhibitions," he said. "I used to have all of these concerns about my movement on stage, but in the end, people didn't seem to notice. They like the music and enjoyed the show. They saw how much fun I was having, and at the end of the day, they were with me."
If you're considering booking Mark Giovi:
Promotion clips of varied Mark Giovi performances
Mark is represented by Denny Jones Productions. To book Mark, email bookings@dennyjonesproductions
For more information on Mark:
Follow Mark on Tumblr.
Enjoy Mark's performances on YouTube:
Mark Giovi sings The Prayer with Lorena Peril at the Lou Ruvo Center for Brain Health on December 15, 2011.
Mark Giovi sings This is the Moment, a song written by Frank Wildhorn and Leslie Bricusse, live at Frankies on Melrose in Los Angeles, CA.
Mark Giovi performing the Moody Blues' classic Knights in White Satin (in Italian and English) at the Queen Victoria's Pub located in the Riviera Casino, Law Vegas, Nevada.
Mark Giovi sings the Ray Charles' classic Georgia On My Mind accompanied by actor Ray Quartermus at Mr. B's Bar & Grill on April 28, 2012.
Artists with Cerebral Palsy

Painting is a popular pastime with an end result that's as precise as the skill required to compose and execute images on canvas. Artists with Cerebral Palsy, however, know that the most intricate brushstrokes are often not made by the hand or fine motor skills alone.