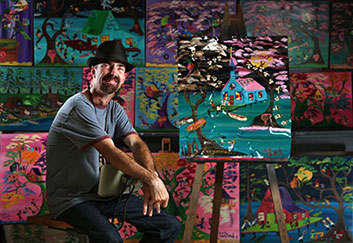 Hank Holland's work hangs in private homes and public buildings in 103 countries and all 50 states. Recently, two of his joyful paintings found a new home at a place famous for its ornate décor – the Vatican.
Artist's work hangs on many walls – including the Vatican's
Hank Holland's career as a painter has taken him far, and fast.
In fact, it's only been five years since the 40-year-old Lockport, La.-based artist bought a few cheap brushes and tubes of paint and taught himself about art. In that relatively short period of time, Hank has gone from a novice painter to a working artist whose painting hangs within walking distance of the works of Leonardo da Vinci, at the Vatican.
"The local bishop passed away, and a priest who went to school with the archbishop saw my pieces," said Hank. "He saw my pieces and ended up getting two of them. Because he picked out two pieces I told him I can't sell it to you, but I can give them to you."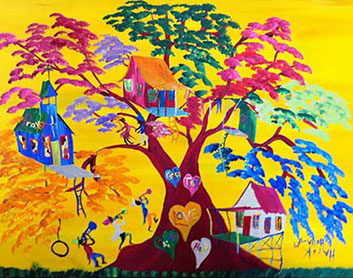 Holland later discovered that the priest worked at the Vatican and that he planned on hanging those paintings in his private quarters.
The Vatican, which is home to some of the world's most famous works of art, is a lofty destination for any working artist. This is especially true for Hank, who taught himself to paint even though he was diagnosed with a moderate case of spastic Cerebral Palsy.
Hank's career in the arts has also been a short one. He taught himself to paint only five years ago. In the world of art, to achieve the level of success Hank has in only five years, typically takes a lifetime.
Hank credits his love of art, his stick-to-it attitude, and his high output for his success.
"I'm a workaholic; I paint ten to 12 hours a day," he said. "I have a passion for it. I paint ten to 15 pieces a week. Since 2008, I've painted about 8,000 pieces."
Born on the bayou
Hank was born in Lafourche, La., to Raymond and Jane Holland. His parents received his diagnosis of Cerebral Palsy shortly after Hank was born. Hank's condition affected his hands and his walk.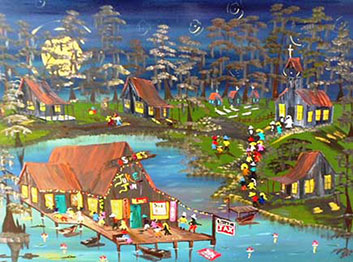 "Spasticity affected my hands, but I have a lot of control over them," he said. "CP also affected my speech, and I walk with a limp."
"My heritage is here in Louisiana. I grew up on the bayou on a boat – I cut my teeth in the swamp…I like Louisiana themes; the kinds of places where I spent time with my family and where I spend time today."
– Hank Holland
Lafourche is located near the water; Hank spent much of his childhood fishing and spending time with his family.
"My heritage is here in Louisiana," he said. "I grew up on the bayou on a boat – I cut my teeth in the swamp."
Jane, Hank's mother, was an artist. Although he enjoyed his mother's work, he decided to pursue a different career, a career in environmental sciences.
"My job was to go out to the boats in the bayou and take samples to test," he said.
Hank would test for water irregularities and the presence of bacteria and toxins in the water. After 20 years performing physical labor, Hank's job began to take a toll.
"I'm doing better physically now because I'm not doing that anymore," he said. "But I enjoyed it."
In 2007, Hank's beloved mother, Jane, died. This created a void in his life that needed to be filled.
He decided to follow in her footsteps and become a self-taught artist. Tentatively, at first, he picked up the paint brushes. The result was an explosion of color, composition, and emotion.
"I liked the vibrant colors," he said. "I painted subjects that are happy – I like Louisiana themes; the kinds of places where I spent time with my family and where I spend time today."
Hank's favorite subjects include outdoor scenes and tree houses. Tree houses intrigue Hank because his father built them to serve as an escape for Hank from the taunts he was subjected to by other children due to his disability.
The artist believes people enjoy the down-home nature of the tree houses.
"It's folk art," he said. "It's not high class."
It occurred to Hank that if he worked hard enough, he could make a living as an artist. "What started off as an interest became a career," he said.
Today, Hank uses acrylic paints and makes use of all sorts of surfaces, such as windows, wood and canvas. It wasn't long before Hank created enough pieces to take part in an artist's market, where his work was a hit.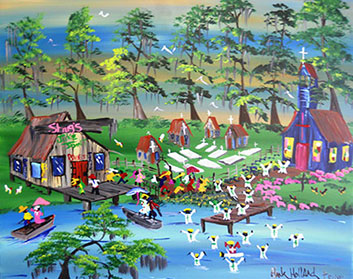 Hank's work hangs at three galleries, the Art Store in Nashville, Tenn.; the Center for Southern Folklore in Memphis, Tenn.; and The Hemmerling Gallery for Southern Art in New Orleans.
Today, Hank's work space, which he named "Baby Jane Studios" in recognition of his mother, bustles with activity. When Hank's not working on his paintings, he's busy planning exhibits and working with his wife Maria, who markets his works locally and online.
"Maria handles all the marketing for my work, and she does a great job," Hank said. "It allows me to continue working as an artist full-time."
The couple operates a website, which increases Hank's visibility as an artist, and a comprehensive Facebook page, which allows Hank to interact with his fans and announce upcoming events and shows.
Hank says marketing is an essential part of his business. "It's important to get your work out there for other people to see," he said. "That's the business side of being an artist."
Family business
Hank is proud that his art generates enough income for his family, which includes wife Maria, and a young son, Christian.
"We're 100 percent self-sufficient, and that feels really good," he said. "It took some time, but it's a great achievement for us."
Maria, 42, also has spastic Cerebral Palsy. The couple has no trouble running their business, or their lives outside of work.
"She can't drive, but I drive, so it's okay," Hank said.
Hank feels that the primary focus of his work will remain his art, but he also writes and would like to join the motivational speaking circuit.
"I co-wrote a children's book," he said. "It hasn't been published yet. I wrote it to teach children how to understand disabilities. We're just like everyone else; we just do things a little differently."
Hank has some advice for people with disabilities that want to pursue art as a career or a hobby: Attitude trumps ability every single time.
"Just because you have a disability doesn't mean you should give up," he said. "There's something you can do to be a productive member of society, and there's always a way to do something like painting if you want to do it."
Hank believes that, for him, art is a symbol of love for his family and for his life. People with disabilities shouldn't hesitate to express their feelings, Hank said. He strongly believes painting is not achieved by the hand. It's achieved by the heart.
"Always keep working towards your goals," he said. "Never give up on your dreams."
For more information on Hank:
To visit Hank's website, Baby Jane Studios' website.
To follow Hank's Facebook page, visit Hank Holland's Facebook.
Artists with Cerebral Palsy

Painting is a popular pastime with an end result that's as precise as the skill required to compose and execute images on canvas. Artists with Cerebral Palsy, however, know that the most intricate brushstrokes are often not made by the hand or fine motor skills alone.