Academy Award-winning documentary follows the daily life of Dan Keplinger from the ages of 12 to 25 years old, with a special nod to his search for acceptance and success as a sought-after artist. Keplinger, at the beginning of "King Gimp" is a self-conscious teen with severe Cerebral Palsy living with his single mother, Linda Ritter, in suburban Baltimore, Md. But at the end of the film, he's a college-educated artist; working his magic on the canvas, and pondering the meaning of love.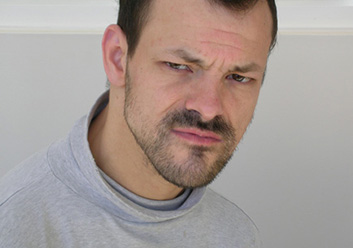 Painter's canvas becomes his voice
Dan Keplinger, artist, motivational speaker and the subject of the Academy Award-winning documentary King Gimp, isn't sure if he discovered his voice through art, or if art gave him a voice. For Dan his passion for art began when his high school teacher encouraged him to express himself through art.
"I just look for powerful feelings and emotions that give me a certain connection," said Dan. "My art speaks what I would be saying with words."
At around 9-years-old a documentary film crew began documenting area children of differing economic backgrounds and began following Dan's journey. The documentary, King Gimp, received an Academy Award and his artwork sales soared and his calendar filled with speaking engagements.
"People are more willing to take time to understand me," said Dan. "I do not know if they now realize that I do have something to say, or if what I do say just blows them away."
An artist was born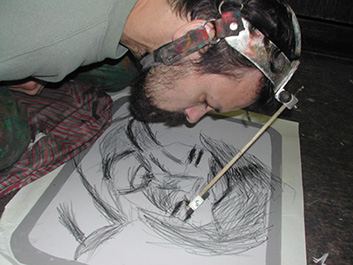 When Dan Keplinger was born January 19, 1973 in Baltimore, Maryland, the doctor thought he was stillborn and placed him aside. Momentarily deprived of oxygen, he revived with a brain injury and mixed spastic and athetoid Cerebral Palsy.
At 18 months, Dan was enrolled in a special education school run by United Cerebral Palsy of Central Maryland and then enrolled into a level five special education school at the age of 6. At 16-years-old and a high school sophomore, he was mainstreamed into the public school system.
He graduated with a Bachelors of Science in Mass Communication in 1998 and a Bachelors of Science in Art in 2000 at Towson University.
The artist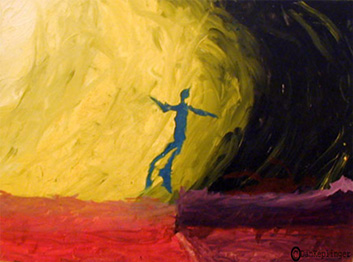 Dan creates charcoal drawings and canvas paints. He attributes his interest in art to a high school teacher that gave him "the tools to have art say what I wanted it to." He paints from an extensive collection of photographs that inspire an internal connection, "I look for the abnormal in normal life."
Not always happy in nature, his abstracts often depict feelings he admits "would make people close to me scared and worried about me."
"Maybe I want people to see these feelings, so they know everything is not happy in my world," he said. "Translating myself onto canvas became my language, something I needed to exist."
He paints with a head stick, a brush connected to a dowel and headband, onto canvas spanning at least 4 by 5 feet. His friends cut and position the canvas and mix and place his paints. To paint he sits in a "W" position on the floor of his apartment which is covered with six-inch thick foam to protect his knees.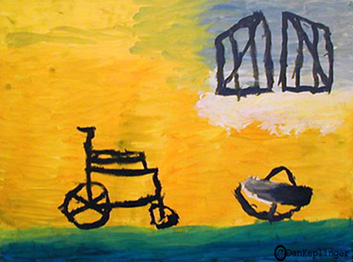 He uses 15 brushes that can be easily interchanged by his friends and utilizes four jars of paint thinner in each corner of his canvas. His paintings often contain a wheelchair because "it is my main mode of conveyance and a major part of my daily life," he said. "In my work I hope to show everybody that they have the ability to persevere."
Dan's art, which includes self-portraits, abstracts and landscapes, was first professionally shown in May of 2000. His art has also been featured at prestigious shows across the nation, including the Herbst International Exhibition Hall at the Presidio of San Francisco, CA; the Millennium Arts Center in Washington, D.C.; the Chicago Cultural Center in Chicago, IL; and the United Nations Headquarters in New York City, NY.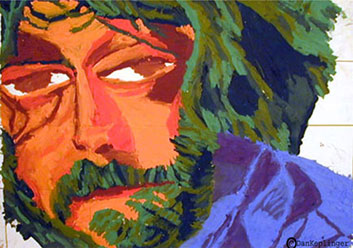 The documentaries
His life story, to date, is shared through film and distributed to schools and professional training programs. At age 9 he was included in Beginning with Bong a documentary produced by Susan Hannah Hadary and William A. Whiteford at the University of Maryland Video Press and Tapestry International Productions. The documentary was about children with disability from different economic backgrounds that were mainstreamed in various education systems.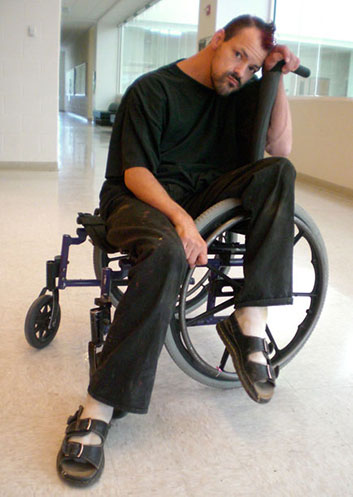 Hadary and Whiteford continued filming Dan throughout his life. They filmed him moving from his special education school into a mainstreamed public school system. They filmed his prom, high school graduation and his first art show. They even recorded him transitioning from his mother's house and into independent apartment living.
Eighty hours of raw footage and the assistance of an 80-page memoir written by Dan was then edited into a 39 minute documentary titled King Gimp.
"The film King Gimp documents Dan's joys and frustrations including the freedom granted by his first power wheelchair, his rebellion against using a computer-generated voice, his everyday strides for independence, and his most life altering discovery–art," reports the MedSchool Maryland Productions and Video Press website.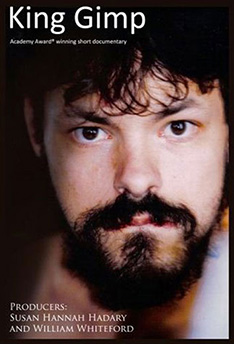 King Gimp reveals how Dan discovered his voice through art and suggests that intelligent individuals with speech impediments and physical impairment are often perceived incorrectly. The film premiered June 5, 2000 on HBO and is available through mainstream distribution. It was nominated for a national Emmy, received an Oscar, and the Peabody Award.
"It does feel good to be respected and appreciated for who I am," Dan said. "I hope that people who have seen "King Gimp" have gained this new awareness not only for me but for others who have physical disabilities."
To purchase King Gimp contact the National Films for Humanities and Sciences at 1-800-257-5126 or visit MedSchool Maryland Productions and Video Press, University of Maryland School of Medicine.
The motivational speaker
Currently, Dan travels the country, booking motivational speaking engagements on topics that include "Accessible Arts" and "Overcoming Physical Challenges to Create Success." He is often sought by federal and state agencies, along with corporations and disability organizations to promote inclusion in all aspects of society.
In 2001, he was featured in a Cingular Wireless Super Bowl commercial promoting self-expression. The commercial received many honors including being ranked in USA Today as the number one super bowl commercial; receiving the Goodwill Industries' Walter Knott Service Award for displaying outstanding humanitarian spirit; and the TASH Image Award for exemplary achievement in media.
Dan Online
View Dan's Award-Winning
Cingular Wireless Commercial
Follow Dan
Book Dan for Speaking Engagements
Or, contact Dan via email [email protected]
Dan on Canvas
View Dan's Art at Phyllis Kind Gallery
"It does feel good to be respected and appreciated for who I am."
– Dan Keplinger
"In my work I hope to show everybody that they have the ability to persevere."
– Dan Keplinger
Artists with Cerebral Palsy

Painting is a popular pastime with an end result that's as precise as the skill required to compose and execute images on canvas. Artists with Cerebral Palsy, however, know that the most intricate brushstrokes are often not made by the hand or fine motor skills alone.