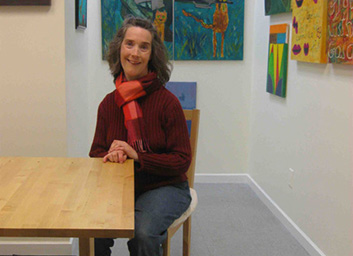 Artist and writer uses creativity to surpass boundaries
AJ Brown's world is one of bright colors, and textures as tactile as an artist's canvas, or as smooth as the fur of one her favorite artistic subjects, her cat.
For Brown, a self-taught artist living in West Vancouver, British Columbia, Canada, following her personal path has been one that has been immensely rewarding; the fact that she has Cerebral Palsy and is deaf is one that has not hindered turning talent into a skill, work ethic into a successful business, and endless curiosity into a lifetime of learning – and pushing back perceived barriers.
"Art found me to be its creator," said Brown, now 46. "I enjoy the sensation of painting. I get a feeling of joy while I paint."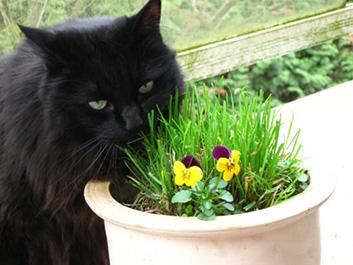 Working mostly in acrylics, but also in watercolor and pen and ink, Brown's work is based in realism and the abstract; common subjects include people and felines, and repetitive patterns. Common threads in her painting include the use of vibrant colors and warm tones, and a sense of whimsy.
But in each painting, there is something more profound, even it's not noticeable at first glance: The spirit and optimism of the artist that, for art lovers and many others who enjoy Brown's work, continues to resonate.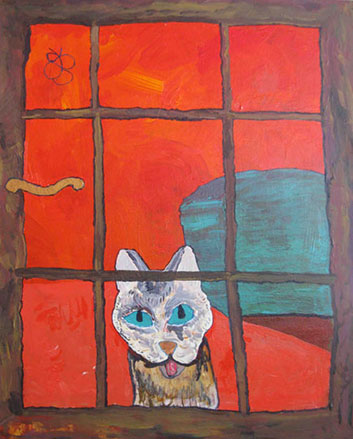 Early years
Brown was about 3 years old when she was diagnosed with Cerebral Palsy. She recalls that her mother, Barbara, seemed to know this fact before her physician did. When the doctors finally agreed to perform tests on Brown, they confirmed not only what Barbara already knew, but also that she was deaf.
"The doctors told my mom to drop me off to an institution, and abandon me," she said. "That's how it was in the 60s and 70s. But my mom didn't do that."
Instead, Brown's mother worked hard to help her daughter develop interests and excel academically. Eventually, Brown left Vancouver to attend Gallaudet University, a liberal arts college for the deaf located in Washington, D.C., where she earned a degree in English literature. After working for a tax preparer inputting information into a computer, and for the post office, Brown – who was 33 years old – began to paint.
Brown – who communicates with others using a portable system that verbalizes what she types, and by email and social media – said the biggest challenge in learning how to paint was holding onto the brush because of the effects of Cerebral Palsy on her fine motor skills. Today, Brown has mastered her grip on the brush, or an ink quill, when she's not using her hands.
In 2005, Brown took part in a self-employment program which gave her the confidence to begin showing art professionally, and offering her creations for sale. Today, Brown's online business – called Hands, Paws and Purrs – offers original artwork, greeting and notecards, as well as information on the numerous shows and exhibits throughout Canada where Brown showcases her work.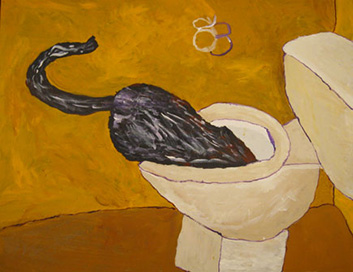 Having fun
Brown is a bundle of creative energy. She has never let naysayers get in the way of pursuing her goals and said that even if others are skeptics it's necessary to follow one's own path.
"If people don't like my work, that's fine," she said. "My mom was a very big skeptic; she would have preferred I work as an accountant, or [pursue] something with steady income. I knew she would be like that so I waited until 2004 to share a small portfolio. I had already exhibited by then at a few art shows."
When she's not producing art, Brown is busy taking art courses at Emily Carr University of Art + Design, Vancouver, to further fine-tune her skills, and expand her use of other mediums. She said that every day she sees her abilities improve.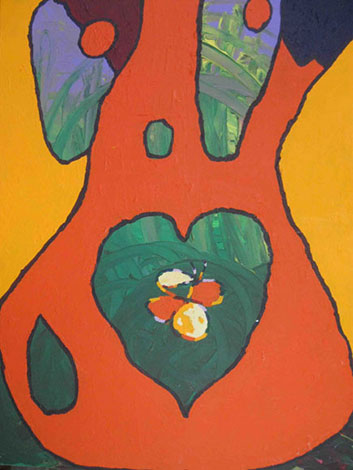 "My talent is becoming a skill now. I still feel I need to improve, but that will happen over time. I'm in great company with other self-taught artists. I am always surprised and delighted with my skill constantly improving."
Previously, Brown has also expressed herself using the written word, and has authored two books – one of which My Voice: A Journey of Creativity, Courage and Hope she illustrated – and several poems. She lives independently with her cat and constant companion, Rumbles, and enjoys taking walks, riding a trike, reading, playing Sudoku, and practicing Qigong, a form of Chinese meditation.
Brown said her advice to people with Cerebral Palsy is to have fun, and find alternate methods to engage in education opportunities and creative pursuits.
"I am addicted to learning," she said. "I always tell people to go ahead and do it. In art, there are no mistakes."
For more information on AJ:
AJ Brown's Artist Website
AJ Brown's Facebook Page
AJ Brown's Twitter Page
AJ Brown's Email: [email protected]
To learn more about AJ's book, visit My Voice: A Journey of Creativity, Courage and Hope
My Voice: A Journey of Creativity, Courage and Hope
Brave!
Standing out amidst a territory of
wild,
lush,
new
green of spring
Flowers are no afraid.
So, why not me?
– AJ Brown
Artists with Cerebral Palsy

Painting is a popular pastime with an end result that's as precise as the skill required to compose and execute images on canvas. Artists with Cerebral Palsy, however, know that the most intricate brushstrokes are often not made by the hand or fine motor skills alone.