Making Dreams Come True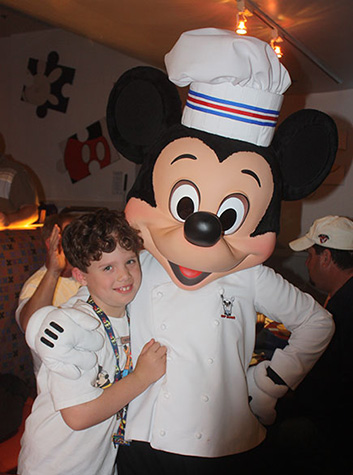 For Robyn Adams, a native of Georgia and a vacation planner with Travel with the Magic travel agency, her career is all about making dreams come true for children with special needs.
"[Parents] want to give their children that magic," said Robyn.
Travel with the Magic, an authorized Disney vacation planning agency, specializes in offering destination vacations for children with special needs to Walt Disney Parks and Resorts, commonly referred to as Disney. More than 90 percent of Robyn's clientele are families with special needs. The agency provides travel agent services without charge, however the vacations are coordinated with the latest in Disney discounts and special offers.
Robyn's experiences traveling with her son to Walt Disney World® Resort in Florida inspired her to become part of Travel with the Magic. Robyn and her husband, Rob, are the parents of 10-year-old Robert who has diabetes and high anxiety.
"When I found out [the services] were free, I thought, 'Oh wow, I can do this for others,'" she said.
Robyn said parents that have a child with special needs want their child to experience the magical world of Disney, but are leary on how to accommodate their child's disability or impairment while on vacation.
"I help them give some of the Disney magic to their child," she said, knowledgeable in the ways in which to accommodate those with special needs.
Planning the magic
Robyn assists with all stages of planning a Disney vacation, including resort selection, itinerary planning, transfers and accommodations, tour and excursion, dining reservations, and special event planning. She is experienced in assisting families with special requests, such as dietary considerations, food preparation accommodations, in-suite appliance confirmation, and equipment rentals, when required.
"It's a matter of sitting down with each family and figuring out what works for them," she said.
Planning a Disney vacation can be confusing – there are more than 20 Disney resort hotels, four theme parks and two water parks at Walt Disney World® Resort in Lake Buena Vista, Fla. There are three Disney hotel resorts, 30 Good Neighbor Resorts, two theme parks, and a downtown Disney District at Disneyland® Resort in Anaheim, Calif. In addition, Disney offers magical Disney Cruise Line® excursions and guided family vacation experiences to destinations around the globe. Disney also has properties in Hong Kong, Paris, Shanghai, and Tokyo.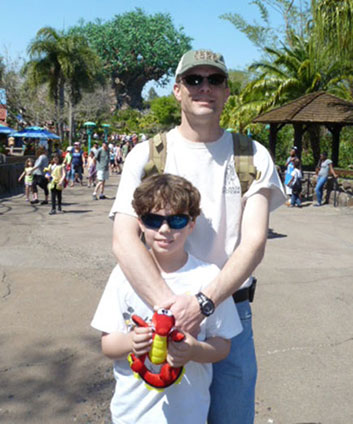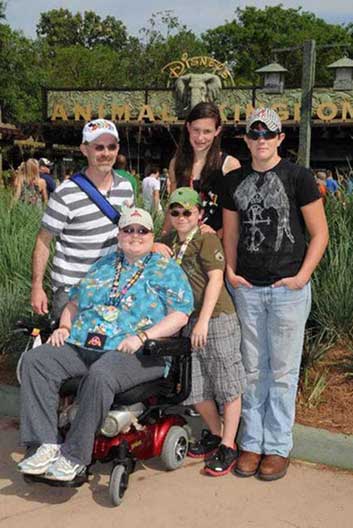 Robyn's clientele is varied and includes families that have children with Cerebral Palsy, autism, Asperger's syndrome, diabetes, and food allergies, to name a few. She stresses that Disney is very accommodating of individuals with disabilities and their families; from the moment of arrival to trip end.
"When you land at Orlando International Airport, someone will pick you up and take you to the resort, and make sure your luggage [arrives]," she said. "If you are traveling with a wheelchair, they will line up a bus to go from the airport to the resort."
Resorts are conveniently located near, or on, theme park property and with accessible transportation options. Disney theme parks have three transportation systems, including bus, water taxi, and monorail that comply with accessibility standards.
Creating accessible destinations
During a decade of travel with her son, Robyn has developed a few strategies for making vacations safe and enjoyable. She knows that sometimes simple accommodations such as including supplies, snacks, Gatorade, and several small toys in a backpack can be quite useful in accommodating emergent needs unique to a child with special needs. Disney allows its customers with special needs to carry backpacks in the park and on rides.
Robyn's son, for example, brings a mountain of teddy bears on his travels, things for him to relax. Her travel experiences prove useful in understanding her clients' needs.
Recently, Robyn planned a Disney vacation for a mother and her son. The son has Cerebral Palsy, is non-verbal, and uses a wheelchair full-time. Her first step was to find a suitable resort, one accessible to the Walt Disney World Monorail System, a public transit system operated by Walt Disney World® Resort that connects various resorts with the Magic Kingdom Park and the Epcot Theme Park. The mother was able to easily push her son's wheelchair onto the monorail to arrive at the park in five to 10 minutes.
Robyn made sure to book an accessible room, complete with a microwave, refrigerator, and roll-in shower. These accommodations were necessary since the boy relies on his wheelchair for independence and a gastrostomy tube for feeding. Food preparation and availability were of concern to this mother. With special accommodations this mother was able to easily prepare and pack her son's meals for the day. Restaurants were also quick to accommodate for the boy's swallowing difficulties by blending his dinner into a smoother texture.
The family had a wonderful time during their first trip to Disney.
Robyn planned another Disney vacation for a family whose 5-year-old son has mild Cerebral Palsy, coupled with anxiety and stress issues which make him afraid of the darkness of some rides and the crowds that are inevitable at a Disney theme park.
"They loved it. Absolutely loved it," she said. "They're ready to go back."
Robyn said that many parents with children who have a disability or impairment just want their child to experience the same magic of a Disney vacation that other children experience. She helps parents create that magic for their child.
"It means the world to me," she said.
For more information
For more information, visit Travel with the Magic or call Robyn Adams at 1-800-670-4312.

A message can be verbal, or something that's felt in the heart. What all messages have in common is that they can influence our perspectives for better or worse. Luckily, by gathering positive messages, the bad ones can be cast away.

On the Go!
Transportation, for a person with a disability, is a major concern because when he or she can't get from place to place, it tends to restrict him or her from participating in other life activities. Advances in technology have made private vehicle travel attainable, and even more preferable. More and more, individuals with a disability are able to modify their vehicles and obtain adaptive driver's licensure to enhance independence. Whether traveling by air, by bus, on a train or in a wheelchair, travel must be safe and convenient for all.
Modified Vehicles and Adapted Driver's License
Accessible Travel, Transit and Transportation
Mobility