Website founder shares travel tips for individuals with Cerebral Palsy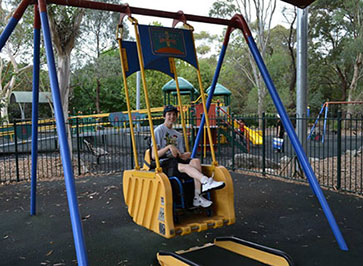 Julie and Mark Jones, a married couple residing in Australia, both love to travel. They are intent on sharing this love with their two children, a 17-year-old son and a 10-year-old daughter. Their son has Cerebral Palsy and uses a wheelchair for mobility. He is non-verbal, but uses a Dynavox to communicate. His disabilities, at times, require careful planning for the globe-trotting family.
During her first pregnancy, Julie planned to continue to work part-time and both parents planned to travel with their newborn.
"Our focus and priorities shifted rather significantly when our son was diagnosed," said Julie. It didn't take long, though, for the couple to discover ways in which to combine their passion for travel with their new responsibilities for their son.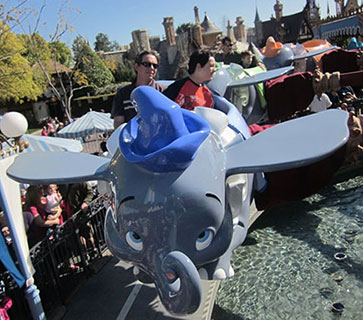 Julie found lots of factual information, but nothing that was reassuring or fun.
"I did so much research and felt it was a waste if it didn't help someone else. It was originally going to be a page about the great places we found on that trip. Then I started thinking about our favorite places in Australia and our general travel tips," said Julie. Her efforts became impetus for her website, Have Wheelchair, Will Travel.
Have Wheelchair Will Travel, or HWWT, is a website collection of Julie's tales about family experiences, travel tips, and the trevails of traveling with a child who has special needs.
"We hope the website and our experiences encourage families, or people with a disability, to embrace life and give things a go," Julie said. "It definitely takes more planning, but we are proof it is possible.
Research makes for a smoother trip
Julie approaches travel as an adventure, albeit one in which she plans for the necessary and the unexpected.
"It makes the trip smoother if you know as much as possible about the places you are visiting," Julie said.
"Vacations are something everyone should get excited about."
– Julie Jones
She recommends having a list of "must haves" in a vacation destination, and then know where you are willing to compromise. For example, her son sleeps poorly, making it necessary to have two separate sleeping areas in the hotel room. She also likes the hotel they are staying in to be within walking distance of restaurants, shops, and attractions to avoid constant trips in and out of the car. Other "must haves" could include having a wheelchair-accessible bathroom, accommodations with no stairs, and an on-site restaurant.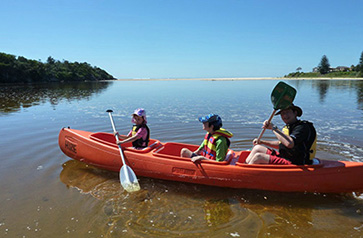 "Everyone will have their own list of priorities, but when you ring a hotel or look online you have this list clear in your mind it will help eliminate many [problems]," she advises.
One of the family's near-perfect trips was a vacation to the United States. Julie writes that she and Mark researched the trip, finding some fun things that appealed to everyone. They also bought a mobile phone that would work in the United States upon arrival, stayed at a hotel that catered to families, and rented a minivan.
"We had fun in our minivan and the height afforded us better views," she writes.
The family, cast in authentic fire engine red gear, chartered a 75-minute ride on the world-famous San Francisco Fire Engine, which leaves Fisherman's Wharf to travel over the Golden Gate Bridge, alongside California's coast, and through neighboring towns and villages – a highlight for the entire family. The tour was somewhat tricky as her husband required assistance transferring their son into and out of the fire engine.
Other places they visited were wheelchair accessible and ADA compliant, including:
The California Academy of Sciences, a naturalist museum, located in San Francisco, California. For accessibility standards, refer to the California Academy of Sciences' Accessibility Guide.
The Monterey Bay Aquarium, an open sea gallery complete with great white shark exhibits and fresh kelp forests, located in the historic Cannery Row, Calif. For accessibility provisions, see Monterey Bay Aquarium's Accessibility Guide.
LEGOLAND® California Resort, a theme park and resort that brings the favorite children's toy to life-size wonder, located in Carlsbad, Calif. For accessibility standards, LEGOLAND® Disability Guide.
"It was worth the extra effort for the experience," she said.
The family also purchased a San Diego Zoo Backstage Pass during their visit to the zoo that is located in southern California. The Backstage Pass, which requires advance reservations, allowed the family to feed a rhinoceros, pet a zebra and personally meet animal ambassadors and trainers. The Backstage Pass does cost extra; however, people with disabilities pay the concession rate and the carer or assistant is admitted at no charge. For more information, refer to San Diego Guest with Disabilities Provisions and San Diego Zoo Guide for Guests with Disabilities.
"Traveling with our son is definitely tricky, but the rewards are well worth the effort," she said.
Start local before global
As a seasoned traveler and travel agent, Julie has a myriad of experiences to share regarding travel and vacations. She advises new parents to travel to places less accessible when the children are younger. Family photos show Mark hiking through mountains in New Zealand and along the sandy beaches of Australia with their son securely strapped in a backpack.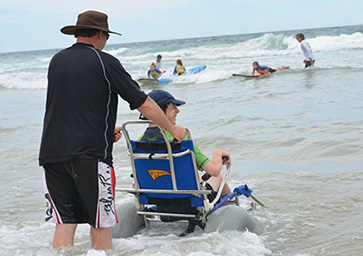 "Things like hiking do become difficult, if not impossible – and I hate to use that word – when a wheelchair becomes part of the equation," said Julie, who recalls traveling to less accessible locations up until their son reached the age of 7. She recalls it was not a conscious decision, but a learned one in which she readily shares with others seeking travel tips.
"The joy on his face and delighted laughter bring smiles and joy to the other people at the beach."
– Julie Jones
Julie also suggests that families start by experiencing local trips first, before venturing on long, international flights to faraway locations such as Paris or London. Packing for car travel is a lot easier than packing for plane travel. Shorter flights allow for learnings that can be applied on longer flights.
"Some of our best holidays have been inexpensive beach holidays, only a few hours drive from home," Julie advises. "I think the most important thing on a vacation is for everyone to be present and in the moment."
Magic vacations
Disneyland® Park, the Walt Disney Company's original theme park renown for Mickey Mouse and Donald Duck, is known as the "place where imagination is the destination." For Julie and her family, it is hailed for its accessibility when vacationing with a child who has Cerebral Palsy.
"Not only does Disneyland® have great arrangements for people with a disability, but the staff just 'gets it,'" she said.
Julie was impressed by not having to explain her son's needs to the staff. The park staff, known as cast members, intuitively seemed to understand when to use discretion when more time and effort was required as the family transferred the teenager in and out of attractions. The family was also allowed to remain for a second ride if the line at the attraction was not too long.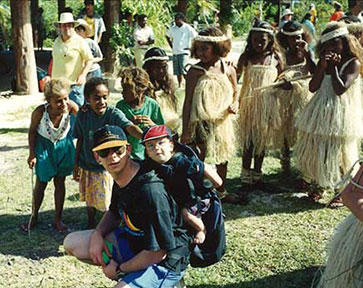 "They went out of their way in every aspect," she states.
Julie is impressed by how accommodating places within the United States can be. Some other places she recommends for traveling with a child who has a disability include the Muir Woods National Monument located in Mill Valley, Calif., and Mel's Diner, a burger and fries chain with locations throughout Northern California. Mel's Diner was made famous when featured in the movie titled, "American Graffiti."
The family has found Santa Monica, Calif., and Solvang, Calif., to be great places to stay with lots of family-friendly dining and wheelchair accessible shopping. They enjoyed the Flower Fields®, a 50-acre field of flower beds and rose gardens overlooking the Pacific Ocean in Carlsbad, Calif., which has an accessible tractor ride to view the lavish flower fields.
And, Julie notes, Hearst Castle® – a 165-room estate situated on 40,000 acres that feature lush gardens, breathtaking terraces, lavish pools, serene walkways and a private airport in San Simeon, Calif. – offers a "fantastic accessible tour."
"There are so many I could go on and on," she notes.
Making accessible vacations fun
"We hope the website and our experiences encourage families or people with a disability to embrace life and give things a go," she writes. "It definitely takes more planning, but we are proof it is possible."
Julie hopes to change accessibility in tourism and the airline industries by lending feedback. She recounts a recent vacation to Australia that presented some difficulties in finding the right accommodations. The travel experience required patience and persistence.
Upon the return home, Julie contacted the marketing department to discuss the experience and offer ideas on how the process could be made easier and more accommodating for those with disability.
"It does take someone willing to hear the ideas to have success," Julie said. "In this case, they did hear us and they are following through."
The family has adapted their travel plans as her son matures and gains interests. For example, they now travel to beaches that have a beach wheelchair available, making it possible to go for walks while giving her son the access to the water "he loves."
"Once we are at the destination he is a fantastic traveler," she writes. "He is so interested and stimulated by the change of scenery it is an absolute pleasure to travel with him."
For a complete list of travel tips, vist Julie's website: Have Wheelchair, Will Travel.

On the Go!
Transportation, for a person with a disability, is a major concern because when he or she can't get from place to place, it tends to restrict him or her from participating in other life activities. Advances in technology have made private vehicle travel attainable, and even more preferable. More and more, individuals with a disability are able to modify their vehicles and obtain adaptive driver's licensure to enhance independence. Whether traveling by air, by bus, on a train or in a wheelchair, travel must be safe and convenient for all.
Modified Vehicles and Adapted Driver's License
Accessible Travel, Transit and Transportation
Mobility