'Miracle' child demonstrates the power of will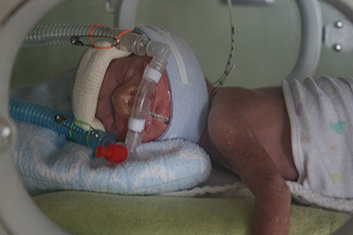 Two years ago, expectant mother Candace Richter was sleeping soundly with her husband, Michael. In the wee hours of the morning, she awoke in a panic.
"I was 25 weeks pregnant," remembered Candace, a resident of Charlotte, NC. "The bed was covered in blood. My husband called the ambulance, and they whisked me away to the hospital."
The high-risk maternity ward is where Candace – who enjoyed an event-free pregnancy up until that morning – would spend two weeks after physicians were able to stabilize her condition.
It goes without saying that the days that followed her hospitalization filled Candace, Michael, and their families with anxiety. They wondered what caused such a confusing turn of events, after all her first pregnancy was uneventful and so was the second.
"They were able to stop the labor, and after two days everything was okay, but I was in critical condition," she said. "Somehow, they were able to keep him in there, and they just kept transfusing me because the bleeding never stopped."
At 27 weeks gestation, Candace's physicians performed an emergency caesarean section. Shaw Richter, at birth, weighed 2 pounds 7 ounces. The second-time parents were happy their son was born, but knew that the newborn and his mother were not yet out of the woods.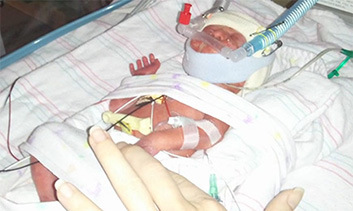 "As far and the delivery went, it was hard on my body because of what I had been through," she said. "When they took [Shaw] out, he wasn't breathing, and they treated him right away. My husband stayed with me the rest of the day."
It would be a week before Candace had the opportunity to hold Shaw, who was on a ventilator.
"Twelve hours later, they rolled me on a gurney to see my son," she said, "That's when I had the chance to see him for the first time, in an incubator.
"It's scary to go through what we've been through," Candace remembered. "It's not something any mother should have to go through."
A new set of challenges
Shaw and his family would spend the next 122 days in the hospital.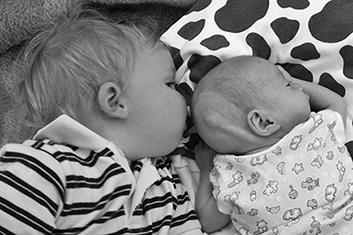 There, a series of unfortunate events took place; some of which are common in premature babies, and others of which are unexpected.
Shortly after he was born, Shaw was diagnosed with a brain bleed and a stroke. Two weeks later, doctors told the Richters their son had hydrocephalous, or water on the brain. He underwent 22 spinal taps before his first brain surgery to insert a ventricular assistive device to eliminate some of the fluid around his brain.
Because that did not decrease the swelling in his brain, Shaw underwent another surgery, where they removed the device and installed in its place a permanent shunt. Today, the shunt is programmed by a magnet that drains the excess fluid from his brain to his abdomen to be reabsorbed.
Shaw also endured meningitis, sepsis, and the accumulation of scar tissue caused by multiple intubations. When he finally arrived home, Shaw weighed 5 pounds.
"To have the four of us together, after 122 days, I don't know if there is another feeling like it," Candace said.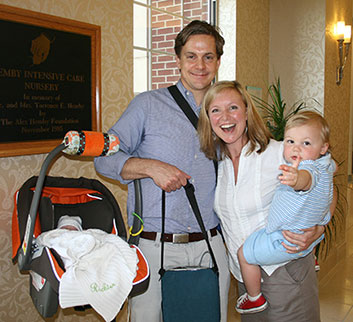 It was a time of conflicting emotions. Initially, Shaw's parents were unsure what his physical and intellectual abilities would be. When discussing Shaw's stroke with the medical team, the parents grappled with the realization that Michael may never walk, or talk. They were told early on that their road ahead was going to be difficult.
As Candace and Michael began to accept that Shaw may not walk, something interesting happened. Their baby, who had endured so much, held his head up.
"We were not sure if that was maybe all he was going to do," said Candace. "Then he started to make eye contact. That was huge, as well. And, then he started to respond, so that means that he is communicating."
He was almost a year before he sat up.
"We thought, gosh, if this is all he does it meant that we could go for a bike ride," she said. "And, it meant that we could do things that we weren't sure we were ever going to be able to do."
Then, shaw started to walking.
"I call him my miracle baby. I don't think that anyone who doesn't know his medical history would guess what he's been through," Candace said. "He's made so many strides in such a finite period of time. We're extremely thankful."
An active little boy
Today, Shaw Richter is a rambunctious and playful 2-year-old that works every day to keep up with his older brother Nash, who is 3-years-old. Most of the time, Shaw does a pretty good job.
"It's scary to go through what we've been through. It's not something any mother should have to go through."
– Candace Richter, Shaw's mother.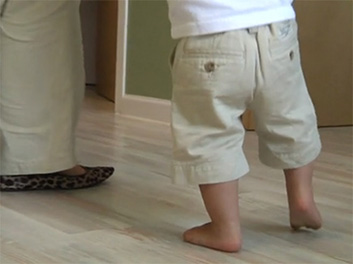 "To have the four of us together, after 122 days, I don't know if there is another feeling like it."
– Candace Richter, Shaw's mother.
The little boy is presently seeing a myriad of therapists and physicians to evaluate his condition and determine if he will have intellectual delays.
Shaw sees his physical therapist once a week, and also participates in alternative therapies like hippotherapy (therapeutic horseback riding) to help him develop strength, coordination and balance. When the time is right, Shaw's physician will incorporate occupational therapy to his care plan.
So far, his legs are stiff, but he walks quickly and without assistive equipment. He's as verbal as one would expect a 2-year-old to be, his mother said.
But, does Shaw have Cerebral Palsy?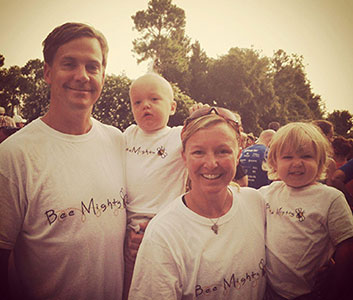 The circumstances of his birth could lend to that determination.
According to data compiled by the US Centers for Disease Control and Prevention, 6.2 per 1,000 live births among children weighing 5 and a half pounds received a diagnosis of Cerebral Palsy 2006. That's 2.2 percent more than the four full-term children that have the condition, according to the same study.
"Our neurologist has postponed diagnosis before," she said. "We are not in any hurry for a diagnosis."
Instead, Shaw's parents are focused on numerous early interventions which have shown impressive gains.
Today, Shaw is preparing to return to the hospital to have yet another operation to remove scar tissue, believed to be a result of intubation, from his airway. This time, surgeons will apply chemotherapy drugs to the scar tissue so it will dissolve. The presence of the tissue makes speaking, eating and breathing difficult, and his mother hopes the operation permanently resolves any potential oral motor impairment moving forward.
Lessons learned
Through their experiences with Shaw, the Richters have come through one of the most devastating experiences a family can endure, together. Through the experience, they say, they've also seen the best humans have to offer, in their son and the people who worked intently to save him.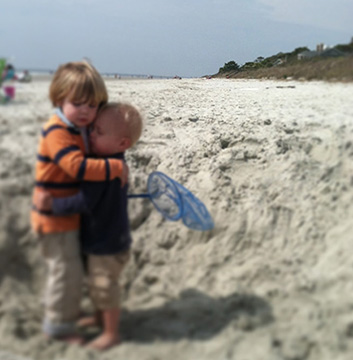 Candace credits the exceptional staff at Presbyterian Medical Center's Hemby Children's Hospital in Charlotte, NC, for the care they provided to Shaw and the support they provided the family.
"I remember meeting our nurse, who later became our primary, and I think about what a savior these people who took care of us – and more importantly who took care of Shaw – were at Presbyterian," said Candace. "The nurses in particular were Shaw's mother when we were not allowed to be – when we weren't allowed to touch him and we weren't allowed to comfort him."
The Richters also want to give back, so they formed Bee Mighty, a nonprofit that raises money for families of children undergoing treatment at Hemby. The couple established the nonprofit to help families focus on each other and concentrate on a child's recovery without worrying about finances.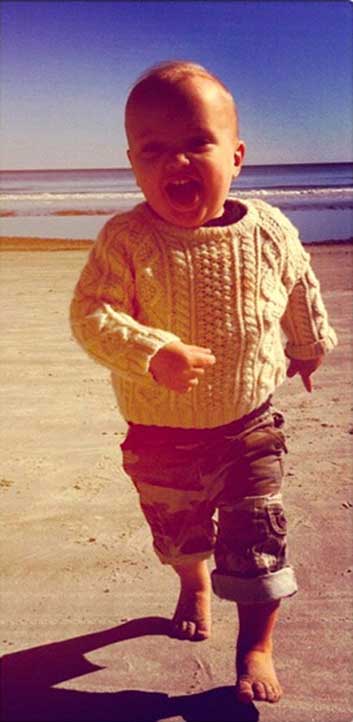 Shaw's story, his mother says, represents a profound lesson.
"Children are resilient, and in a way it is like they determine their own fate," Candace said. "Shaw walks like crazy; it's almost hard for me to keep up with the boys. And, there was a time when we didn't know if he would walk.
"I think this shows us not to give up on a child that has limitations," she added. "He's determined and motivated, and I'm not sure there's anything he won't be able to do.
"Shaw is a little fighter," Candace said "Every day, we celebrate his accomplishments."
For more information on Shaw:
Candace Richter
Bee Mighty
c/o Presbyterian Healthcare Foundation
P.O. Box 33549
Charlotte, NC 28233
704-384-7894
Children with Cerebral Palsy

A child's smile is enough to brighten anyone's day. For parents of a child with Cerebral Palsy – even when non-verbal – all of those firsts – whether reading, writing, or hearing a child say "I love you" are not only possible, they're probable. More so than ever children are re-conceiving how they can participate and interact with others.